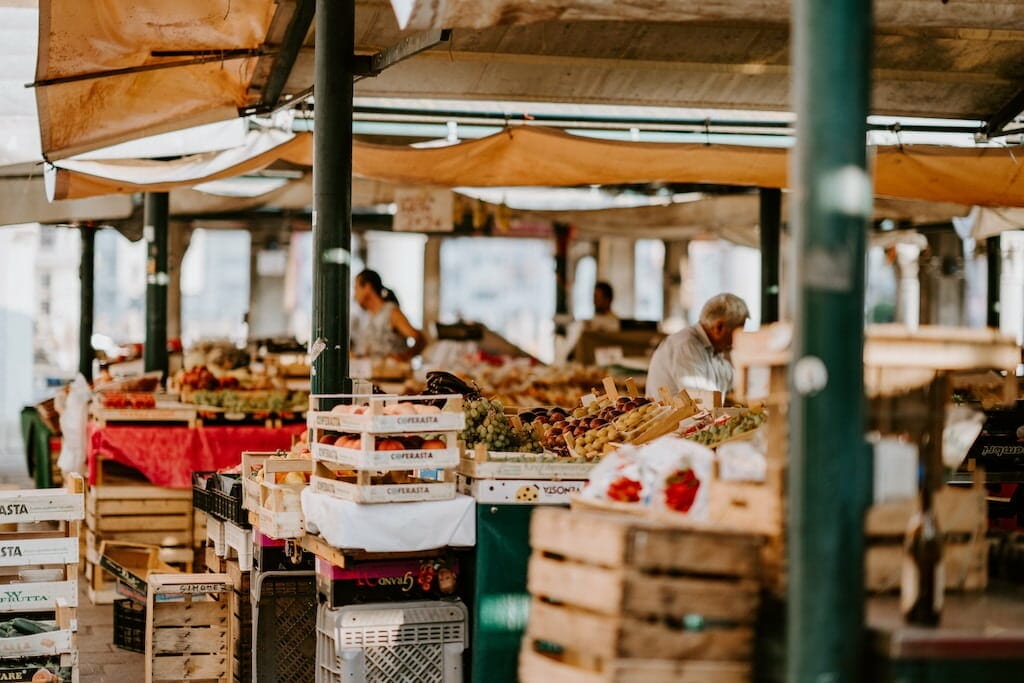 Top 15 markets in Rome for food lovers and local vibe
---
You may caught up in checking out the big sites such as the Vatican or the Colosseum when visiting Rome. Nevertheless, make sure you take time to visit the range of fabulous markets in Rome that are open throughout the week! There a literally dozens of amazing spots at which to try delicious food or soak up the local vibe. Check out the best here!
Your mobile free guide of Rome

Markets in Rome – Top street food markets
Take your taste buds on a tour of these top street food markets!
Testaccio market is well known amongst locals as one of the best markets in Rome for a food tour. This is a traditional market recently moved to a modern indoor facility. But that does not stop the local vibe seeping through!
Aside from the usual fresh fruit, vegetables, bread and fish, the Rome market also has a dining area.
You can sit here and sample a wide range of dishes from local hot food stores – try Italian, Chinese, Burgers and a whole lot more!
Testaccio market is open

7am until 2pm every day

, bar Sunday.
2)    Mercato Centrale Roma
Mercato Centrale Roma is stuffed inside the Termini train station, and is a real feast for the senses. This is the place to head if you are an avid foodie. From amazing gelato to coffee, Asian food and Roman delicacies – the Mercato Centrale Roma is a must visit if you love food!
Open every day

from early morning until late at night
3)    Eataly, one of the best quality markets in Rome
Eataly is another fab spot for food lovers in Rome. This place will take you on a culinary journey of Rome, with restaurants and a food hall showcasing the best Italian produce on offer.
Located on Piazzale XII Ottobre 1492

Open every day
A gorgeous neo classical architecture shines over the Mercato dell'Unita. Here, in the heart of the Prati area, you'll have plenty of time to pick up some delicious food!
Pick up some fresh seafood if you are staying in an apartment and have opportunity to cook! If not, enjoy the fresh fruit and little stalls selling artisan snacks.
The market opens from

early morning until 8pm
Markets in Rome: Top local food markets
If it's not food stalls selling delicious snacks and treats you are after, then check out these local food markets. These are the Rome markets to visit if you are cooking for yourself or friends when in Italy.
This is a great spot if you want some real Roman ambiance. Try to focus as you hear the stall owners selling their wares!
Housed indoors, this market gives you a great all round food shopping experience. Fruit, meat, vegetables, cheeses….. the list goes on!
Located on Via Andrea Doria 3
The market is open until

2pm

, with late opening on Tuesday and Fridays until

7pm

Closed on Sunday
6)    Campo De'Fiori, on top of the traditional markets in Rome
This is a traditional Roman piazza style market, in the old "field of flowers" square. Aside from amazing fresh produce such as bright fruit and vegetables, the market also is famous for fresh flowers.
Check it out daily at the Campo De'Fiori square.
Markets in Rome – Top farm and bio markets
If you are into organic produce, check out these local markets
Located in the Città dell'Altra Economia, this market offers fresh produce and the opportunity to purchase direct from the farmer. Do your bit for the environment and purchase here!
Biomercato is located in Testaccio every Sunday
8)    Mercato di Campagna Amica
This is a fantastic local farmers market where you can get up close and personal with local produce. Expect fresh cheese, bread, salami and produce from the local region.
Top Tip for foodies – if you can't wait until you get home, head to the back and outside to the food stalls.
Open on weekends only

until 3pm

.
Markets in Rome: Top fashion & vintage markets
Let's move on from food – what are the best Rome markets for other wares? Read on for some more gems …
9)    Nuovo Mercato Esquilino
This is an interesting Rome market located near the Termini Station. Here, you have a good mix of food and produce, but also loads of different fabrics and clothing. It's a good place to pop in to and explore for an hour.
Mercato Monti is celebrating over a decade of fun fashion. The market showcases a host of interesting one off vintage pieces. There are also handicrafts and art on display.
Located on the Via Leonina and

open at the weekend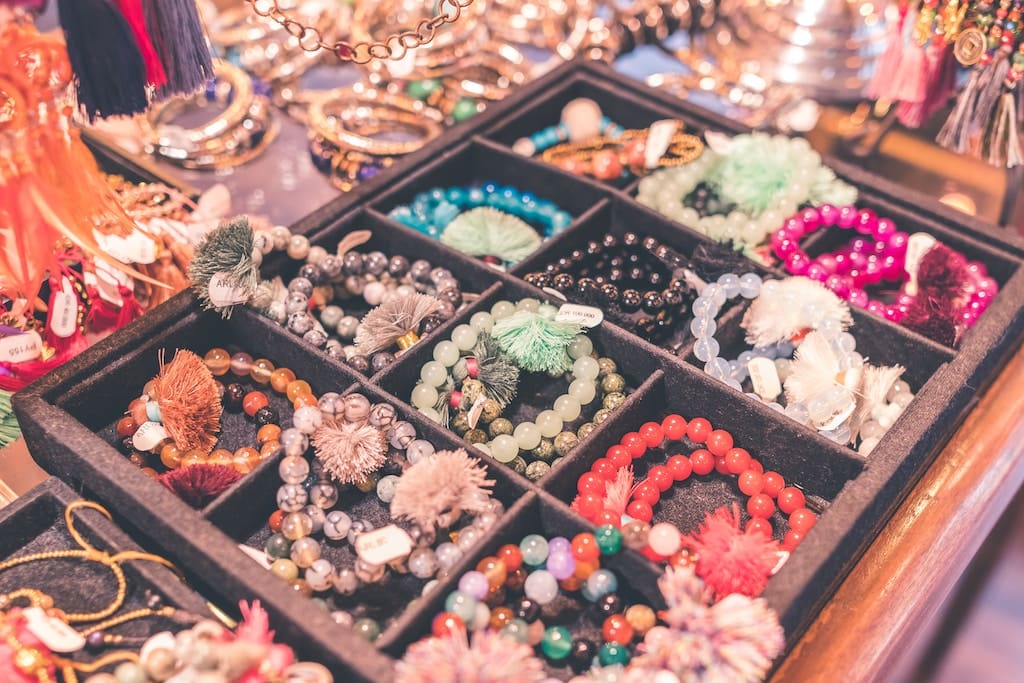 Markets in Rome: Top flea markets
11) Borghetto Flaminio Market
There's a small entrance fee to pay to get into the Borghetto Flaminio Market, but you will be rewarded with a host of treasures! From antiques and art to luxury designer second hand clothes, this is one for the bargain hunter! Head to the Flaminio area on a Sunday and enjoy!
Every Sunday in Rome the street around the Porte Portese market comes alive with a huge street market. This is an epic place to have a hunt for a memorable piece, a work of art, a book, an ornament.
13) Fontanella Borghese Market
Unlike many other flea markets in Rome, the Fontanella Borghese market is open daily apart from Sunday. Come here if you know your art, literature and sculptures. Dig through old maps and atlases, or pick up a bunch of old coins if that's your thing. Even better, it is located near the Spanish Steps, so you can get some sightseeing in too….
Markets in Rome – Best International Market
14) Nuevo Mercato Esquilino
We mentioned this earlier when talking about vintage markets, but the Nuevo Mercato Esquilino also gets a mention for its international vibe. There's a multicultural atmosphere here, with influences from Africa and the Far East. Located on the Filippo Turati you can pop in here on your way to Chinatown!
Bonus Market! Our favourite market in Rome for pan-European produce.
This charming market is a great place at which to spend a few hours. The Rome market hosts a melange of items, such as food, fruit, vegetables, books, artefacts. Set against the stunning San Cosimato square we recommend you check this one out!
Located in the San Cosimato Square
Open

daily Monday

through Saturday
Conclusion to our Top 15 Markets in Rome

We hope you have a taste for Rome's markets now – get planning the rest of your trip today !