What you need to know before your Colosseum visit
The Colosseum, or Flavian Amphitheater, is the most visited attraction in Italy. Record numbers of up to 6 million people visit Colosseum every year. If you are planning on being one of them, it's best to do your research before you arrive to ensure a rewarding Colosseum visit.
Find out where to buy your Colosseum tickets, how to skip the lines, and whether it's worth taking one of the Colosseum guided tours.
What is the Colosseum Rome ?
  The Colosseum is an ancient arena or amphitheater which was built by Emperor Vespasian to entertain the Romans after the rule of the dreaded Nero
      A lesser known fact about the Colosseum is that Vespasian used Jewish slaves to do all the hard work. Work began around 70 or 71 AD and took less than 10 years to complete
      The Colosseum is elliptical. With a length of 189 m, width of 156 m, base area of 24,000 m², and height of 48 m, it remains the biggest amphitheater in the world
      Many people and animals lost their lives at the Colosseum. During the inauguration (in 80 AD) alone around 9,000 animals and 2,000 people are said to have been killed
      The Roman emperors loved bringing wild animals, including exotic ones like lion, tigers, rhino and crocodile, to the Colosseum. They were imported in such great numbers that some of them disappeared from their natural habitat and even became extinct
     Between 50,000 and 80,000 people could be seated in the Colosseum. They entered through 76 numbered entrances
Where is the Colosseum in Rome?
The Colosseum is in the same archaeological area as the Roman Forum and Palatine Hill in the centre of the eternal city. Its entrance is on Piazza del Colosseo just east of the Forum.
How to get into Colosseum ?

There's no shortage of transport options to get to the Colosseum.
Metro – The quickest way to reach the Colosseum from Termini Station. Take the Blue Line B (direction Laurentina) and get off at Colosseo, which is only two stops away.
Bus – Lines 75, 81, 673, 175, and 204 stop near the Colosseum.
Tram – Line 3 will drop you at Rome's biggest attraction.
Walk – Walking to the Colosseum from Termini Station is more than possible. It's an interesting 30-minute walk through the lanes of Rome.
Enjoy the benefits of the unlimited 3-days travel pass and use the public transportations for free. Check conditions here.
Free tips in our guide to get the most of Rome
How to avoid the queue on your Colosseum visit
As Rome's busiest attraction you can imagine the queues for Colosseum tickets on any given day. Fortunately, there's a solution in the form of skip the line Colosseum tickets (available here). They are designed to make your Colosseum visit more enjoyable, saving you up to four hours standing in lines.
Depending on when you're visiting, you can spend anywhere between two and four hours waiting in line for regular Colosseum tickets. And this is not the only line you'll be spending time in. After getting your tickets you must still join the entrance line and then, wait for it, the security check line.
By spending a little extra on skip the line Colosseum tickets you are assured of priority entry. It means you can skip the ticketing line and only join the faster-moving entry and security lines.
Regular Colosseum tickets (including the Roman Forum and Palatine Hill) cost €14. The online tickets cost a fraction more but gives you priority entry to all 3 attractions. (A processing fee of €2 is charged when you buy Colosseum tickets online.)
According to the official Colosseum website, you can either buy an open ticket or a ticket with a scheduled entrance time. Both cost €16 plus €2 booking fee. The open entrance ticket can only be used after 14:00 on any day.
Note: No matter where you buy your skip the line Colosseum tickets, you must still queue in the entry and security lines. However, you'll save a lot of time by avoiding the ticketing queue.
So, make sure you remember your Colosseum visit for the right reasons by spending that little extra on a skip the line ticket.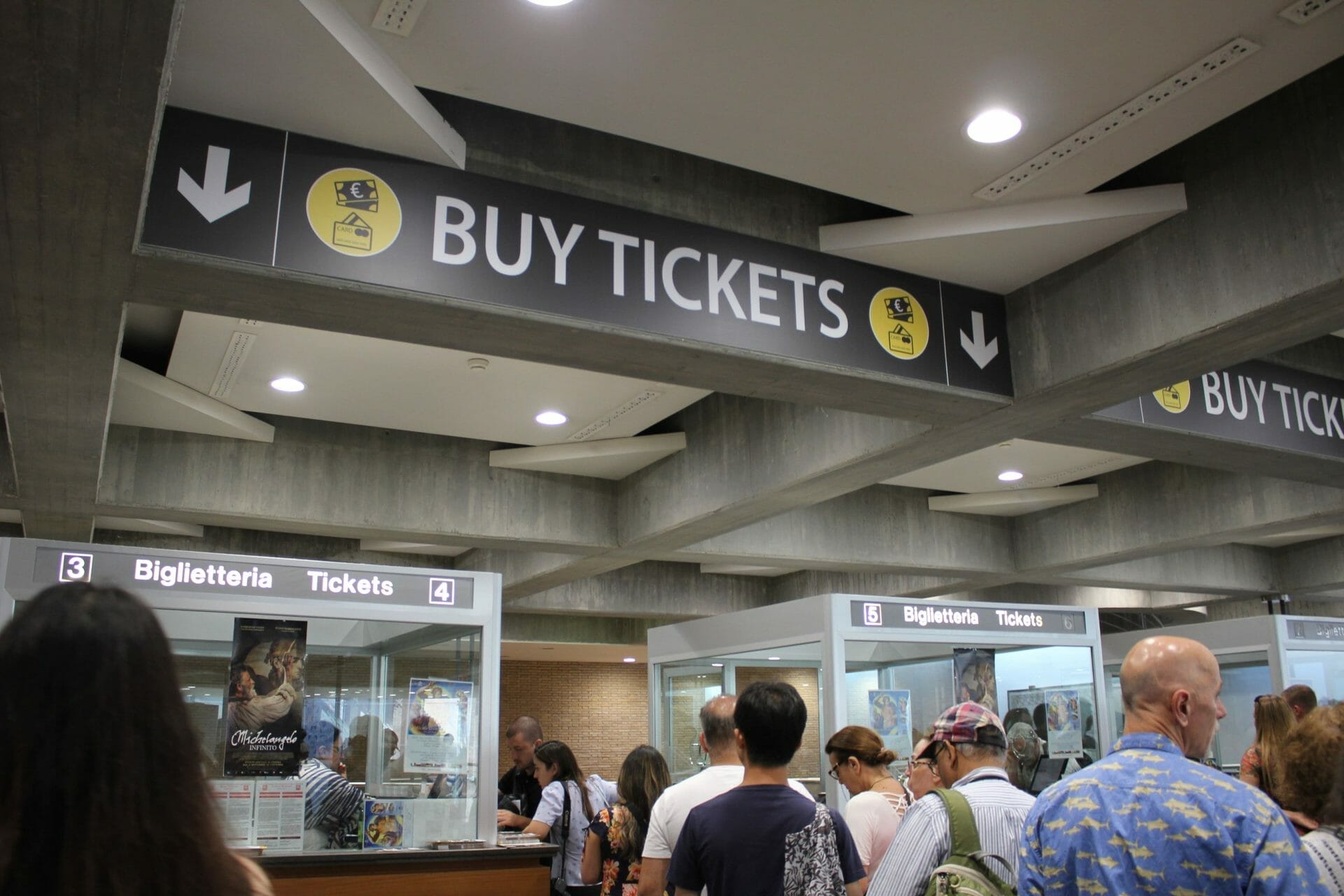 Should you consider guided Colosseum tours?
If you like doing research and exploring on your own, a self-guided tour of the Colosseum can be a great option. However, keep in mind that there isn't a lot of information available on-site.
Joining one of many interesting Colosseum tours is a good way to appreciate the enormity and significance of the Flavian Amphitheater. They give you access to areas like the upper tier and underground tunnels that are off-limits to the general public. Or how about the privilege to be inside the Colosseum at night?
Take a look at the different guided Colosseum tours on this website.
When is the best time to visit Colosseum?
The best months to visit the Colosseum is from November to February, not including the Christmas and New Year holidays.
From March to October there are almost always crowds at the Colosseum. Even so, there are times when the lines are a little shorter. These are:
      At 08:30 when the Colosseum opens.
      An hour or two before last entry when the crowds begin to thin out.
Check the official Colosseum, Roman Forum and Palatine Hill website for up to date opening hours.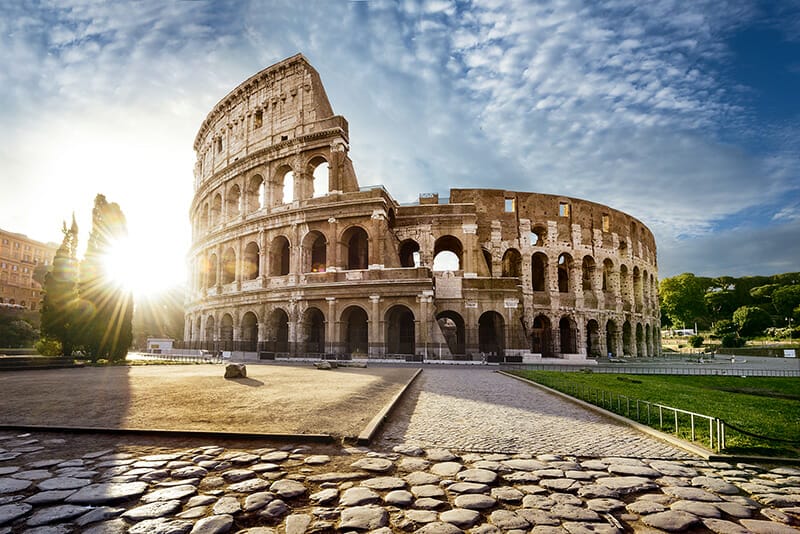 Which Rome Pass includes the Colosseum?
Roma pass, Rome City Card or Omnia Card?
If you're planning on spending a few days in Rome, visiting the Colosseum and other popular attractions, it's worth considering one of the following sightseeing passes.
Roma Pass – Colosseum standard entrance is included with your pass anyway. BUT, as the site has considerably reduced its admissions with a standard ticket, you are not guaranteed to be able to visit it on the date you want.
This pass offers free entry to the first one or two visited museums or archaeological sites (depending on 48 or 72 hours) and discounts to the others. It also includes free public transport for three days. You can buy the Roma Pass online here from €32.
Rome Tourist Card – The Rome City Pass is more interesting to us. You can choose a guided tour or audio guide to visit the Colosseum. It is rarer for people to book these individual tickets. This means you have a much better chance, if not a guarantee, of finding a slot that suits you to visit the Coliseum.
It also includes a 1-day hop-on/hop-off sightseeing bus as well as fast-track entrance over two days to the St Peter's Basilica, Roman Forum and the Vatican Museums (in option). It's available online from €101,50 per adult. If you don't want to get to the Vatican, pass cost 69,50€.
Another point is that one-way airport transfer is included as well.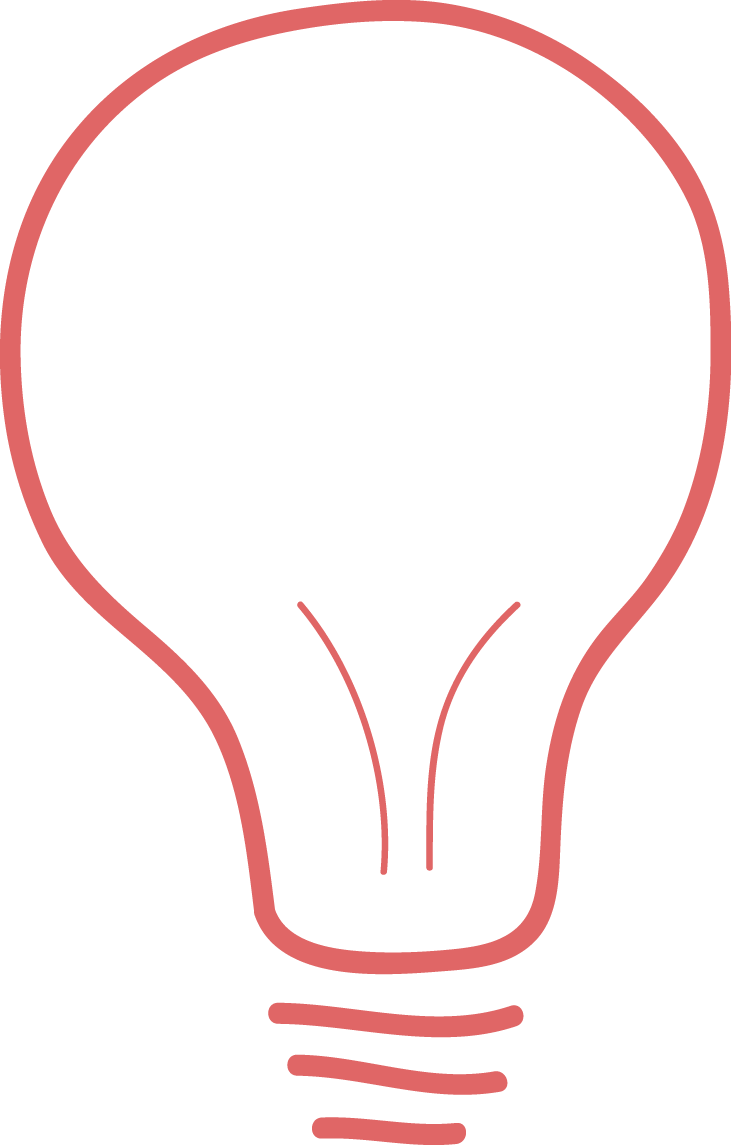 Tip – Hey, since we just touched on the topic of airport transfers, let me show you an awesome option. Online Travel Card can take care of all your airport transfer needs, allowing you to enjoy your time in Rome without worrying about transportation logistics. You can sit back, relax, and enjoy the ride to your destination without any stress or worries.
Omnia Card – A very comprehensive 3-day Rome sightseeing pass (check it here) which includes the Roma Pass, the Vatican Card, a hop-on/hop-off bus and free public transport.
Getting the best value from your Colosseum tickets
As mentioned above, the official Colosseum ticket also include the Roman Forum and Palatine Hill. The tickets are valid for 2 consecutive days from first use for one entry each to the three attractions.
Roman Forum – A sprawling ruin that tells the story of day-to-day life in ancient Rome. The Rome Forum is where you get a glimpse of what the Roman Kingdom's earliest shrines and temples, palaces, triumphal arches, and market squares looked like.
Palatine Hill – Romulus is said to have started Rome's first settlement here in around 8 BC. Excavations have revealed huts and tombs from the iron age, an ancient fortification, places of worship, and imperial palaces on this hill overlooking the eternal city.
Conclusion on how to organize your Colosseum visit
There's a reason why the Colosseum is Italy's most visited attraction. Don't skip it when in Rome, even if you don't like standing in lines or mingling with crowds.
There are ways to enjoy a Colosseum visit despite the queues, like buying a skip the line Colosseum ticket for only a little more than the regular ticket price.