Top 6 Romantic Restaurants in Rome, Play the Big Game
---
What makes a romantic restaurant? Where can you find the most romantic restaurants in Rome? These are a few questions you might have been asking yourself while preparing a memorable Roman trip for you and your spouse.
In this post, we will round up the top 6 most romantic dinner options for different tastes and different budgets.
If you need to impress your significant other with a golden date venue, don't worry, we've got you covered. All these restaurants are top quality, have delicious food, and offer excellent customer service to ensure your experience is unforgettable.
Free city guide to visit Rome
Top 6 Romantic Restaurants in Rome To Have A Dinner with Your Love
Whether you're in search of a luxury experience or you want a laid-back pizzeria dinner, you will never run out of options in Rome. There are so many bars and romantic restaurants in Rome that making a perfect choice might be hard.
We have arranged a list to help you make the ideal selection. Please note that all prices mentioned only include two or 3-course meals with water. Wines, cocktails and other drinks, as well as special menus for unusual occasions, are available at seasonal prices.
1.     Antico Arco Rome; The Choice for Creative Italian Dishes
Boasting a very creative menu made from fresh seasonal food, this bright and fashionable restaurant uniquely delivers traditional specialties. The warm, minimalist interior is inviting and relaxing, providing the perfect ambiance for a romantic evening at Antico Arco Rome.
You can find this restaurant at on top of Colle del Gianicolo, facing the Arch of Porta San Pancrazio.
Location: Piazzale Aurelio, 7, 00152, Roma, Italia.
Cost: the seven-course Degustazioni menu goes for

€78

and an average dinner for two costs around

€100 – €130

.
2.     Trattoria Pennestri Restaurant Rome; The Budget-Friendly Choice
If you need to unlock some magical love, there is a famous saying that one of the ways to the heart is through the stomach. If you believe this, the majestic Trattoria Pennestri might be the golden key you are searching for.
The atmosphere is set just right in a dining room with shabby-chic settings and large windows. A typical nice meal will start with homemade bresaola, followed by gnocchi and scampi puree, amberjack in olive and tomato sauce and crème caramel for dessert.
Situated in the Ostiense district, this restaurant is only a stone's throw from Garbatella and Testaccio.
Location: Via Giovanni de Empoli, 5, 00154, Roma, Italia.
Cost: the average price for dinner for two will cost around

€50 – €70

.
3.     Aroma Restaurant Rome with A View of The Colosseum; one of the most Romantic Restaurants in Rome
Where else would you rather have the most romantic dinner of a lifetime than at the magical Aroma restaurant Rome? The contemporary dining room overlooking Emperor Nero's Gardens and the mighty Colosseum has stylish yet relaxing décor.
Make sure to adhere to the business casual dress code, or you won't be allowed to enjoy a mouthwatering meal plus jaw-dropping views of ancient world history.
This rooftop restaurant is at Palazzo Manfredi, opposite the Domus Aurrea, the Colosseum and the Roman Forums is the perfect place for a lovely dinner never to forget.
Location: Via Claudio Monteverdi, 16, 00198, Roma, Italia.
Cost: an average dinner for two here costs around

€140 – €250

.
4.     Ego Bistrot Restaurant Rome; The Inexpensive Michelin Star Choice
Famed as one of the most romantic restaurants in Rome, you will never go wrong by booking the Ego Bistrot. It is the perfect place to enjoy a cocktail with the one you love.
Here, you will enjoy the view of century-old history as you watch the sunset. Situated in the busy Trastevere area, this restaurant sits quiet corner on the rooftop terrace of Residenza di Doria Pamphilj, the 17th-century marvel with a breathtaking view of the Aventine's orange groves.
Location: Vicolo del Canale, 14, 00153, Roma Italia.
Cost: Ego Bistrot serves appetizing set dinner menus that range from

€90 – €110

for a couple.
5.     Ambrosia Restaurant Rome; The Choice For Innovative Mediterranean Cuisine
As their name implies, this exotic restaurant offers divine dishes and provides a panoramic view of the cities rooftops. There are few things more romantic than watching the sunset behind St. Peters Basilica from the top of Ambrosia restaurant Rome.
The restaurant and bar are located on the rooftop of Hotel Artemide, a gorgeous 19th-century building just a 10-minute walk away from Termini station.
Location: Via Nazionale, 22, 00184, Roma, Italia.
Cost: an average dinner for two will cost around

€80 – €160

.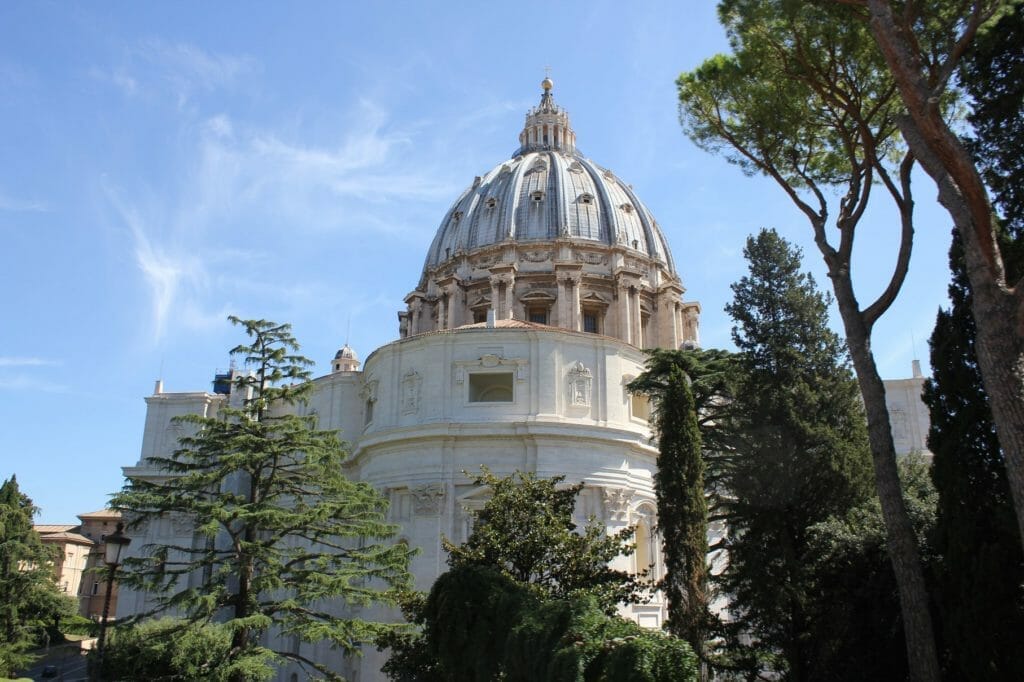 6.     Mater Terrae Restaurant Rome; The Vegetarian Choice
This innovative and modern restaurant only uses organic ingredients. The vegetarian restaurant was specially designed to speak luxury and boasts scenic views for the perfect romantic evening.
The experienced chef serves dishes with poetic names. It is situated on the topmost floor of Hotel Raphael, a five-star location near Piazza Navona.
Location: Piazza Navona, 2, 00186, Roma, Italia.
Cost: dinner for two will cost an average of

€150 – €220

.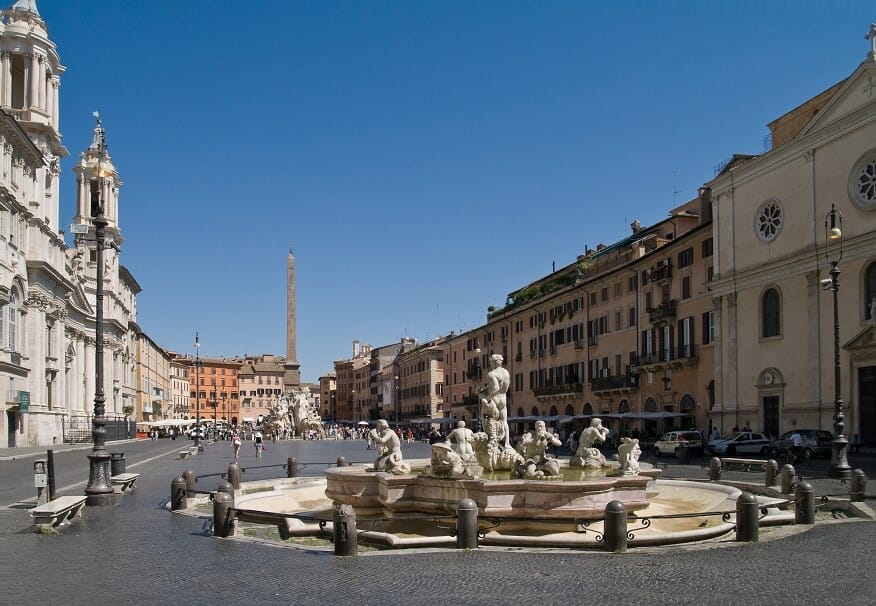 Conclusion to the most Romantic Restaurants in Rome

A lot of people flock to Italy for an unforgettable culinary experience. The well-established culinary tradition in the capital city, submerged in rusticism and simplicity, sets Rome apart from the other cities.
Rome is undoubtedly one of the most romantic cities in the world. You get to enjoy everything from the striking memorials that overlook the piazzas to the twisting streets that wind in between ancient palaces. The most amorous of all experiences is romantic Italian restaurants Rome serving delicious cuisine in a dreamy atmosphere.
You have to be part of this experience. We have you covered with a list of the most romantic restaurants in Rome so you can have a pleasant experience when you visit. Explore this whether you took a unique valentine's day vacation or you are exploring the eternal city with your loved one. Make sure to share this list with other couples you know are planning a romantic Roman getaway.