Top 10 must see restaurants & rooftop bars in Rome
---
Sometimes you need to head up to truly appreciate the scale of a city. Rome is one such place! On the ground, you can get preoccupied with the hustle and bustle of this grand capital. Dodging tourists and crazy moped drivers can really take the grandeur away.
But don't worry – we have some of the best must see rooftop views in Rome, including rooftop bar Rome, for you right here! Get to these high spots to view Rome in all its' splendour!

Get Rome Top Tips in one Free City Guide
Rooftop views in Rome – Dinner Spots
Let's start here with our first five best rooftop views in Rome for dinner! Sit back, relax and order a glass of fabulous Italian wine at these rooftop terrace restaurants. These dining spots feature stunning panoramic views over Rome's top scenic spots!
1.     Aroma Restaurant at the Palazzo Manfredi
This awesome restaurant does not only boast a Michelin Star. It also offers a stunning view over the Colosseum. Located at the Via Labicana, patrons can enjoy a sumptuous tasting menu for 180€.
We would recommend adding the wine tasting to this, the whole package totalling €280 for the ultimate experience.
2.     Mirabelle at Hotel Splendide Royale
If you can bag a spot here for a special occasion do it! This is one of the most special rooftop restaurants in Rome. Located in the Via Vento area, this restaurant is special because the Villa Borghese gardens surround the terrace.
You will also be rewarded with sweeping views of St Peter's Basilica. Choose from the delicious tasting menu or order something off the a la carte and enjoy!
3.     Mater Terrae at Raphaël Hotel
Situated in the Raphael Hotel on the Piazza Navona, this is a special treat. Book a seat on the terrace in advance and enjoy spectacular views over Rome.
This is one for the environmentally conscious, with a wide organic and vegan menu catering to all tastes.
Open for lunch and dinner, a main dish will set you back €32. Splurge on the tasting menu for €105 for a special occasion.
If you are in a Rome romantic trip with your loved one, we are sure you will enjoy extend this beautiful evening with a night at the hotel… Check prices for a night here.
4.     Acquaroof Terrazza Molinari
If you are looking for a more modern affair than the traditional restaurants above, try Acquaroof Terrazza Molinari.  Situated in the First Roma Arte hotel in the Piazza Barberini this is one for the young at heart.
A delicious tasting menu can be enjoyed amongst they stylish décor. Famous for its great seafood menu, the Acquaroof set 5-course menu is a reasonable €70. If you want to surprise your loved one, book a night there for around €350 a night.
5.     Terrazza San Pancrazio
Located in Trastevere, this fun sushi restaurant comes with stunning views as well as gorgeous mood lighting.
It is a favourite spot for locals, so if you fancy a more authentic meal this is one for you. It is a hidden gem amongst Rome's rooftop restaurants, with a limited online presence.
Head here for delicious and interesting sushi tapas menu and a great time amongst locals.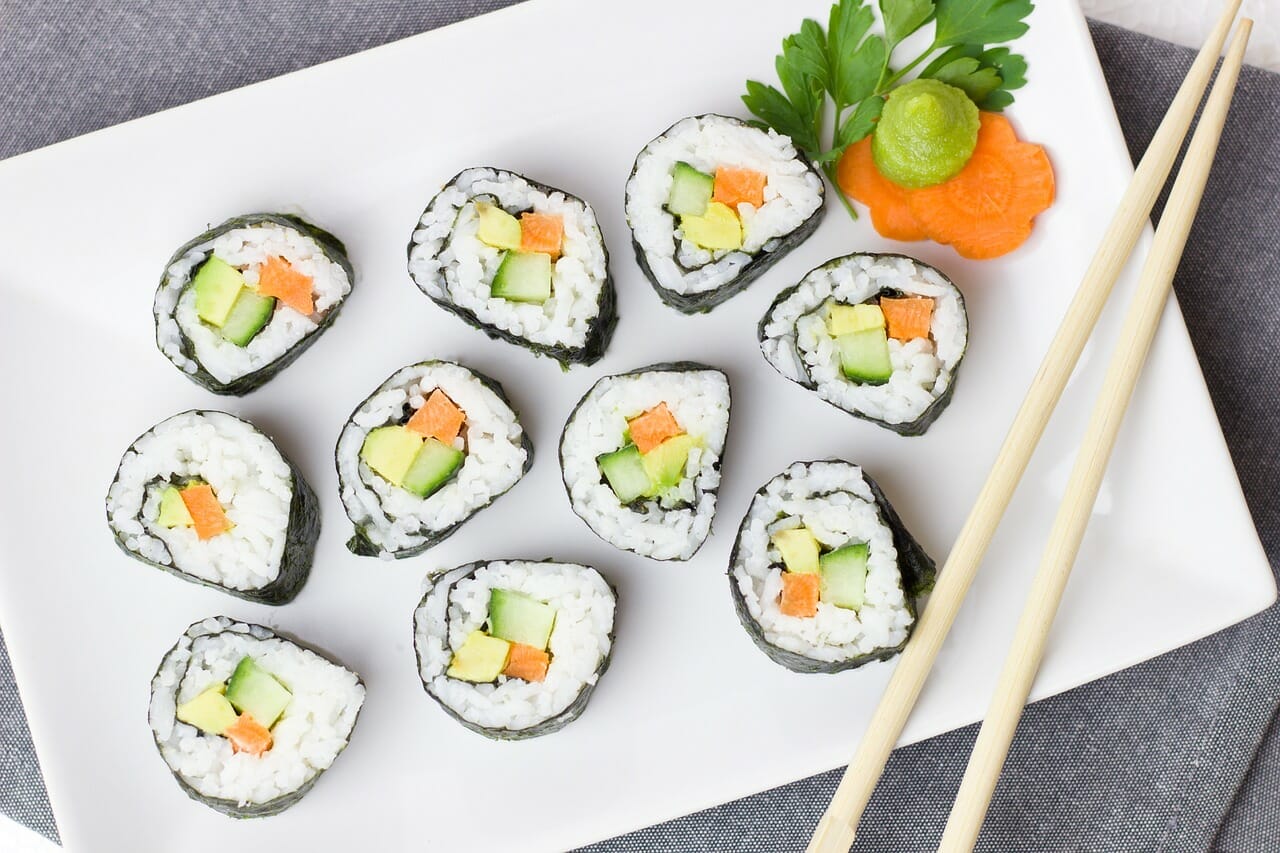 Rooftop Bar Rome – where to have a drink
Perhaps the eye watering prices in some of the above rooftop restaurants are a bit too much for the old wallet? However, you may not want to miss out on the once in a lifetime experience of a rooftop view over Rome? Never fear! Instead, check out some of the rooftop bars in Rome and get your fix! Check also our list of the best bars in Rome if you plan to try several of them.
Minerva Roof Garden, the most appreciate Rooftop Bar Rome
Head to the Grand Hotel de la Minerva for a truly special experience. Whilst you can of course splurge and eat here, the Minerva Roof Garden is also an excellent place for enjoying a drink.
Offering an eye watering view over Rome from all angles, this is the perfect place for a glass of prosecco or perhaps one of their signature cocktails. Open from 10am until 1am this is the perfect place to head to watch the sunset!
A glass of prosecco will set you back 16€, with cocktails starting from 20€. Check out the menu here. Then, sit back and enjoy the Pantheon.
The Minerva Roof Garden is consistently voted one of the best rooftop bars in Rome, and it is no surprise why.
If you consider spending an exceptional night to enjoy a unique moment with your partner, booking a night start from €275 for 2 people.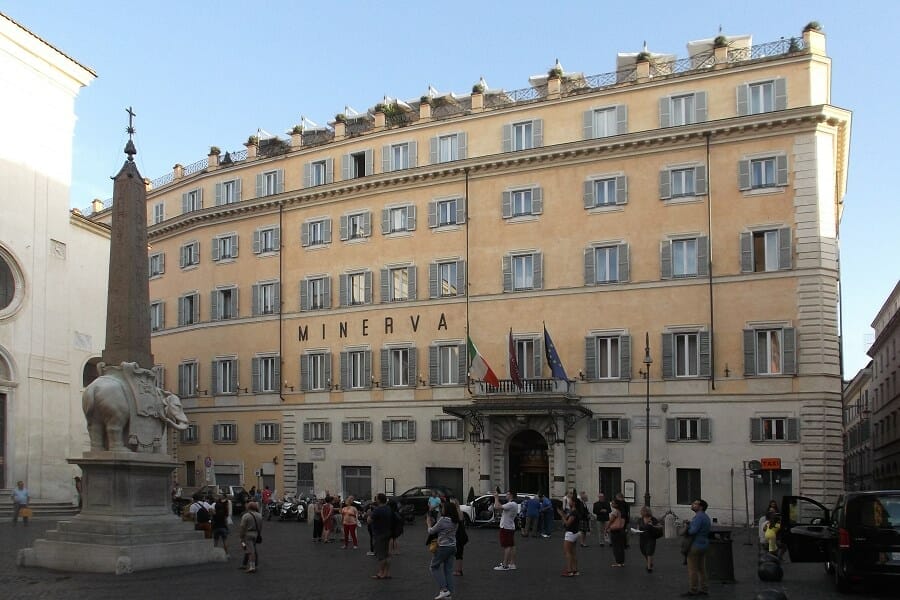 Aperitivo at the Terrazza dei Papi Rooftop Bar Rome
Located in the stunning Mecenate Palace Hotel, the Terazza dei Papi wows with stunning views of St Peter's Basilica. It even offers free little aperitif snacks, such as tiny bruschetta and little pasta bowls. The stunning Basilica de Santa Maria Maggiore looms above the roof terrace from which you can enjoy the view.
The Terrazza dei Papi is open from 5pm daily, so it's the perfect place to head from which to enjoy the sunset.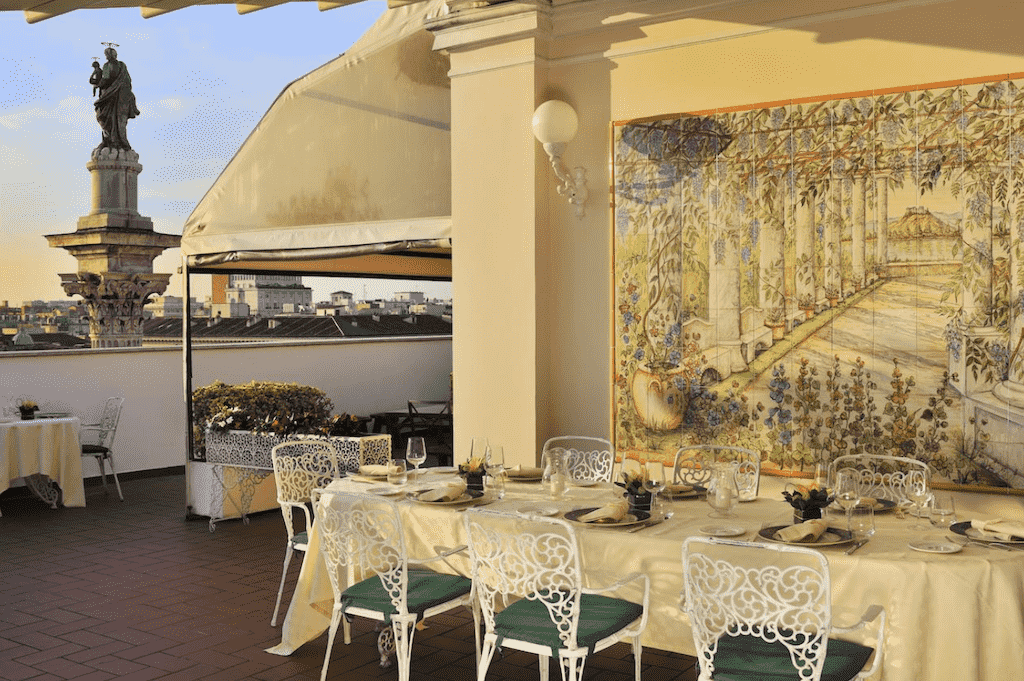 Evening Sweetness at the 9 Hotel de Cesari rooftop terrace bar
This is a great place to head if you want a chilled evening amongst friends. 9 Hotel de Cesari offers an unpretentious space from which to enjoy Rome's atmospheric summer evenings. Staying there will cost you around €165 a night.
Open from 6pm every evening, this laid back bar serves cocktails and non-alcoholic beverages. Sit back, relax and enjoy the view over Rome.
You can find this cool bar at Via de Pietra.
Roof Garden Les Etoiles, THE rooftop bar Rome for it view
With amazing views over to St Peter's Basilica, the Roof Garden Les Etoiles in the Atlante Star charms with its flowery balconies and gorgeous vistas. A great place to grab an evening cocktail and watch the sun set over the rooftops.
The terrace is open to non-residents from 10am and is really worth a visit. The free nibbles are of course an added bonus!
If you want to enjoy the roof terrace at any time, you should consider staying at the Atlante Star Hotel from €87
Tiziano Terrace by Monti View for a whole night?
This is a simply stunning rooftop bar Rome that has to be seen to be believed.
Open from 5.30pm to allow guests to enjoy the views, the bar is situated on the Via Cavour. If you can, splurge and stay overnight in the Monti Palace (book your stay here). The roof terrace is open to guests in the morning so you can benefit from a rooftop breakfast like no other.
Which rooftop bar Rome will you choose?  
We do not have time to list all of Rome's best rooftop bars and restaurants, but we hope to have given you a taste of all that is on offer above street level! Give it a try for yourself!