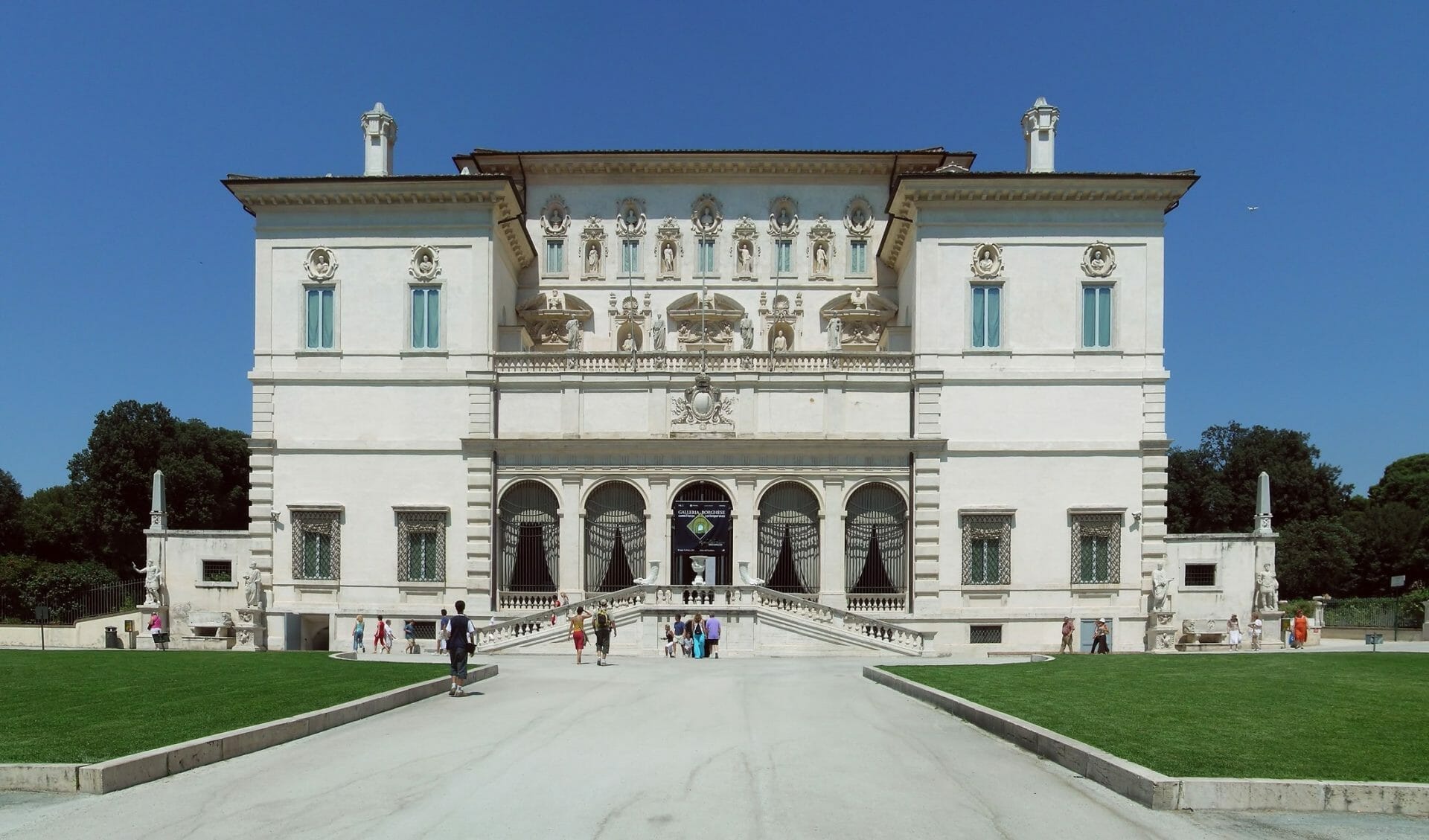 How to visit Borghese Gallery and avoid the queue ?
Find out everything you need to know to visit Borghese Gallery without queueing for tickets. Rome is filled with magnificent works of art to be seen in churches and galleries across the eternal city. One of the must see visit art galleries outside of the Vatican Museums is the Borghese Gallery featuring one of the world's greatest private art collections.
The Borghese Gallery history
The Borghese Gallery art collection was assembled by Cardinal Scipione Borghese, a nephew of Pope Paul V, in the 17th century. He held lavish garden parties at what was then his exclusive private villa. Of course, he also loved to boast with his impressive growing art collection.
Word of the large art collection soon spread across Europe. Especially wealthy British travellers loved to visit Villa Borghese on a "grand tour of Europe". One of them, a certain John Evelyn, described it as an "elysium of light" in his diary.
The Borghese Gallery especially highlights ancient Roman, Renaissance, and Baroque art. Scipione was an early patron of Caravaggio and Bernini. It's said that he used his connection to the Pope to acquire some of his artworks, even if it meant getting a papal order.
Prince Camillo Borghese, a later owner and brother-in-law of Napoleon, was forced to sell his Roman sculptures and antiquities to the Emperor. Most notably, the famous Borghese Gladiator left the villa and can now be seen in the Louvre.
In 1808, many of the most admired artworks in Villa Borghese was sold to the Emperor.
A mobile guide to plan your trip to Rome
10 must-see artworks to see when you visit Borghese Gallery
5 must-see paintings in Galleria Borghese
    Sacred and Profane Love by Titian
   Boy with a Basket of Fruit by Caravaggio
   The Enchantress Circe (or Melissa) by Dosso Dossi
   The Deposition by Raphael
   David with the Head of Goliath by Caravaggio
5 must-see sculptures in Galleria Borghese
   Pauline Bonaparte by Canova
   Apollo and Daphne by Bernini
   Rape of Proserpina by Bernini
   Bust of Scipione Borghese by Bernini
   David by Bernini
Borghese Gallery tickets and other practical information
Borghese Gallery ticket prices
| BORGHESE GALLERY TICKETS | PRICES IN A NUTSHELL | BOOKING |
| --- | --- | --- |
| EU citizens between 18 and 25 | €8,50 | |
| Skip the line ticket | €26,00 | CHECK PRICES |
| Children under 18 | Free | |
| Regular adult ticket | €15,00 | |
| Ticket with museum guide | €21,50 | |
| Museum audio guide | €5,00 | |
| Children | Free | |
All Borghese Gallery ticket prices include an obligatory booking fee of €2. This is necessary because visitors to the Borghese Gallery are limited to 360 at a time in 2-hourly slots. Avoid disappointment by booking your Villa Borghese tickets early.
Note: Entry is free for all visitors on the first Sunday of each month. Either avoid visiting on this day or book well in advance to secure a ticket. Even better, book a skip-the-line ticket (available here) in order to visit Borghese Gallery with a no-fuss experience.
If you're planning to get the Roma Pass , entry to Borghese Gallery is included – only if you choose among your free entries. Be careful, you still need to book your reserved entrance time ahead. Learn more about Roma Pass cost.
Getting to the Borghese Gallery
The Villa Borghese is set in the Borghese Garden, one of the largest public parks in Rome. More than 90 points of interest, including monuments and statues, can be seen in the gardens.
From the top of Pincian Hill, where the Borghese Garden is located, one has sweeping views over Piazza del Popolo.
Official address: Piazzale Scipione Borghese, 5
Rome Public transport options to visit Borghese Gallery:
Bus – From Termini Station, take Bus 910 and get off at Pinciana/Museo Borghese. Or take Bus 116 and get off at Galleria Borghese.
Metro – The closest Metro station is Spagna. Be prepared for a bit of an uphill walk to visit Villa Borghese if you take this option.
Official address: Piazzale Scipione Borghese, 5
Rome Public transport options to visit Borghese Gallery:
Bus – From Termini Station, take Bus 910 and get off at Pinciana/Museo Borghese. Or take Bus 116 and get off at Galleria Borghese.
Metro – The closest Metro station is Spagna. Be prepared for a bit of an uphill walk to visit Villa Borghese if you take this option.
During your Roman trip, you can access public transport for free with a 72-hours travel pass. It can be interesting depending the way you want to get around in Rome. With this pass, you have an airport transfer from Ciampino as well.
And if you're looking for a seamless airport transfer from airport in Rome, be sure to check out the convenient and reliable service offered by Online Travel Card to see if they suit your specific needs.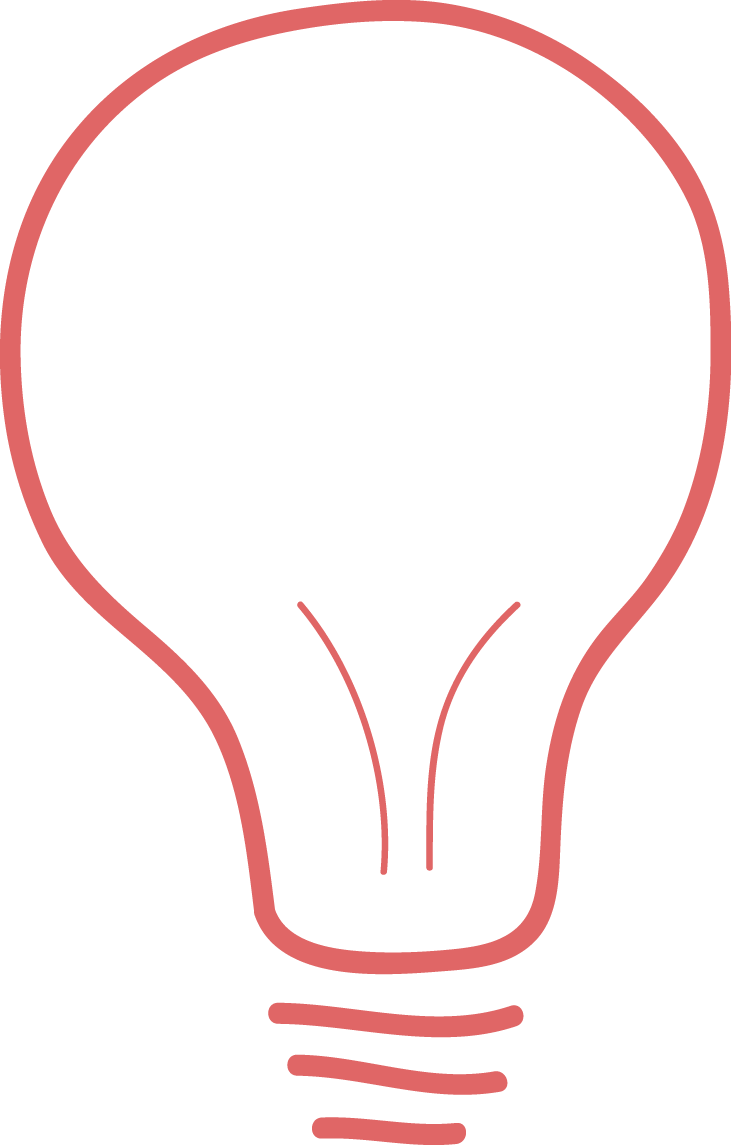 Tip – Don't waste your time and energy trying to navigate public transportation or haggling with taxi drivers. Book an airport transfer with Online Travel Card instead, so you can start your Roman adventure on a stress-free and positive note.
Borghese Gallery Opening Hours
The Galleria Borghese is from Tuesday to Sunday between 09:00 and 19:00.
You can visit Borghese Gallery between these time slots : 09:00 to 11:00, 11:00 to 13:00, 13:00 to 15:00, 15:00 to 17:00 and 17:00 to 19:00.
Top tips for when you visit Borghese Gallery
1.     Buy your Villa Borghese tickets in advance
If you plan to visit Villa Borghese while in Rome, it's best to book your tickets in advance. The reason is that the Borghese Gallery has a unique timed reservation system which allows only 360 visitors inside at a given time. In addition, visitors can spend no more than 2 hours inside.
While this is a great way to limit crowds to ensure maximum enjoyment of the artwork, it also means there is a high demand for Borghese Gallery tickets. If you wait until the day you visit Villa Borghese, you may be unable to secure a ticket or should be prepared to wait in long lines.
Fortunately, you can save yourself the frustration of being turned away or standing in queues by pre-booking skip-the-line Villa Borghese tickets. They are a great solution to ensure entry to one of Rome's greatest art galleries.
Click here to check availability and secure a skip-the-line ticket for Galleria Borghese.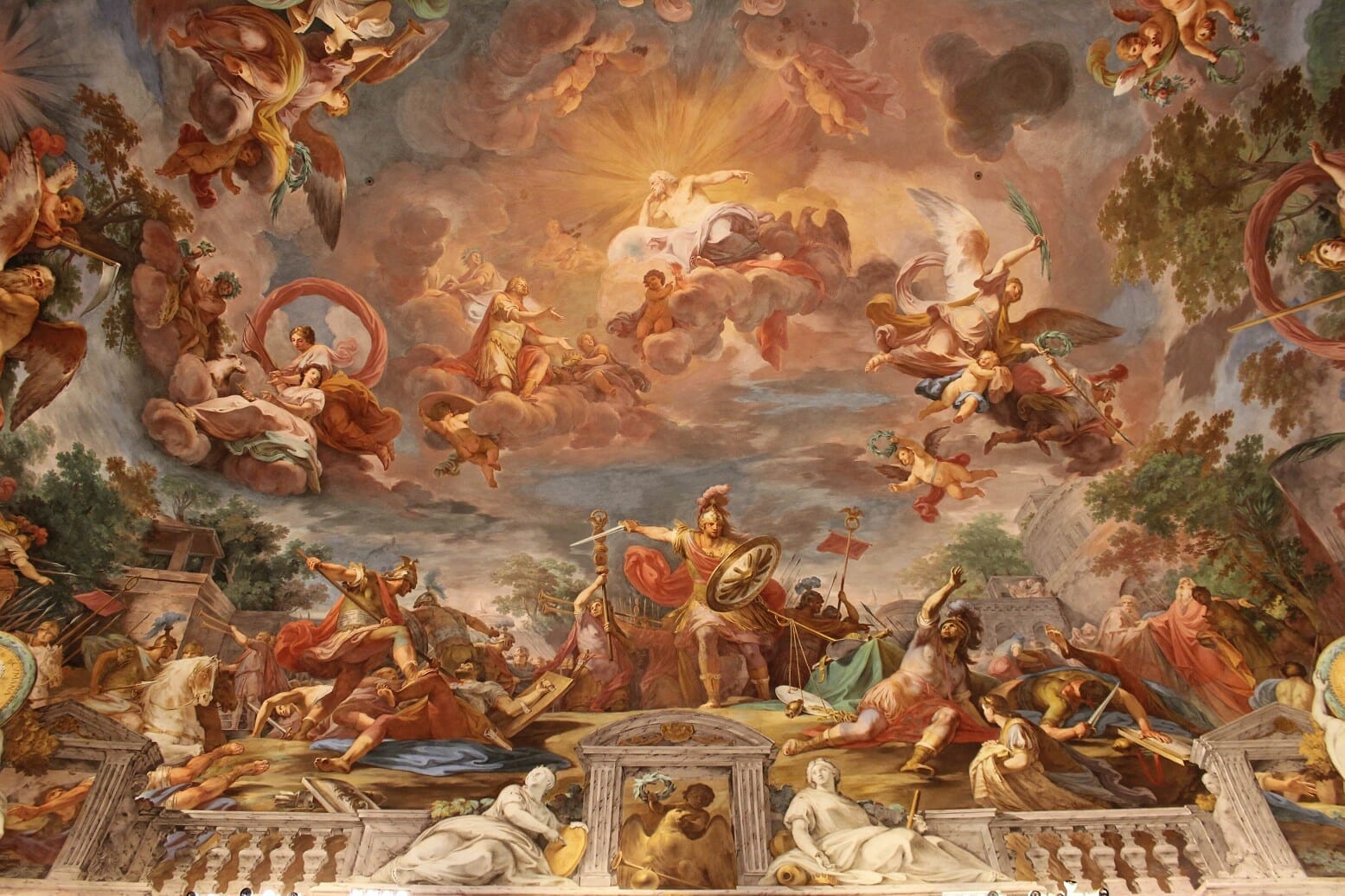 2.     The best time to visit Villa Borghese
The great thing about booking your Borghese Gallery tickets in advance is that you're assured of quick entry. Together with the limited number of visitors for each time slot, it doesn't really matter what time your tour is.
Even so, you may find that not all the early morning or later afternoon time slots are full. This means even less crowds and better photo taking opportunities (just remember to switch off your flash).
It is advisable, however, to arrive at Villa Borghese at least 45 to 30 minutes before your allotted time slot. This gives you time to use the restroom, check your baggage, and get an audio guide before visit Borghese Gallery.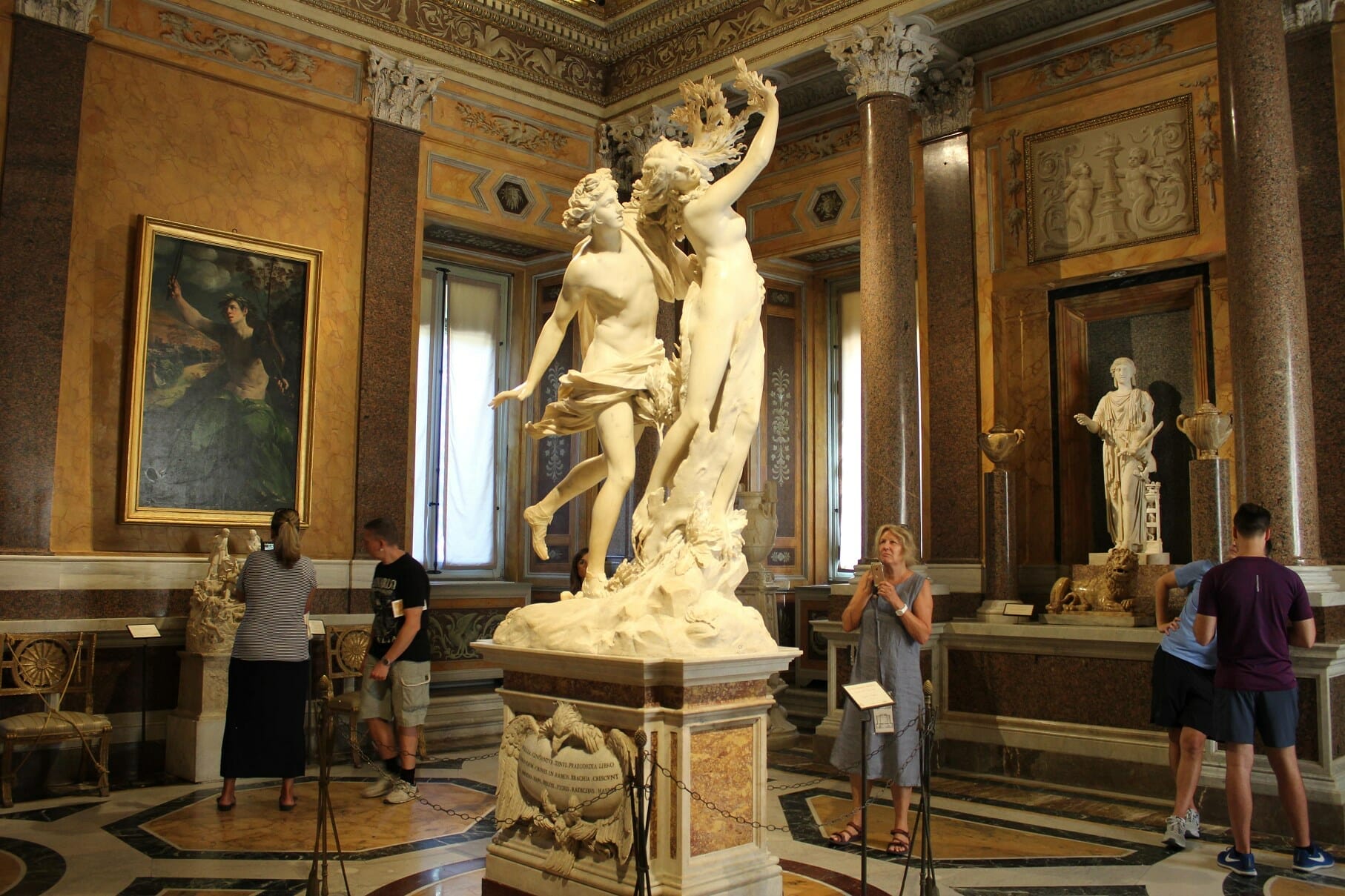 3.     Book a guided tour for a better experience
We highly recommend exploring one of the world's most iconic art collections under the expert guidance of a guide. While you can also take a self-guided tour or rent an audio guide, much value is added by a professional guide.
A small group guided tour is a great way to explore the artworks in the Borghese Gallery's 20 rooms (book here). Or how about an elite walking tour which includes a guided tour of Borghese Park, Pincio Terrace and the Spanish Steps?
Conclusion on how to visit Borghese Gallery
The Borghese Gallery may not be one of Rome's best-know attractions, but it's becoming more popular as visitors discover this extensive collection of sculptures, paintings, relics, and ancient mosaics.
While Borghese Gallery tickets are relatively easy to obtain, they must be reserved online for specific time slots on specific dates. Don't miss out – secure your skip-the-line ticket (on this website)in order to visit Villa Borghese now.