Rome romantic: How to Spend the Perfect Romantic Day in Rome
---
One can never go wrong with planning a romantic getaway for their loved one and Rome being one of the most popular destination for the romantics is the perfect solution. From taking romantic strolls along cute cobbled streets with a gelato in hand or sipping champagne with oysters on a fancy date night. Walking around the surreal looking bridge of Ponte Sisto hand in hand.
Rome is sprawling with hidden cafes, monumental buildings and romantic place where you and your loved can enjoy some alone time and create some everlasting memories.
Here is a list of some romantic things to do in Rome especially for couples seeking a more adventurous experience. This list covers some local heritage and iconic places, which will make you fall in love with your lover all over again.
Besides visiting nightclubs and their local pubs, visit these exotic sights for a mysterious yet an amorous trip with your most adored person.
Your mobile guide to get the most of Rome
Rome

Romantic 

:  Horse Carriage Ride
Take yourself back to the era where streets could only cross through a traditional horse carriage and live the fairytale dream of yours with your beloved. This ride will captivate you and your special one in a way which you would cherish forever.
Ride pass the ancient monuments of the city like Mausoleum of Augustus and St. Peter's Basilica. Local horseman narrates the old tales of lovers back in the day.
A ride in the evening would be perfect, ride along the cobbled passage and get ready to be enchanted by this unique experience.
For those who have a significant amount of budget can avail this opportunity. This is one of the most romantic things to do in Rome, don't miss out on this.
Charges:

490 Euro for two persons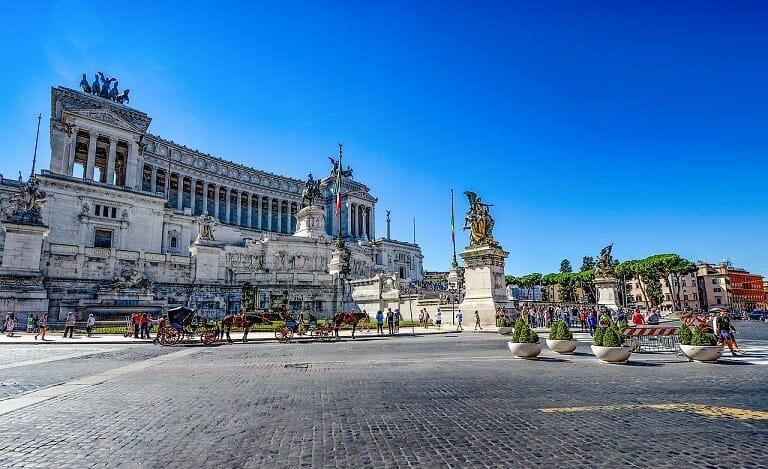 A Romantic Night Stroll Around the Tiber river
One of the most welcoming sites along the city center which gives an alluring view of the main attractions gently flickering in the calm waters is the Tiber River You will not be able to keep yourself from taking a romantic stroll along this captivating site. It is filled with magical golden hues which sets a dreamy ambiance for you and your special one.
If you don't feel like walking, then take a romantic cruise ride. This boating experience comes in different types. Hop aboard on Hop on and Hop off cruise (ticket here) or if you are seeking something much fancier then opt for a Dinner Cruise which offers live music. Ticket are available from €68 for a 2,5-hours cruise.
Just pick the one that suits you both the best, and indulge in one of the romantic things to do in Rome. Cruising along top most attractions of Rome such as St. Peter Basilica will be perfect to round off a date in romantic Rome.
Charges: Starts from 18 Euro per person
A Rome Romantic Date on the Terrace of the Hadrian Mausoleum
The spectacular view from Lungotevere Castello offering a great date spot from its Terrace will allow you to enjoy the stunning view of River Tiber. It will fulfill your eternal splendor which brought you to romantic Rome in the first place.
This place both beautiful day and night, is open in all seasons. It extends it's opening hours to midnight on weekends.
In summer time however in winters due to chilly nights and temperatures dropping below freezing points the terrace closes at 7:30 pm.
Tour the Vatican City, best Rome Romantic activity
Vatican City is unmissable in romantic Rome especially if you want to indulge in a passionate experience with your lover. Museums have always proved to showcase city's finest artifacts and we are not only talking about the displays but the city offers stunning architecture and décor.
Get lost in the beguiling Motifs, sculptures, and exquisite carvings which will steal your heart. The city not only offers aesthetics, such as the Sistine Chapel, but also offers tremendous opportunities to take late night strolls in the gorgeous Vatican Gardens.
Enjoy the open sky, cold summer breeze caressing your skin, sip ice cola or indulge in a nice gelato with your beloved reveling in romance in Rome. Do not forget to get through the St Peter's Square which is very stunning on sunrise.
You can opt for a small group tour the early morning(ticket from €89 per person) or upgrade on an evening experience (book your ticket here).
The Vatican City is near to public transportation stops, so it won't be a hassle to reach this place.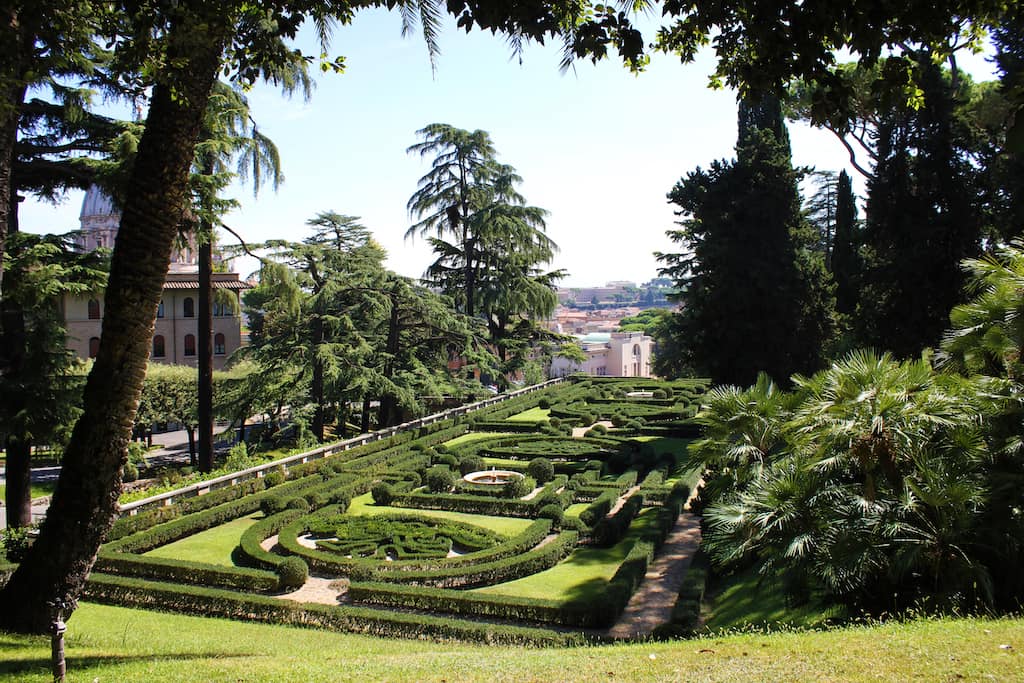 Spend a night in Teatro dell 'Opera di Roma and see an Opera Performance
For couples who prefer something more than fancy candle light dinners or late-night strolls, book a show at Teatro dell 'Opera di Roma. It happens to be among Europe's finest amphitheaters where you can witness Opera extravaganza. This could be something you and your loved can enjoy on your romantic Rome getaway.
The rich architecture dating back to 19th century, the sound of orchestra resonating with rich culture, history and royalty will take you back in time. Make your heart skip a beat by the marvelous performance by opera house and enjoy a night that you will never truly forget in Romantic Rome.
You can reach this this theatre through public transportation or rent a Vespa to make your journey hassle free.
Charges: 20 Euro per person onward (prices for tickets, however, differ from show to show and preferred seating)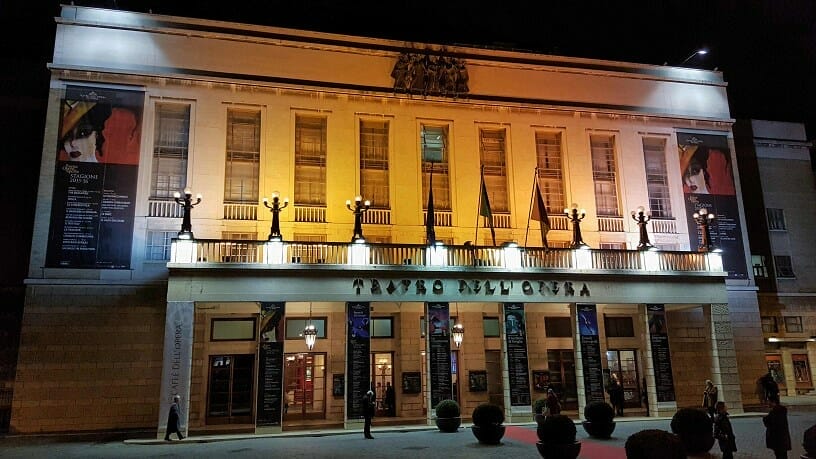 What about a romantic Dinner at the Rooftop Restaurant of Hotel Raphael
Candle light dinners have remained a classic among couples and to have one in a new city is an experience beyond words. One of the most popular romantic things to do in Rome is reserve a candle light dinner at the Terrace of Hotel Raphael's rooftop restaurant. It gives a stunning panoramic view of Rome and serve mouth-watering Italian dishes in a soulful setting.
The restaurant gives an alluring view of Santa Maria Della Pace on one side, and Church of St. Mary of the Soul on the other. Palazzo Doria Pamphilj, and Church of St. Agnes in Agone are other Roman landmarks that can be viewed form this impeccable dining location.
If you want to extend your romantic night, you should really consider booking a night at the hotel if your budget allows it.
You can easily get there by a taxi, Vespa or arrive through public transportation.
Timings: Opened from 12 pm-11pm from Mon-Sunday.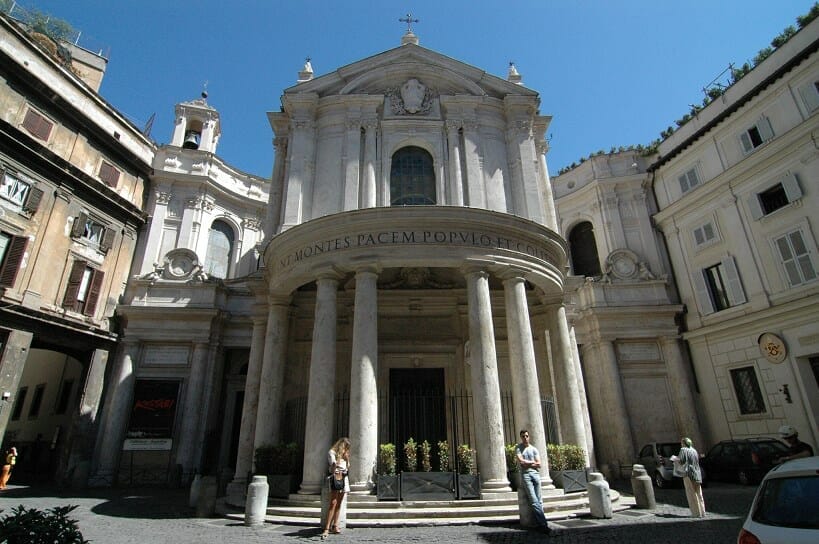 The Classical beauty of Rome Awaits you
Rome and Romance can never go wrong together. The endless city of Rome is welcoming in all seasons. Plan your trip either in summers to enjoy bright sunny days or during early winter to enjoy the chilling Rome weather in a land lost in time.
One of the most fun, exciting yet romantic things to do in Rome is to rent a Vespa with your partner for a thrilling experience and take a tour of major attractions which Rome has to offer.
Ride along the colosseum, the narrow streets and fountains and make this romantic getaway of yours a trip of a lifetime.