Dress Code for Vatican City: What Tourists need to know
---
Visiting the Vatican City is a dream for many. Walking the corridors of the Vatican Museums, catching finally that glimpse of the Sistine Chapel. Maybe you'll even see the Pope!
For many visitors, the Vatican is a holy place, and it is true that there are some areas of the city state that have special dress code requirements. Here we will take you through any dress code for Vatican City requirements.
Read on to find out more about Vatican dress code.
History of Vatican Dress Code
The Vatican City dress code mirrors that of a general dress code for Roman Catholic churches that has existed for centuries. Since the 1970s, the application of a dress code – particularly for women – has relaxed in most instances.
But for the Vatican City, the basic guidelines – centred on modesty for both men and women – have prevailed.
Today's dress code for the Vatican in Rome Italy
You might be disappointed to queue for hours and hours to get into some of the Vatican City attractions, and then turned away. Unfortunately, we have seen this happening on occasion, especially in the height of summer.
Stick to these general rules and you won't run the risk of ruining your trip:
Bare knees – for both men and women – are a no-no
Same goes for bare shoulders
Hats or caps will need to be removed
Belly crop tops – no way!
On top of these rules, which are enforced by Vatican staff on entry to the buildings, you may want to do the following:
Avoid wearing slogans that could offend, pictures of skulls for example, or anti-religious attire
Flip flops are perhaps too casual for the surroundings
Ripped T-Shirts or Jeans
See-through clothing
The above, whilst not strictly prohibited, might cause offence. Depending on the guard enforcing the Vatican dress code on the day, you might be refused entry.
A quick look at Free guide of Rome on your mobile
Vatican city dress code women for all occasions
The Vatican city applies its rules for modesty equally to men and women. But there are some particular instances when women have additional dress code requirements. One would be if you are meeting the Pope! If you look at pictures of Queen Elizabeth II meeting the Pope through the ages, you'd be forgiven for thinking she was at a funeral. Why was she always dressed in black?
Black dress when meeting the Pope is a sign of modesty and piety. This is adhered to by non-catholic Monarchs, princesses and the like. But don't be surprised if you see a female member of a European Royal Family meeting the Pope dressed in white either! There exists an interesting protocol – known as the Privilege du Blanc (privilege of white) – whereby certain catholic royals are allowed to wear white.
Stylish & Casual mens dress code for Vatican
In the hot summer months, it can be tough in Rome. The dress code for the Vatican City can make it even more difficult. For ladies at least, a long light summer dress will bring some comfort. But for men, it can be particularly tough if they can't wear shorts.
You could pack a light pair of linen trousers in a bag and put them on before entering, so that you can wear shorts the rest of the day. T-Shirts are fine, but a nice white linen shirt may be better and look more respectful.
Vatican dress code for kids – Best ideas
There is no real dress code for kids, but you'd perhaps want to protect them from hot sun in summer with covered arms anyway. A nice pair of shorts and t-shirt for boys, and a summer dress for girls would do in the summer. In the winter, make sure they have something warm. St Peter's Basilica can be particularly cool in the winter.
Vatican city dress code summer rules
The Vatican dress code applies in summer as well as winter. It is just more difficult to adhere to in the summer months! There are rumours that the guards are a bit more lenient on the really hot days. But you cannot take this for granted, so make sure you have the appropriate cover ups with you so as not to miss out on entry.
More about Vatican dress code shoes requirements
There is no specific rule about footwear in the Vatican city. However, we would recommend you don't wear flip flops. They can be seen as a bit too casual for visiting the Basilica for example.
In addition, if you want to climb to the top of the Basilica, or walk later on some ancient ruins down at the Roman Forum, you'll need something that is less of a trip hazard.
Showing tattoos – What are the rules?
In theory, there are no specific rules against tattoos. However, the code is that anything deemed offensive to the Catholic Church could lead you to being escorted out. So best to cover anything you think may offend.
What about shorts, sandals & hats
As we mentioned above, shorts are not appropriate clothing for the Vatican City. That is, those that finish on or above the knee. You might think that a pair of "boardies" or surf shorts would fit the brief, but these would be too casual for the holy surroundings of the Vatican City. Stick if you must to ¾ length options.
Sandals – the more formal kind (not plastic flip flops) can be acceptable, but might not be comfortable for all day exploring in the miles of museum halls. Generally, there are no footwear rules on items that would violate the dress code for Vatican City
Hats – hats are OK, and recommended in summer and winter. But men will need to remove them on entry to the internal attractions including St Peter's Basilica. Women can keep wearing theirs.
What to wear to avoid looking like a tourist?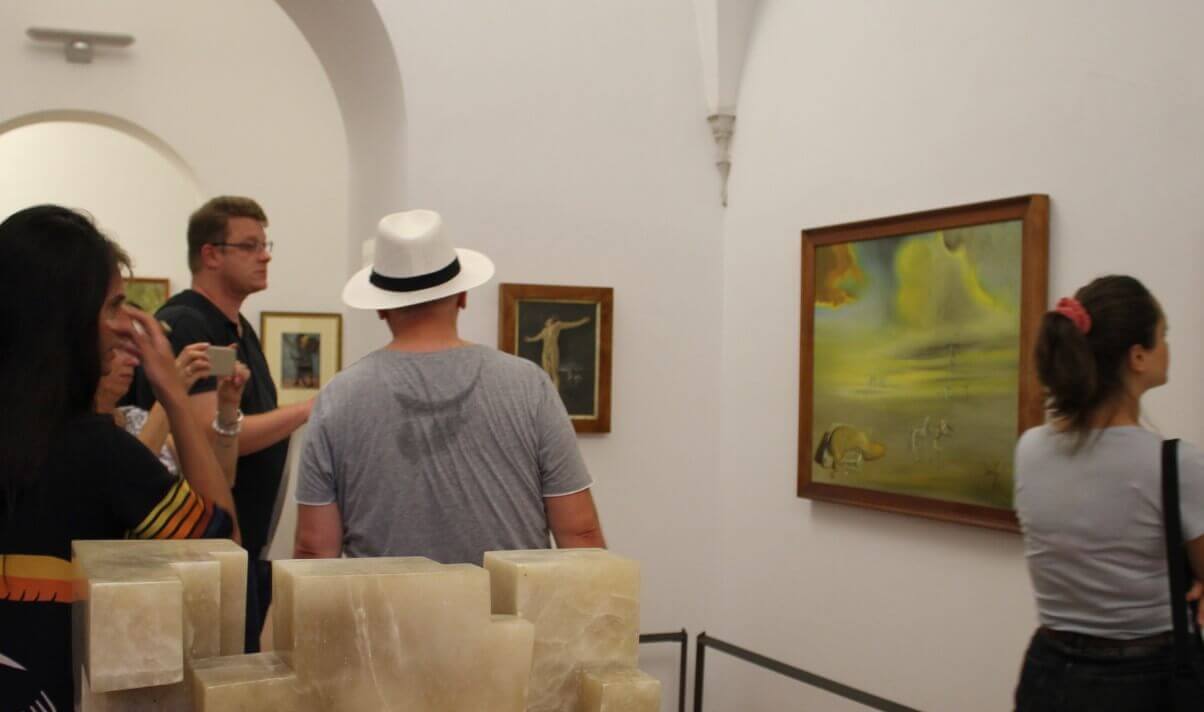 If you aren't wearing flip flops, short, belly tops, cut off shirts and bright neon, you probably are about half way there! If you want to dress like an Italian, think understated tailoring, lay off the denim and stick to neutral colours.
Dress Code for the Sistine Chapel
The Sistine Chapel is one of the areas in the Vatican that requires the visitors to follow the dress code. No bare flesh on shoulders or above the know, and no generally offensive clothing.
Dress Code for St Peter's Basilica
Access too to St Peter's Basilica is also controlled. You will need to follow the dress code rules above to enter.
A note on the enforcement of the dress code
The above rules are the rules! But we do get reports that the people enforcing the dress code can be strict or less strict with them. I guess it is really hard to control by eye, and it is sort of subjective.
So don't be surprised if you get pulled for something, but see someone else getting away with it. That's just something that happens sometimes. Best for you just to come prepared to follow the rules so you can enjoy without worry.
Frequently Asked Questions
How strict is the dress code at the Vatican?
The Vatican Dress Code is reasonably strict. Any bare skin the knee, or bare shoulders, will likely attract unwanted attention and could get you escorted out!
Why is there a dress code for the Vatican?
The Vatican City is a religious city state, governed by the laws of the Catholic Church. As a result, modest attire is not only encouraged, but enforced for both men and women.
Can you wear shorts in the Sistine Chapel?
You should not wear shorts in the Sistine Chapel as it violates the dress code for Vatican City visitors.
Can you wear sandals to the Vatican?
There are no specific rules regarding footwear. But, good walking shoes are probably better for the miles of walking you will be doing!
Can I wear jeans to the Vatican?
Jeans are allowed and don't violate the Vatican City dress code.
Can you wear sweatpants to the Vatican?
You could wear sweatpants to the Vatican in theory, but it would not be recommended. Your attire should be smart and respectful.
Are backpacks allowed in the Vatican?
Large bags and backpacks will have to be checked in to storage lockers.
Follow these basic rules for visiting the Vatican City and avoid getting your trip spoiled before it even begins!
Now you know what to wear, check out what you should see in Vatican City.
1 Comment