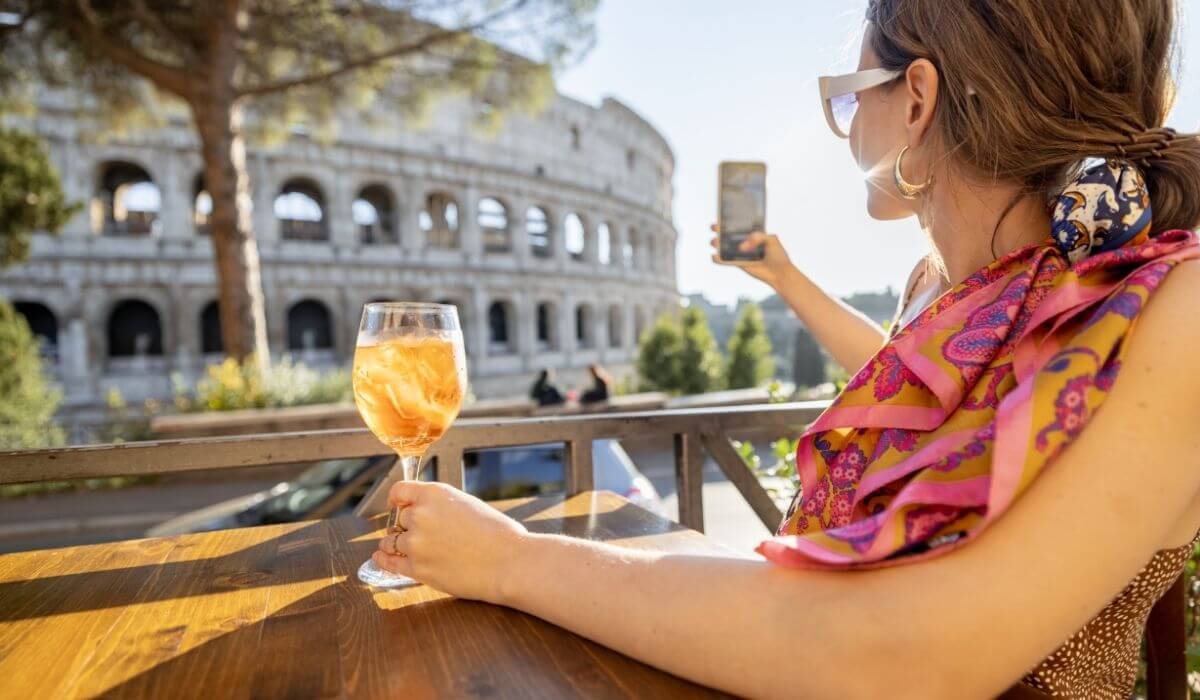 What Is Aperitivo: Meaning, Types & Best Place to Try One
---
When in Rome – you simply must understand what is aperitivo in order to fully enjoy roman way of life!
A welcome break from long hours trawling through museums or ruins, you'll spot this little evening tradition happening on terraces and sidewalks throughout the city.
So just what is an aperitif?
Find out more about it here so you can partake and enjoy!
What Is the Aperitivo? – Meaning & Definition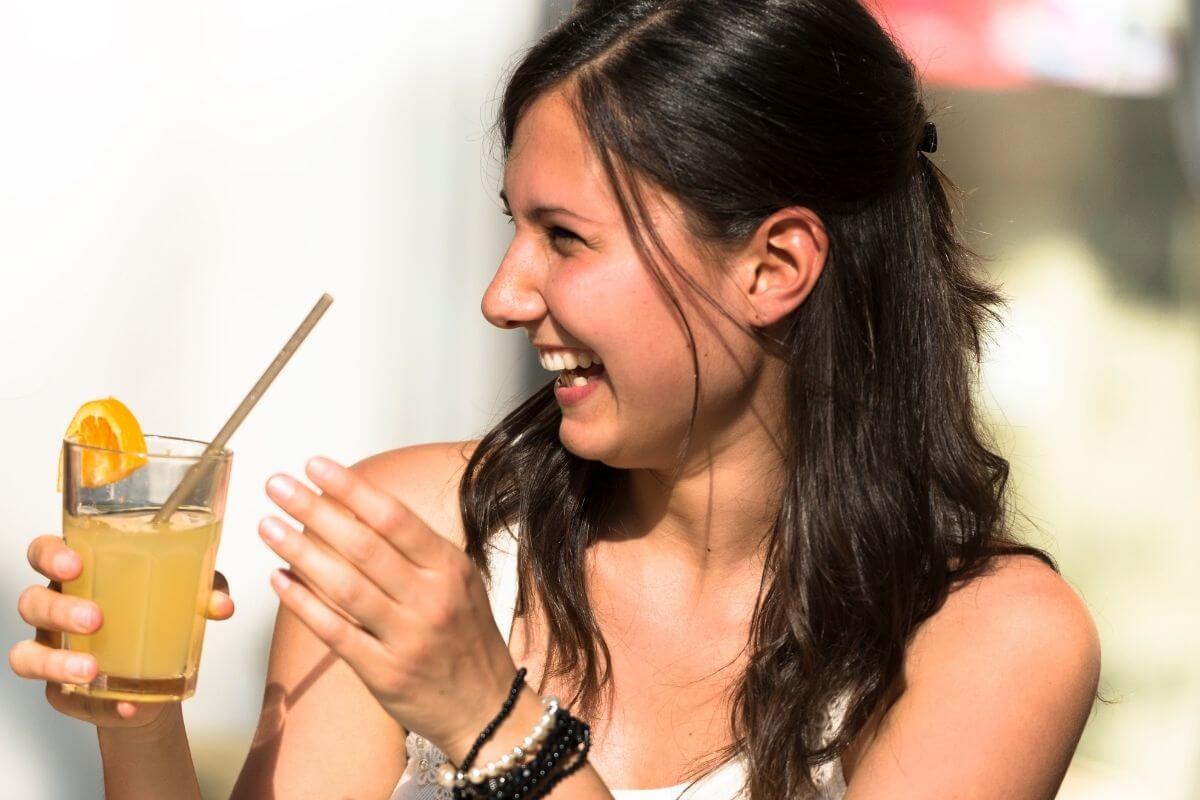 The aperitif in Rome is a drink – usually an alcoholic one – that is taken before a meal.
The purpose traditionally was to stimulate the appetite, however it has now become somewhat of a traditional social meetup in countries like Italy and France.
In fact, the word aperitivo comes from the french Apéritif, which itself derives from the latin for "to open". Aperttivo in english is usually written as Aperitif, and sometimes used interchangeably with a "sundowner".
In Rome, especially in the summer, the vibe in the city cafes is relaxed, holiday-like and buzzing.
Between the hours of 7 and 9pm locals and tourists alike pull up a pew and take a refreshing pre meal drink – usually a bitter spritz or prosecco.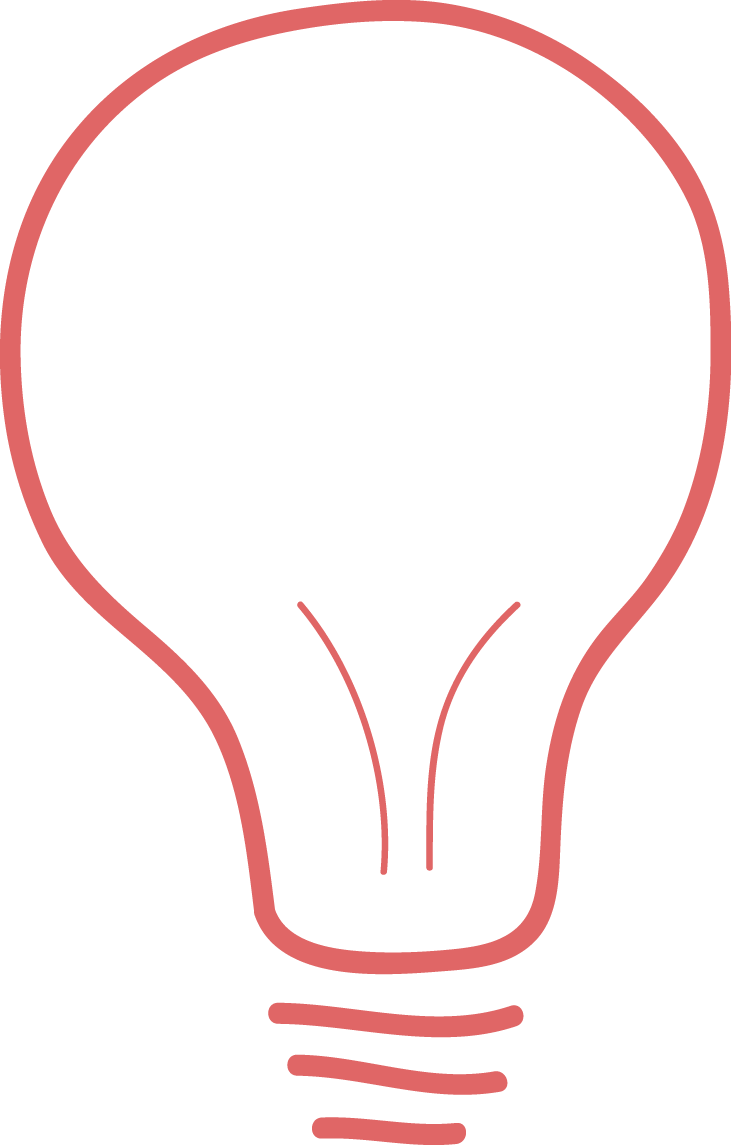 Tip – And don't worry if you don't drink alcohol – there are great non-alcoholic pre dinner drinks available too.
How to Drink Aperitivo Like an Italian?
Since Italians eat dinner late, you will have plenty of time to enjoy this custom after a long day of sightseeing.
You can usually sit for a pre dinner alcoholic drink between around 7pm and 9pm, although you'll see people enjoying an aperitif in Rome throughout the day.
And you'll usually not just get an Italian welcome drink at a restaurant at this time. Your aperitif in Rome will usually come with some salty snacks on which to nibble.
Many establishments serve an aperitivo buffet. Just don't get full! It's only a warm up for the main event – dinner!
So, bottoms up! The Italian word for "cheers" is "saluti" – you'll probably hear it around town as you enjoy this social tradition.
Get Today Our Free guide of Rome on Your Mobile
How To Ask For Aperitivo Menu Items In Rome?
You will usually be seated by the server when you get to a restaurant or bar, from which you can also order your aperitivo cocktails.
Ask for what is recommended – we have a huge list below. Your waiter will help you!
Once you have ordered you will likely be asked to pay straight away – that's because the best places get busy and the servers will probably get rushed.
Once you're sorted you can head to the aperitivo buffet – if there is one. Otherwise, the server will likely bring a few little savory snacks you can enjoy with your drinks.
Types of Aperitif in Rome You Can Try
There are an overwhelming amount of drinks from which you can choose.
There are of course alcoholic and non-alcoholic options available, so there's no reason for anyone to miss out.
Here's a list of some of the drinks you can enjoy during aperitif in Rome hour.
What is Aperitivo Liqueur?
The base of many of the traditional aperitif in Rome cocktails – such as spritzes or other prosecco mixes – is the bitter and red aperitivo liqueur.
Aperol is probably the most famous, although there are also many other competitor brands on the market.
Aperitivo Liqueur is usually mixed with Prosecco and Soda – the most popular being the Aperitivo Spritz.
What Is Aperix Aperitivo?
Aperix is another brand of aperitivo liqueur – it is stronger than Aperol – and works well in the traditional prosecco and soda mix.
It is a fruity mix, so you sometimes see cocktails with Aperix base containing an olive instead of an orange to offset the flavors.
What Is Cappelletti Aperitivo?
Cappelletti is one of the oldest drinks – it is not heavy in alcohol content – and is so light and refreshing that it can be enjoyed simply poured over ice.
What Is Peychaud's Aperitivo?
If you are not a fan of the really bitter taste of the stronger aperos, Peychauds is a good alternative. It is also low in alcohol content and a great one for beginner aperitif fans.
What Is Aperitivo Analcolico?
Don't be left out if you don't drink alcohol. Ask for an aperitivo analcolico so you can still enjoy the experience. Usually fruit-based, try a pineapple one for a tropical vibe.
What is Campari Aperitivo Liqueur?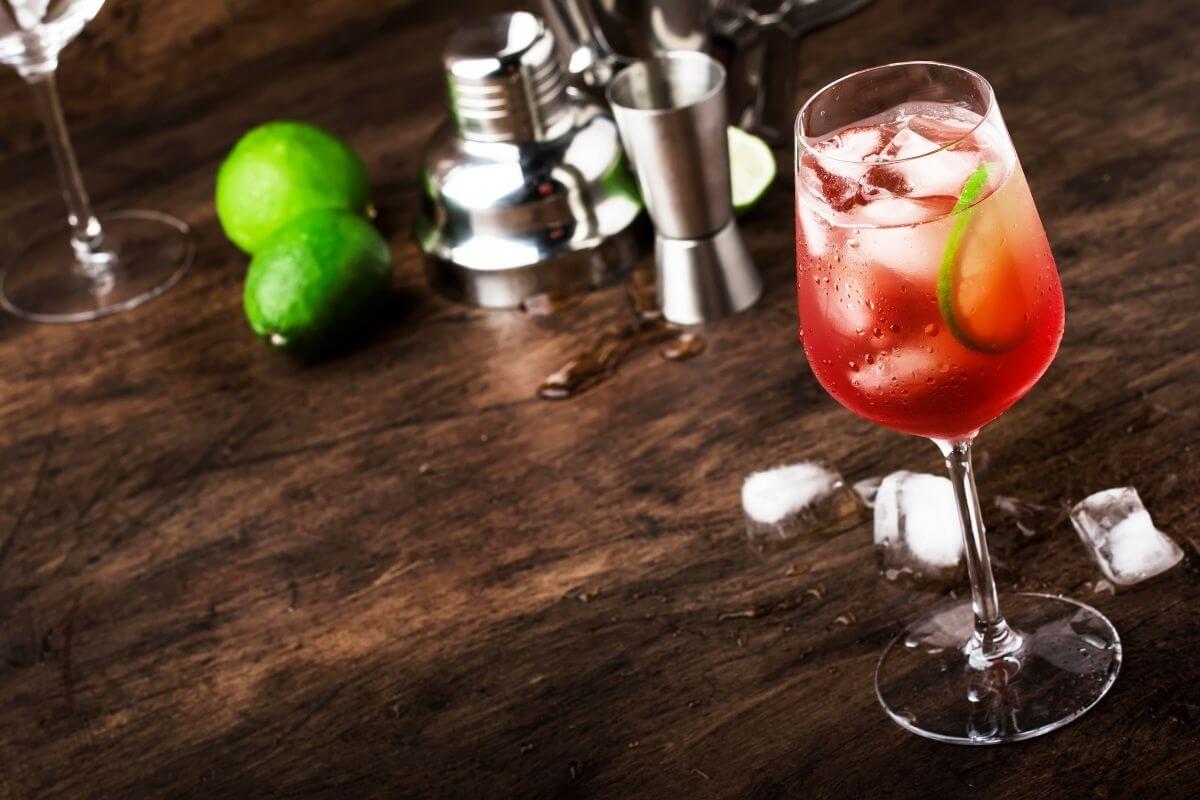 Another bitter liqueur, campari, is found in the negroni cocktail. It's often served in a cocktail but can also be mixed simply with prosecco.
What Is Andiamo Bitter Orange Aperitivo Spritz?
This is an orange hued aperitivo that stands out amongst the darker reds. It is best served over ice, but can also be mixed with prosecco and soda.
What Is Aperitivo Spritz?
A spritz is one of the most popular combinations for the aperitif in Rome. It is created by mixing aperitif liquor such as some mentioned above with soda and prosecco.
Best Italian Aperitivo In Our Opinion
You can't go wrong with ordering an Aperol Spritz when in Rome. It is certainly the most common and best Italian aperitivo!
This orange and bitter drink is found on bars and terraces everywhere. Make sure you order it with a salty snack if you've missed apero hour.
Otherwise, the drink will come with something to nibble on alongside!
What Time Is Aperitif in Rome, Italy?
Italians eat later than countries in northern Europe. Expect restaurants to be empty until at least 8 or 9pm.
That means you have plenty of time to enjoy Aperitivo hour!
Let's find out if there are any regional differences to this time across Italy.
What Time Is Aperitivo In Rome?
Usually between 7-9m you can find the locals spilling on to the terraces after work. Join in the fun!
What Time Is Aperitivo In Florence?
You can start to order Aperitivo in Florence from around 6pm to 9pm.
What Time Is Aperitivo In Bologna?
Aperitivo in Bologna starts around 6pm and can stretch late into the night!
What Time Is Aperitivo In Milan?
Further north, aperitivo in Milan starts at 6 and is usually winding up around 8pm.
What Time Is Aperitivo In Venice?
Starting at 6pm, aperitivo in Venice will finish around 8pm.
How Much Does An Aperitivo Cost In Italy?
Expect to pay around 8-10 euros, although around the major tourist hotspots in Rome this can increase to 12 or 13 euros.
Take a walk a few streets back from the main areas and you will find more reasonable prices. This price will include a little aperitivo plate too!
Aperitivo Rules You Need To Know
The aperitivo price includes a small plate of nibbles or access to the aperitivo buffet. But don't overindulge.
It is not supposed to replace your dinner! If you load your plate high or go back for more, you'll probably get a few funny looks.
Italian Aperitivo Food Ideas You Should Try
Little bruschettas, focaccia, local cured meats and cheese, olives and crackers are typical aperitivo snacks that will be served with your drink. Enjoy!
How To Make Aperitivo Drink At Home?
Making an aperol spritz is so easy at home!
For a traditional aperitif in Rome recipe, you need:
a bottle of Aperol
some prosecco
and some soda
The prosecco should be on the dry (brut) and the fizzy soda should be unflavoured – you can use fizzy water as well.
Don't forget to cut a slice of orange for the garnish! Add equal servings of aperol and prosecco, and then splash in a bit of soda.
If you are not such a big fan of the bitter aperol, then weigh the prosecco heavier.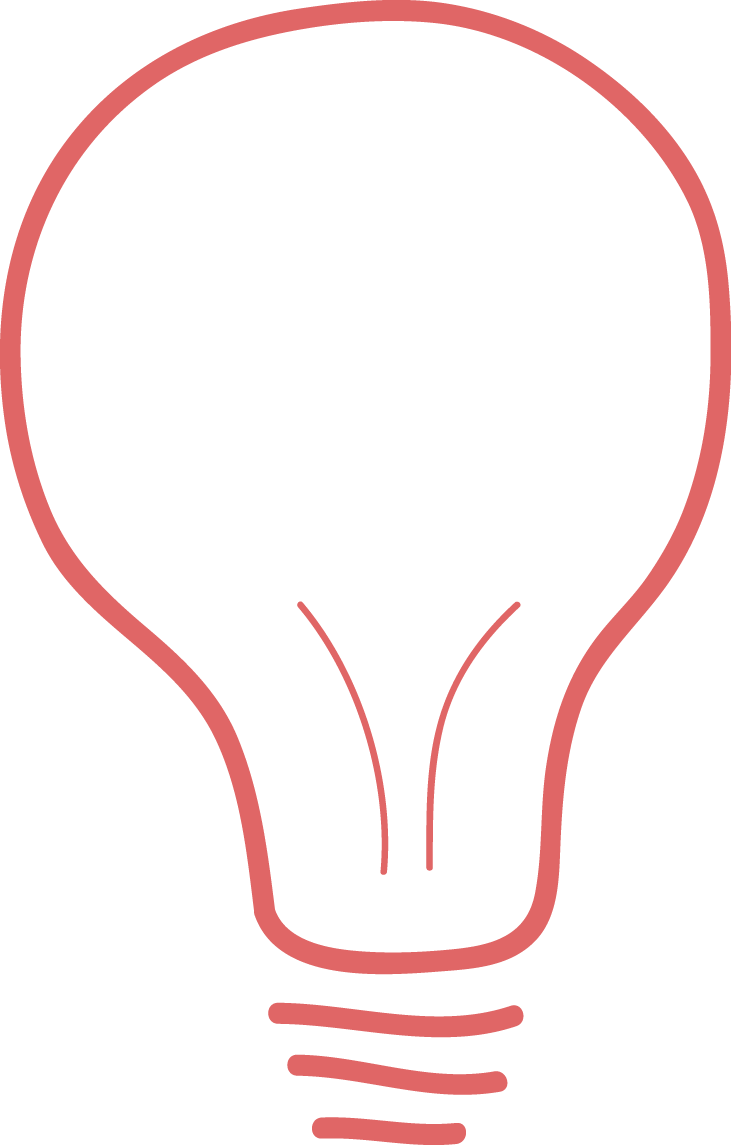 Tip – Serve with some olives, salty crackers or little bruschetta slices.
3 Best Restaurants & Places for Great Aperitif in Rome
Visit the stunning roof terrace on the Terrazza Montemartini. You'll find it on the upper floors of the Palazzo Montemartini hotel.
You'll also enjoy amazing city views from here and a decent apero buffet.
Best for a Hipster Alternative Atmosphere
The atmosphere in this cool bar is relaxed, and the external courtyard also offers a place to cool off in the evening.
The Latteria bar also serves interesting apero snacks from 6pm, including couscous. You can spread your apero an hour longer and stay on for dinner.
Of course, the aperitivo hour doesn't have to be all cocktails. It is perfectly acceptable to enjoy a nice glass of wine instead.
Vino Al Vino offers a local vibe, less touristy. Enjoy a beautiful glass of wine near the colosseum. You will need to order your side plates separately.
Frequently Asked Questions
Is the aperitivo an Italian tradition?
Yes - and a much loved one. Believed to have started in northern Italy, it is the perfect chance to enjoy the late afternoon.
What time does an aperitivo start in Italy?
In the north, it starts around 6pm. In Rome and Naples a bit later, maybe 7pm.
What does aperitivo mean in English?
Translated from French via Italian to English it means "to open". So open the prosecco!
An absolute must-do when in Rome! Make sure you take time out of your busy itinerary to relax, unwind and soak up the atmosphere.