Visit Castel Sant'Angelo: Ticket, Hours And Tips For Your Visit
---
If you're on the lookout for a famous landmark to take selfies with while in Rome, Castel Sant'Angelo (official website) is perfect. There's no reason to miss out on the rich history and fun you will experience on your trip here. Keep reading to check all the necessary information to prepare for your trip.
Get your free e-guide on your mobile

What Is The Castel Sant'Angelo?
Is Castel Sant'Angelo part of the Vatican City?
Many tourists still ask if Castel Sant'Angelo is part of the Vatican City. The answer is no. The castle is situated on the same road as Vatican City but is not part of the later. There is a short distance between them.
The San Angelo Castle is currently open to the public and welcomes visitors to explore the museum and its many exhibits.
Why is Castel Sant'Angelo important?
Although it was used as a military establishment after it was built in AD 139, the historic building was constructed with a different purpose in mind. The original architectural plan intended the castle to be crypt for Publius Aelius Hadrianus, the Roman Emperor of the time, and his family. That is why one of the names for this castle is Mausoleum of Hadrian.
Hundreds of years later, a special passageway was constructed for the sole purpose of quickly evacuating the Pope in case of emergencies. That corridor turned out to be a smart idea since Pope Clement the 7th used it in the early 1500s. The castle served as a sanctuary for him through the Roman sieges of 1527.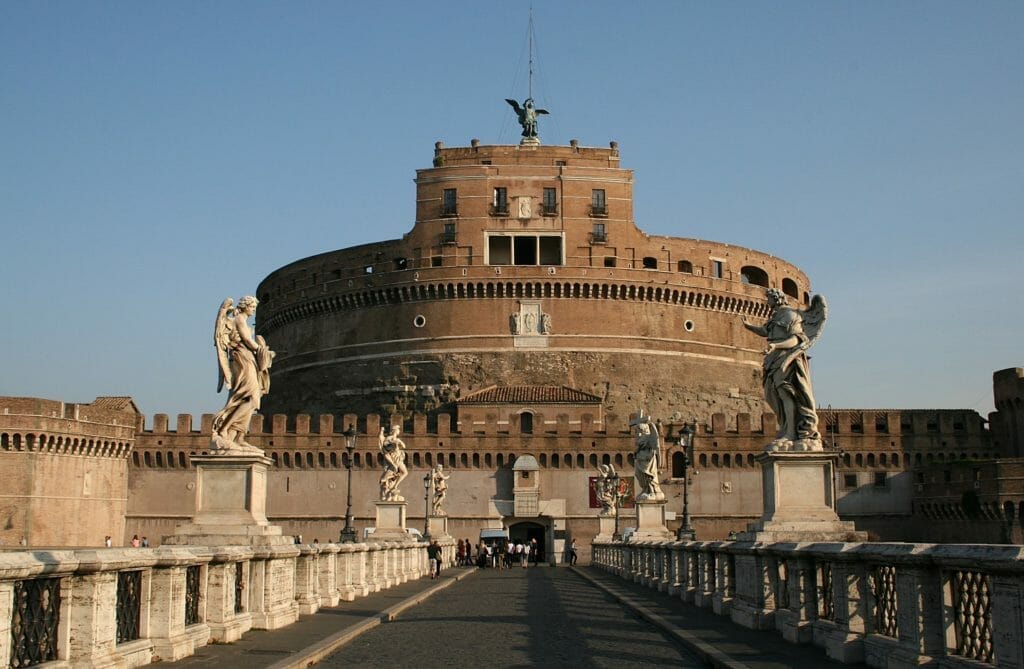 What You Can See During A Castel Sant'Angelo Tour ?

There are so many fascinating attractions on display at the castle. An astonishing seven levels are dedicated to exhibits alone. No wonder most people spend only an hour or two here.
You might not even cover all the sights in San Angelo's Castle before you get tired and go back to rest. Since we can't possibly cover everything on display without making this post too long, let's look at some of the most notable attractions at the castle.
This is regarded as the castle's most hallowed location. This is because it housed the royal families remains at one point. The hall doesn't serve that purpose anymore but remains one of the most interesting spots to visit on this tour.
The bastions were built to give the castle a fortified look while it served military purposes. They can now be reached through the second floor. The strongholds of San Giovanni and St. Matthew both offer excellent views of River Tiber, a beautiful sight to not be missed.
As we mentioned earlier, the castle was used as a military establishment after construction was completed. The armory is still available for viewing on the fourth floor. Beware that it has received plenty of renovation through the years and is no longer in its original form.
At some point in time, the castle served as housing for prisoners in Rome. These prison cells still exist until today but have long since received a makeover. You will find many paintings and items on exhibit in the former prisons.
From the roof of the San Angelo Castle, you can enjoy the most panoramic views of Rome. Apart from the scenic view, the rooftop is also the location of St. Michael the Archangel's statue.
Many rooms in the castle were designed for use by popes. These historic rooms are now the home of popular frescoes, paintings, exhibits, and other ornaments.
When Is The Best Time To Visit Castel Sant'Angelo ?

Since this castle is a popular tourist attraction, it is open throughout the week. Visitors are allowed in from 9:00 am to 7:30 pm so as many guests as possible can get in on the action.
Just like other popular attractions in Rome, the castle is busiest during the afternoon. If you don't want to wake up early and don't mind crowds, you can visit from 12:00 pm to 5:00 pm. The prime time to visit is from 6:00 pm to 7:30 pm and is even much less in the morning from 9:00 am to 11:00 am.
Another thing to note is that more guests come to visit the castle during the weekend. This makes weekdays much less crowded than weekends and holidays.
Castel Sant'Angelo Ticket – How To Skip The Line ?

Is Castel Sant'Angelo free?
Many people must pay an entry fee to visit San Angelo Castle. Be aware that you can get over 50% discounts using different tourist attraction passes, such as the Rome Tourist Card.
Castel Sant'Angelo ticket option and price table
Ticket Type
Ticket Cost
Ticket Booking
Adult

Entrance €20

3H Guided tour €50

Children
Free
Reduced
€10 - €25
Book your entrance
Students
Free
Where and how to buy Is Castel Sant'Angelo ticket ?

Tickets can be purchased at the ticket office on site. Opening and closing times for the ticket office depend on what time of the year you're visiting. We recommend getting a Rome Tourist Pass with skip the line access if you want to skip the long lines you may encounter to enter.
If you opt for an early morning or late evening visit, it's safer to book your skip the line ticket online.
Top Tips To Visit Castel Sant'Angelo
Depending on when you visit, there are different things to consider for a pleasant tour of Sant'Angelo's castle.
    If your tour of beautiful Rome will start before noon, the castle is a

great starting point

. It is in close proximity to other attractions you can see on your day out including St. Peter's Basilica and the Pantheon.
    For an afternoon visit, don't skip a walk through the quiet, well-groomed gardens of the castle. If you're traveling with kids, they will love this too.
    Nighttime is the

best for couples

who love fewer crowds. Watching the sunset behind St. Peters Basilica as you enjoy an evening walk along River Tiber will be surreal.
A visit to this castle is worth enjoying even if you only do it once in your lifespan.
What You Need To Know To Go On A Castel Sant'Angelo Tour ?

During regular seasons, the castle is open from 9:00 am to 7:30 pm while the ticket office retires by 6:30 pm. In the summer, guests can visit in the evenings too from 8:30 pm to 1:00 am while the ticket office retires by midnight.
Because there is so much to see at the castle, some visitors spend the entire day looking around. Many visitors stay for one or two hours before heading off to another adventure. There is no cloakroom or storage space for bags at the castle, so don't carry too much luggage with you. If you have a lot of baggage, find a storage location close by so you can be free to enjoy the tour.
Free entry for special categories
Entry is free for different categories of people, including EU citizens under 18, disabled people, and tourist guides. On the first Sunday of every new month, all visitors are admitted free of charge to the castle. Beware that this draws a large crowd and you will probably wait hours to get in.
Is The Omnia Pass Worth It Visiting Castel Sant'Angelo ?
The Omnia Vatican and Rome Pass are one of Rome's costliest all-inclusive passes for touring the city (learn more about the Roma Pass Cost here). It covers the Sistine Chapel, Vatican Museums, Archbasilica of St. John Lateran, St. Peters Basilica. It also covers one ticket to either the Roman Forum, the Colosseum or Castel Sant'Angelo. With it, you can enjoy skip the line tickets and a three-day hop-on-hop-off bus ticket.
Although expensive, the Omnia Pass (book your pass here) is worth it if you would rather skip the line and great for enjoying other popular sights. This pass is the best for flashpackers, tourists who prefer to walk, and includes an audio tourist guide.
Other passes that include Castel Sant'Angelo entrance are:
    Gold Rome Visit Pass (all-inclusive pass)
    Platinum Rome Visit Pass (all-inclusive pass)
Make sure you check if your pass must be printed out or if you can use it from your cell phone. It helps to study terms and conditions to know if you must reserve a day and time for your visit to the castle and other attractions.
How To Get To The Sant'Angelo Castel Rome ?

There are only a few buildings between Castel Sant'Angelo and St. Peter's Square. It is along River Tiber not far from Vatican City. You should not find it hard to locate the castle from any of these locations as it's only a short walk. Consider the following methods of transport to reach the fort:
    Bus: there are many bus tours in Rome which stop very close to the castle since it is a popular sight. Get on a bus that stops at the Sant'Angelo bridge from where you can cross the bridge right into the famed castle.
    Metro: Rome's extensive metro service has many stops close to the castle. When you follow the metro, alight at Ottaviano or Lepanto station. Orazio and Crescenzzio bus stops are just in front of the castle. There is another stop about eight blocks from the castle if you don't mind the short walk.
Conclusion

We highly recommend a trip to this incredible historical sight. The incredible atmosphere, rich cultural value, and picturesque views will be worth it. It will be a real shame to miss out on a visit to the magnificent Castel Sant'Angelo.