Top 10 Must See Piazzas in Rome
---
You will have many things to see and do during your visit to Rome! From museums and famous monuments, to the Vatican and the Colosseum, you will be rushed off your feet. But stop! You need time in Rome to sit back and marvel at the beauty around you, and perhaps get in a bit of people watching. And what better place to do this than in one of the glorious piazzas in Rome. Plenty of these gorgeous public spaces are perfect places for taking in the hustle and bustle of Rome – read on for some of the best piazzas in Rome!
Rome City Guide – Best Tips
Best Piazzas in Rome – Map
First of all, it's time to get your bearings. Check out our map below for the main hitters, including the Piazza del Popolo – one of the most famous squares in Rome. You can use this handy map to help you plan your route. Hopefully, you can tick off a few piazzas in Rome on your way to other attractions.
1.     Piazza Navona, the prettiest Piazza in Rome with fountains
The Piazza Navona is one of the busiest squares in Rome in terms of tourists. Surrounded by gorgeous baroque-era buildings, Piazza Navona is a photographers dream. The square includes three stunning fountains, and is surrounded by lots of little cafes and trattorias.
It is the perfect place to take in the atmosphere and enjoy a coffee.  The Piazza Navona has become a hub for street performers and artists too, so take it all in!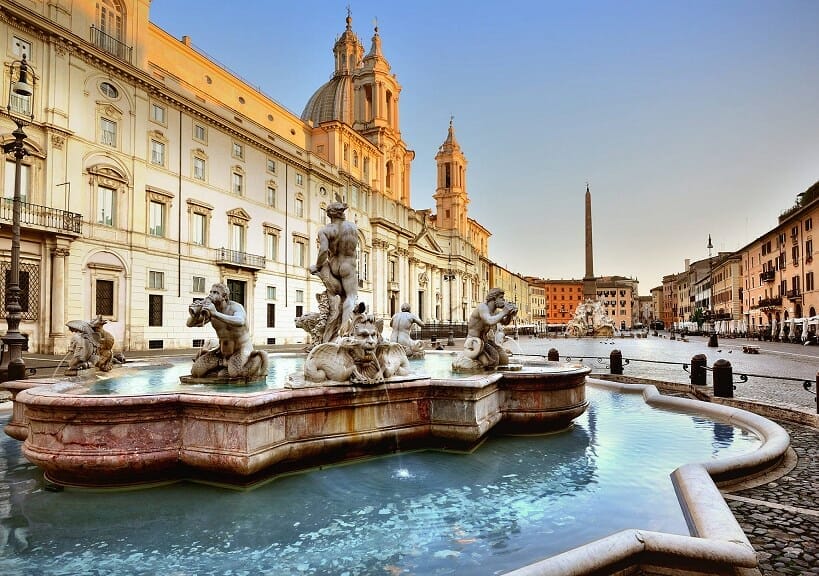 2.     Piazza del Popolo, one of the largest piazzas in Rome
This huge oval shaped piazza boasts several churches – including the identical Santa Maria dei Miracoli and the Santa Maria in Montesanto. There is also a striking Egyptian obelisk in the centre and a huge statue of a lion!
 Grab a gelato here in one of the cafes surrounding the Piazza del Popolo and cool off whilst soaking up the vibe.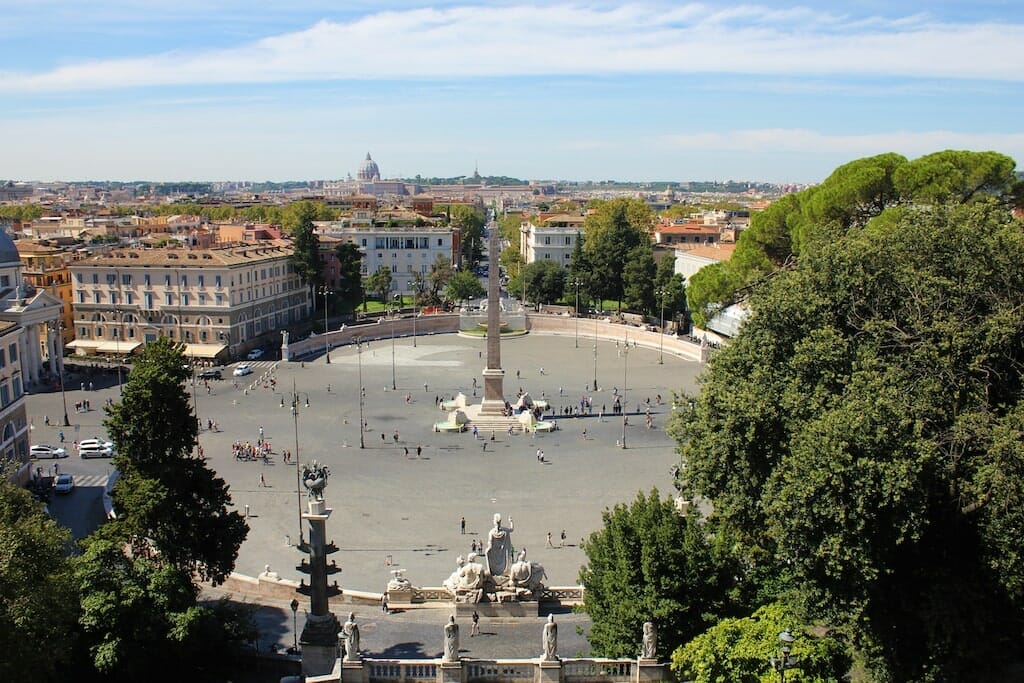 3.     Trevi Fountain Piazza, the most famous piazza in Rome
You will almost certainly visit this beautiful square when in Rome! This piazza hosts the famous and striking Trevi Fountain. The square itself is not very big – it is almost entirely taken up by the Trevi fountain. But it is definitely worth a stop whilst in Rome!
4.     Piazza Campo De Fiori, the dynamic Piazza of Rome
This atmospheric piazza is one of our favourites – mostly because of its vibrant fruit and vegetable market. The market is one of Rome's most famous markets, and the atmosphere as locals go about their daily business is electric!
As with many piazzas in Rome, the Piazza Campo de Fiori also has plenty of cafes, bars and restaurants from which to get in a bit of people watching.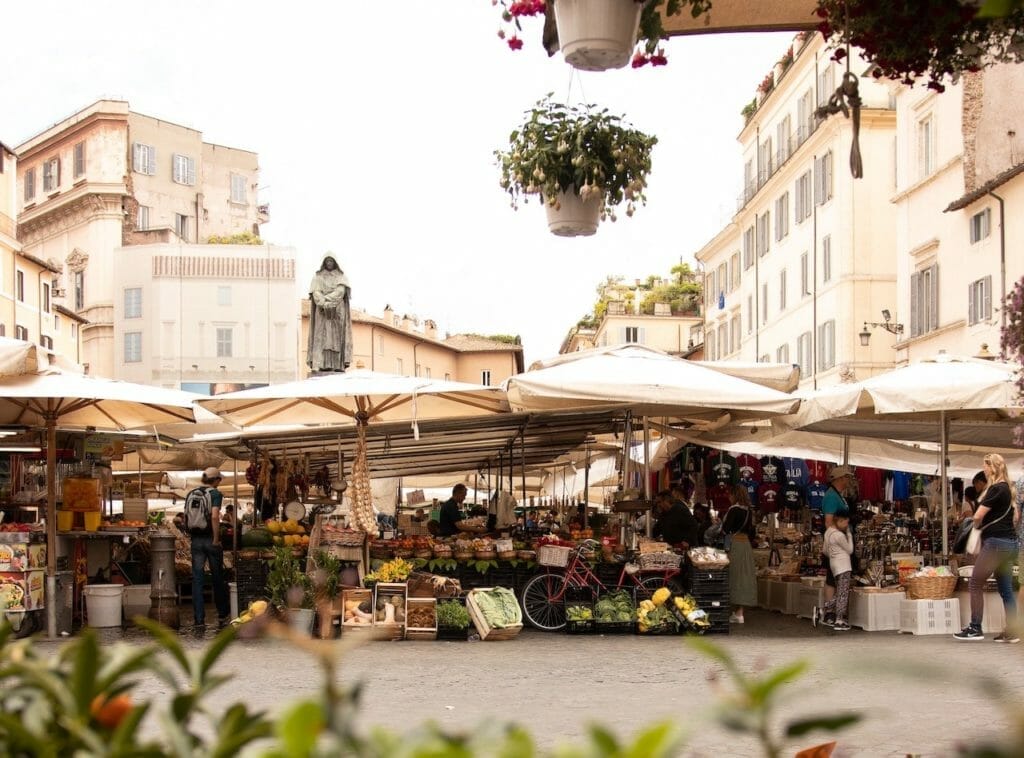 5.     Piazza della Rotonda
Do not miss this square when visiting Rome. The Piazza della Rotonda is home to the Pantheon, so it is likely on your list of places to visit during your stay.
There is a stunning fountain in the square as well as another Egyptian obelisk. Locals like to stroll around here in the evening, so join in and soak up the vibe!
6.     St Peter's Square, the best Piazza in Rome to enjoy the sunrise
Of course, the fabulous Piazza san Pietro has to feature on our list. With the Vatican buildings in the background, this gorgeous square simply cannot be beaten. Famous worldwide for hosting thousands of the faithful who gather here to celebrate mass, the square inspires awe. Dominated by the Basilica in the background and the massive obelisk in the centre, this is a definite must-see. For unique insights into these historic pillars, turn to our detailed guide about Rome's obelisks.
If you're in Rome especially to visit the Holly See, find where to stay in Rome near the Vatican during your vacation.
7.     Piazza Venezia and the impressive Vittorio Emanuele II
The Piazza Venezia has perhaps too much traffic to allow you to enjoy its grandeur. This traffic hub is also home to a stunning monument and tomb of Unknown Soldier. Enjoy the view of the manicured lawns as you make your way past.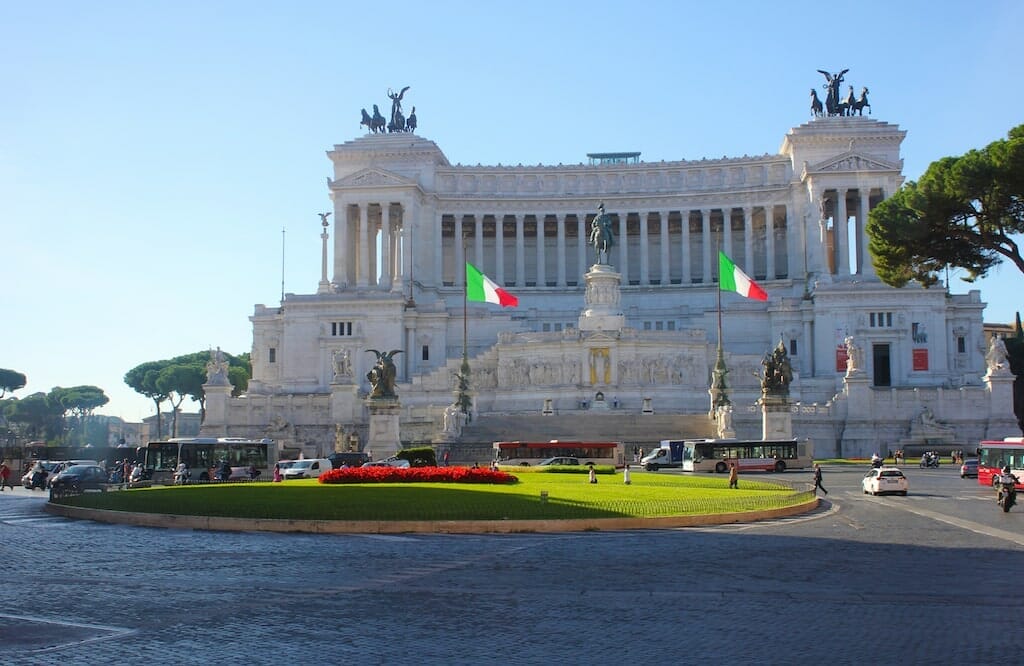 8.     Piazza di Spagna, the most instagrammable of Piazzas in Rome
Such a beautiful square! The Piazza di Spagna offers stunning views and photograph opportunities. It is one of the most beautiful squares in Rome. The square looks up to the Pinico Hill, from which you can get some amazing shots of the Spanish Steps. Check it out at dusk when the lighting makes it particularly magical.
9.     Piazza di Santa Maria, the best Piazza in Rome at night
Located in Trastevere, a trendy neighbourhood where it is worth staying (check hotels here), the Piazza di Santa Maria offers a calm atmosphere and a welcome escape from big city life. The Basilica de Santa Maria is also found here. Check it out for some beautiful mosaics and décor.
It's not St Peter's Square. The Piazza di Pietra is located adjacent to Hadrian's Temple. This is a nice little place at which to grab a gelato or quick espresso before heading on to more sightseeing!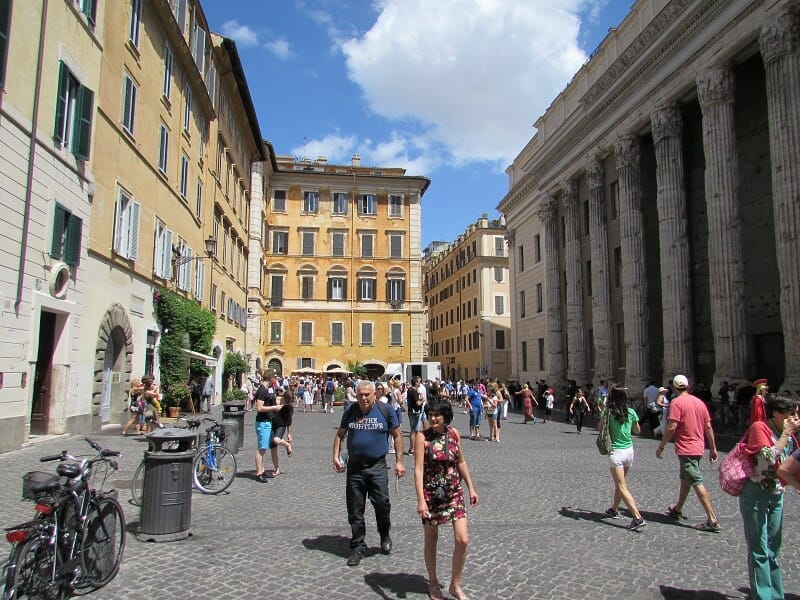 Top Secret Piazzas in Rome that you should really visit
If the big hitting tourist attractions are proving too busy for you, then we have two top secret Piazzas to visit in Rome.
This local square is a nice place in which to sit back and relax. Tucked away from the crowds, you can be sure to be able to take in the architecture. There are a few cafes around, so you can grab a coffee and get some peace!
Another favourite amongst the Romans, Piazza Mattei is a lovely little place, and includes an obelisk and a gorgeous turtle fountain. Situated near the Jewish Quarter this is a great place for people watching.
Conclusion to our List of the most Beautiful Piazzas in Rome

There you have it – the top ten best Roman Piazzas. Use our map to try to fit in as many of these stunning squares into your itinerary. If you need help planning, we have plenty of resources at your fingertips – check them out here.