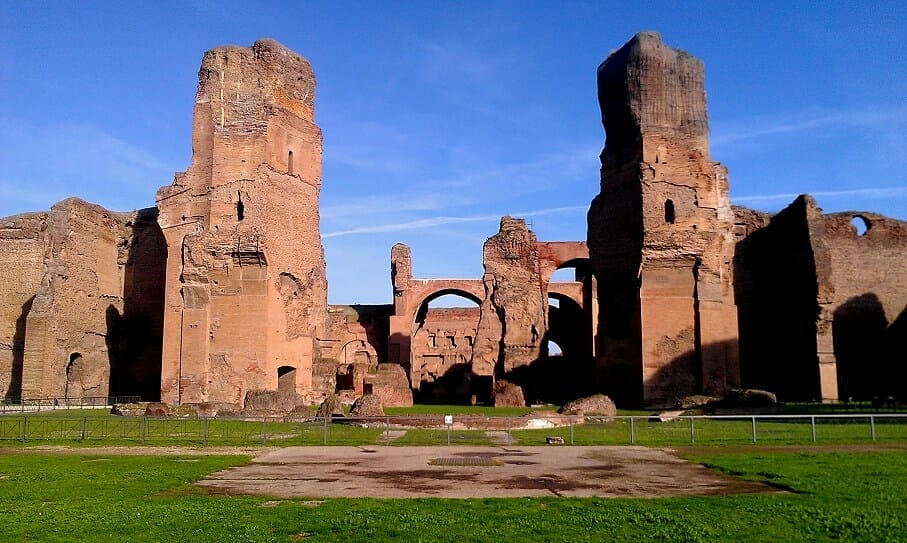 Caracalla Baths of Rome: The History and Tips to Visit the Terme
---
The Caracalla baths have been of great interest to the tourists that visit Rome for its rich heritage in art and culture. The baths of Caracalla Rome are known for their rich history and architecture.
Terme di Caracalla is the second largest public baths and is one of the most lavish and stylish public baths that accommodate nearly 1600 bathers.
The Ancient Baths have been a major influence on Roman architecture throughout the years. Now, these baths have been used for a lot of open-air performances such as Opera, ballet, and much more.
This is also one of the biggest reasons why the baths of Caracalla Rome have been a very popular place for locals and tourists to visit during the vacation season.
Free guide of Rome on your mobile

Caracalla Baths context and History
These famous Roman baths go a long way back in history. If you're planning to visit Rome and want to go sightseeing in ancient Rome, Terme di Caracalla is the best option. Their history will surely draw you towards them. They might be the most well preserved ancient Rome building.
How old are the Baths of Caracalla Rome ?

The construction of these baths started in 206 AD by Emperor Septimius Severus. However, they were completed in 216 AD by his son the emperor, Caracalla. The Caracalla baths are named after his name.
Since their opening, they were used continually until the 6th century. Today, with modern techniques, they have been reconstructed.
How long did it take to build the Baths of Caracalla ?

There was a lot of sweat of hard-working men behind the construction of the Baths of Caracalla, Rome. The process took 5 years of completion of them. However, work on the building, and other decorations were completed until 235AD.
What is the purpose of the Caracalla Baths Rome ?

The Caracalla baths were not only used as a bathing facility, but they also served the function of a leisure centre. There were many gymnasiums, parks, libraries, and spas built within these baths that made it a great place for locals to relax.
What can you see at the Caracalla Baths Rome ?

    Imagine the baths: Now if you visit the Baths of Caracalla Rome, you will not find the actual bath. You will have to use your imagination to wonder how locals during ancient Rome days, used to enjoy and socialize moving from one pool to the other.
    Gardens: You can walk through the

beautiful gardens

and enjoy the fresh air and breathe the air of ancient Rome. You will feel very relaxed and calm.
    Opera: You can also check out concerts that occur there frequently or watch an opera.
    Attractions around: The Caracalla Baths are on a walking distance from some of the major sightseeing places such as Colosseum, Roman Forum, and Circus Maximus.
Note: You can book your bath of Caracalla tickets right here.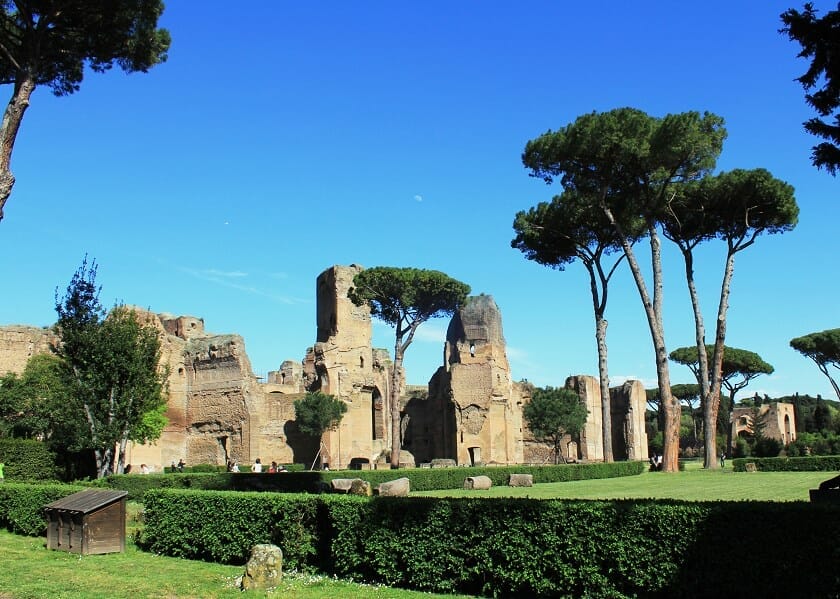 When is the best time to visit the Caracalla Baths Rome ?

The best time to visit the Caracalla baths is usually around the summer season. This is because most of the shows, such as Teatro dell' Opera, host their show around this period. This usually attracts a big crowd. Even though they are open throughout the year, the timings may vary. They are usually open from 09:00– 18:15.
Although the Thermae have the same crowd almost every day, you might find less rush if you are visiting during the afternoon or early in the morning. You can book your ticket ahead if it makes you feel any better. Or you can choose the audio guide ticket entrance if you want to heard the Thermae story and better imagine the ancient buildings.
Tips to visit the Caracalla Baths of Rome
While you are visiting the Baths of Caracalla, Rome, there are many things that you can consider to save yourself money or time. These can make your trip much more fun, and you can enjoy yourself more.
Are the Baths of Caracalla Free ?

Although baths of Caracalla tickets have to be purchased (ticket here). There are several days where you can get a visit to Terme di Caracalla absolutely free of cost.
You can visit the bath for free for 8 days as a part of the Io Vado al Museo. Free tours are also available on World Water Day. You can also get free tours on Natale di Roma day or Rome's birthday.
Caracalla Baths ticket price and type
Listed below is the ticket price of the different types of tours of the Caracalla Bath.
| Type of tour | Price/€ | Ticket Booking |
| --- | --- | --- |
| Entry Ticket Full Price | 11 (+€3 additional fees) | Book your ticket |
| Entry Ticket with audio and video guide | 12 | Book your ticket |
| Audio Guide | 5 | |
| Half-Price Ticket* | 6 (€4 reservation charges included) | Book your ticket |
| Free Ticket* | 4 (reservation charges) | |
| Virtual Reality guide only | 9 | |
*This is for minors under the age of 18. Children under 12 must be with their legal guardians or parents.
* Half Price ticket is for students aged 18 to 25 that are nationals of Europe.
Where and how to buy Caracalla Baths ticket ?

If you want to purchase Baths of Caracalla tickets to visit the place, you can check the Caracalla Baths site. You'll be able to make your reservation by calling +39 0639967702.
You can also get your tickets through tourist points. However, you may have to wait in a queue.
Booking your tickets beforehand comes with its advantages as you will save yourself the hassle of standing in long queues. Therefore, we recommend you to book your skip the line ticket online here.
Should you consider a Caracalla Baths guided tour ?

If you are in a rush, then skimming through the audio tour that is available might be the best for you. Some tickets have normal tours included with them. However, if you want to go back to the time of ancient Rome, then you must consider taking a fully guided tour of Caracalla baths. There are many tours that you can choose from.
You can take guided tours that are offered by several companies. These tours offer free passes at times. Using these tours, you can discover the Caracalla Baths to the fullest.
These tours can be anything from around €50 – €120. There are different types of companies that offer these tours, but usually, the duration is in between 1 to 3 hours.
If you're looking for a private tour, Baths of Caracalla tickets tour started from €110 per person.
But honestly, a self audio and video guide tour is enough and much cheaper.
The one which is worth if you want to discover many Ancient Rome monument, is the combined Baths of Caracalla tickets tour. It also include the Catacombs and Appian Way visit. Get your ticket from €40 with a 3-hours live tour guide.
There are many audio tours available. These tours help you save time and also give you the personal space that would be interrupted by the presence of a tour guide.
These audio tours are available at a bookshop that you will find in the Caracalla Bath. The audio tour is about 1,5-hour.
You can also combine an audio and video tour here, which help you understand the complete Terme di Caracalla history.
3.    Caracalla 4D IVD Tour
Don't forget to visit Ancient Rome in the 21st century in 21st-century style. Now you can also do a Caracalla 4D IVD tour. This tour is designed in such a way that it enables tourists to visualize how the Caracalla Baths looked in ancient Rome.
It might be rather difficult to know how things looked back then; therefore, this tour can help you perfectly recreate the 216 AD.
The price is also fair, which is €9 per person. This tour is available in many different languages which means you are more likely to enjoy it in your local language. You can purchase tickets for this tour by clicking here.
4.   Combined Ancient Rome Bike Tour
You can also get a combined tour with a Catacomb Rome tour. Some companies also offer a tour of all the sites in ancient Rome on the Appian way such as Colosseum, Circus Maximus. These tours are much more economical than other ones. You can book a 6-hours tour from €69 by clicking here.
How to get to the Caracalla Baths ?

Getting to the Caracalla Baths is very easy. It is accessible by a lot of public transportation. Moreover, it is only a few minutes away from some of the other architect wonders of Rome, such as the Colosseum, Circus Maximus, Roman Forum, etc.
You can use Google Maps to get there. It is a few minutes away from both the metro stations of Circo Massimo and Piramide. Therefore, you can walk from the metro station to the area.

Rome public transport to the Baths of Caracalla
If you are using a public bus service, then you can consider Big Bus, as, on their hop-on and hop-off tour, the Caracalla baths are one of the first stops. You can also use other public bus stops that are at a few minutes walking distance away from Caracalla.
    Terme Caracalla/Valle Camene
    Baccelli
    Hop-On-Hop-Off: Baths of Caracalla

Opening hours to visit the Caracalla Baths
Caracalla Bath is open for visitors throughout the year. Though the timings may differ from day to day, they usually open 09:00 am in the morning to 06:15 pm in the evening.
On Monday the site is only open from 09:00 am to 2:00 pm. They do not open on public holidays such as Christmas.
You should keep in mind that the site is pretty large and you will require around 1 to 2 hours to see the place properly.
What you need to know to go on a Catacombs of Rome tour ?

Before you plan your catacomb tour, you must know that it can get claustrophobic. The catacombs of Rome are located underground tombs on the Appian Way.
They are away from the city but are close to many other ancient Rome attractions such as the Baths of Caracalla. You must know that the catacombs are a sacred place; therefore, you should dress appropriately.
Similarly, while visiting them ensure that you pack yourself some snacks or lunch as you might not find a lot according to your liking nearby. Public washrooms are available that are clean.
Don't worry, the catacombs are safe, and there are not a lot of thefts and other incidents reported in the area.
Now that you are all equipped with information on Caracalla Baths, you must consider going there for your vacation. It is a great place for the family to see. There is so much art and history that children and adults can get inspired by.
It enlightens a person about how great the Roman civilization was. It is also good for anyone who is travelling to Rome at a small budget as the ticket is not very expensive and you can also visit it during the free pass days. If you want more travelling tips and a complete and comprehensive guide, you can start with planning your 3 days in Rome here.