Hop on hop off Rome, everything you need to know about Bus Tours
An incredible number of must-see attractions dotted around the city make Rome a visitor's dream. With sights including inspiring Roman ruins and atmospheric piazzas to a plethora of museums and churches, it's no surprise that those visiting Rome can often feel a little overwhelmed when planning an itinerary.
So just how do the almost 10 million visitors per year to Rome navigate this ancient city, pack in all the things to do in Rome and return home feeling like they saw enough of the sights? Well, we know the secret and we're happy to let you in on it – take a hop on hop off Rome city sightseeing tour!
Read on for our guide to all the hints and tips needed to ensure you get the best Rome bus tour to suit your needs.
Your mobile guide to get the most of Rome
A Rome bus tour may not be everyone's cup of tea on initial thought. Many prefer to do their own thing whilst on vacation, and are not interested in following the crowd or having their time managed tightly at every attraction.
But read on – a hop on hop off Rome bus tour is completely different to a standard organized coach tour. And the benefits are endless for both the budget conscious traveler and those interested in exploring all the sights on offer.
Yes, you will be on bus with other tourists (but like in Rome public transport) ! But the Rome bus tours featured here offer you excellent freedom to stay at attractions as long as you wish. Plus the benefit of an experienced Rome tour guide to talk you through an overview of each attraction.
In our humble opinion a hop on hop off Rome city sightseeing tour (like this one) offers you the best of both worlds – freedom to explore and the knowledge that you are covering as many key sights as possible.
How a hop on hop off Rome bus tour works
Each bus company offering such tours has a certain number of stops covering the major attractions in Rome. The theory is simple – buy a pass, get on the bus at a designated bus stop and hop off at any attraction you wish to explore in more detail.
Once you've taken in the sights near your bus stop, simply hop back on to the next arriving bus and continue your journey!
Rome bus tours, what you need to know
A number of different companies run some excellent hop on hop off Rome tours. This is ensuring healthy competition and great value.
Passes are available from each of these companies for duration that suit every stay in Rome. From 1-day Rome bus tours for those with a quick layover to a 3 day pass for those on a longer break.
Each tour company will provide their passengers with a detailed map of Rome and all the officially designated stops on the itinerary.
The hop on hop off rome map will also show departure times for each stop. Ensuring passengers can plan the length of time they wish to spend at each attraction.
A hop on hop off Rome bus tour will include stops near all the popular and things to do in Rome. Including the Colosseum, the Pantheon and the Trevi Fountain. The majority also make a stop to the Vatican City to allow for time to explore its plethora of attractions.
All tours offer several language options for those that don't speak Italian or English, with headphones with multiple language selections available on board as standard on all Rome bus tours.
And for those who are not interested in taking part in a hop on hop off Rome city sightseeing. They can simply take a one hour tour with one of the many bus companies to help them get their bearings in Rome.
Why choose a hop on hop off bus Rome tour?
The advantages of a hop on hop off bus tour in Rome are endless. With the major companies' buses coming at a frequency of 15 to 30 minutes you will never be waiting long for a ride, and knowing that your ticket includes all your transport costs for your stay in Rome provides great peace of mind.
For a short stay or city-break, this type of tour offers the best value as it provides transport, information from a tour guide in your language of choice, and exposure to all the top sites in Rome.
Most buses also have Wi-Fi so you can plan your next stop, and all have shelter from the elements if required. Much better than walking around in Rome's soaring heat.
Book your Rome Hop on Hop off Bus tickets

All the big European hop on hop off bus companies provide a tour service in Rome. Here is a list of some of our favourites from which to book your tickets.
Rome City Sightseeing Bus

A well-known favourite across the globe, City Sightseeing (check it here) is a big player in the city tour market. With free Wi-Fi, audio guides in multiple languages and 8 stops at Rome's major attractions, this is a good contender for a bus tour.
Frequency every 10 minutes in peak season ensures you will never be waiting long, and tickets ranging from 24hours to 72hours cover most holiday durations.
Skip the queue when in Rome and book online to ensure availability.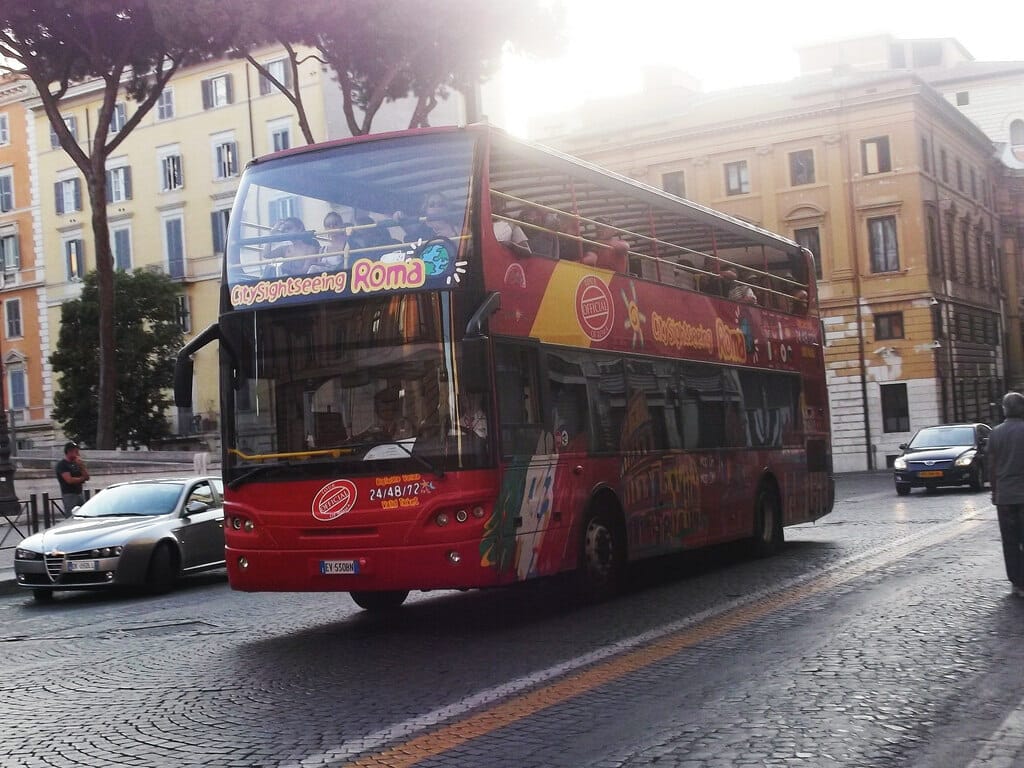 I Love Rome Panoramic Rome tour bus
The Big Bus Rome Tour Bus (check offer here) offers standard hop on hop off fayre with an added free extra – free walking tours at various locations within Rome. This option is great value for those who wish to explore the attractions in more detail with an experienced guide.
8 stops are included in the tour as well as Wi-Fi and an audio guide in several major global languages.
Again, it's better to book online to beat the queues at the ticket office. With Big Bus Rome you also save 10% off the ticket price.
Conclusion on Hop on Hop Off Rome

We hope this handy guide helps you plan your trip to Rome. We are big fans of hop on hop off bus tours for cities with a huge number of attractions, especially for those with limited time or those on a budget. This is the best way to explore Rome by far, so book online today to ensure you get the best deals.
2 Comments