Via Appia Rome: The Queen of Long Roads
---
Italy's hot blooded capital's Rome happens to be one of the most romantic and charismatic cities of all time. Offering alluring sites, such as Via Appia Rome, awe-inspiring art and vibrant streets with luminating lights flickering in calm waters of River Tibet.
Plan your next holiday in this enchanting place which takes you away in a fairytale land and gives you a lifetime experience of joy.
City guide Rome 100% free and mobile
Via Appia Rome Ancient times
Appian Way Rome which is Latin for "Via Appia" happens to be one of the most remarkable Roman roads from ancient times. Radiating from roads to the far ends of the Roman Empire, it was one of the fastest and widest roads of its time.
It is known as the "Queen of roads" and due to this reason the famous saying "All roads lead to rome" came into being. The Appian Way Rome, named after a Roman Politician Appius Claudius Caecus was constructed in 312 BC.
Connecting Rome to the port town of Brindisi that opened a gateway for trade and movement to flourish through the empire.
Building of the Appian way Rome
The Via Appia Rome begins at the Roman Forum and passes through the Circus Maximus and the Baths of Caracalla. It then extends all the way into the suburbs of Rome which was previously known as port Appia.
Via Appia was constructed in a very ingenious manner. Mortar and stone were laid down as a foundation, followed by adding gravel and tightly interlocking stones on top. Being used by merchants, tourists and later pilgrims, Via Appia Rome holds a significance place in Rome.
Not only this the road was crucial in helping army of the Rome transport military supplies which assisted the army to achieve many victories.
Best Time to Visit Via Appia Rome
The Eternal city is pleasant to visit all year around. With delightful winters rather than being bone chilling cold and summers being bright and sunny, Rome is the perfect travel destination through all seasons.
However, the best time to visit this timeless city is during Spring season from Mid-March to May and Autumn from Mid-September to November. These months are generally observed with thin crowds and provide cheaper options for tourists to explore this beautiful part of Rome.
When is the Best Time to visit Via Appia Rome
·      High Season in Rome
Rome observes high tourist traffic in the month of June, July and August. The Appian way is fully packed during these three months. Despite being very crowded, long bright sunny days gives you ample time to explore and walk around. It's preferable to walk the Appian way during evening as temperatures are high during afternoon.
·      Shoulder Season in Rome
This season in Rome is observed from mid-march through early may. Slightly hot temperatures allow a great opportunity to walk around the Appian way with ease. Flights are also comparatively cheaper to summer season and provides a great opportunity to explore the city with ample time.
·      Low Season in Rome
This season is commonly observed during the winter time. With temperature being dropped below freezing point and the weather being chilly and rainy, this season is not advisable to walk the Appian way. But if you are seeking cheaper options than the perfect time for you to visit the Appian way would be from late November through mid-December.
Since it's a road, it's open at all times to the public. There are a few details which must be kept in mind when embarking on your journey to walk along this highway.
Always visit the visitor center to acquire knowledge on preferable hours and purchasing bike rentals as bikes will make your journey a lot easier. Also grab some brochures which include site maps and important locations.
The timings for Via Appia Antica Visitor Center are
Daily 9:30 am – 18:00 (6 pm)
The timings for Via Appia Antica Regional Park are
    Weekdays: 9:30 am – 13:00 (1 pm) | 14:00 (2 pm) – 18:30 (6:30 pm)
    Weekend: 9:30 am – 21:00 (7 pm)
Best part of the day to visit the Appian Way
In addition to these details, you may also want to consider what time of day you plan to visit. Most people will make their trip either in the late morning or the early afternoon, giving them plenty of time to see everything and enjoy the walk.
Some visitors have highlighted that a sunrise or sunset experience can be very peaceful. If you plan to see Appian Way Rome during sunrise, keep in mind that the park won't be open.
Getting to Appian Way Rome
Access the Via Appia Rome through Public Bus
The 118 public bus is recommended to get to Via Appia Antica especially to the first timers. The 118 bus runs every day of the week at crudely 20-minute intervals during the day. It travels through the Via Appia Antica itself and stops by the main visitor center for the Appian Way Rome.
Via Appia Antica by Hop-on-Hop off Tour Bus
You can also seek hop on-hop off bus service for exploring the Appian way (check ticket price here). Big Bus are the only providers for offering this service. Big bus runs on a purple route which runs daily every hour starting from Termini Station and also picking up from outside the Colosseum.
This route ends at the Baths of Caracalla on way to Via Appia Antica and has stops at the Ancient Rome Catacombs of St Callixtus, Domitila (ticket here) and St Sebastian (combined ticket here). Anyhow, you cannot purchase the ticket as a stand-alone ticket as it is a part of 3-day tour which goes around different routes including the center of Rome.
Things to See Along the Via Apian Rome:
If you feel like stepping back in time to enjoy the sunny Roman weather, then Appian way which was the first super highway in Rome is a must go. Much of the Appian way sits outsides the city.
If you feel like disembarking on a long journey that will take you back to ancient times then it's worth visiting. Here is a list of historical destination which you can enjoy.
This ancient Rome tomb was elevated by in the 1st century by a man named Titus Flavius Abascanto. This tomb was built by him in the memory of his beloved wife Priscilla.
The tomb was later used as a fortress in the 11century and beyond. This site can be seen situated between two buildings across the street from the Via Appia Antica visitor center.
Church of Domine Quo Vadis
This church not being ancient, was built in 1637 but it does consist of a sanctuary from 9th century. Some myths go about this church claiming that this is the place where Jesus and Christ met St. Peter.
This church is across the street from the Sepolcro di Priscilla and the Appia Antica visitor center.
Catacombs of St. Sebastian
Being the only Christian Burial site, this it the next big cemetery on Via Appia. The catacombs of St. Sebastian which is named after three martyrs is popular among tourists and the faithful.
Unfortunately, this site is closed on Sundays and you need to pay extra for the admission.
Book a combined tour to visit the Appian Way, Catacomb and Aqueduc.
Both the circus and the palace found here offer a magnificent sight. These buildings once belonged to Emperor Maxentius each structure being erected at some point between AD 306-312. This site offers a great historic view to its visitors.
Mausoleum of Caecilia Metella
This popular destination can be found three miles down the Appian way Rome. It was erected in the honor of Caecelia Metella (buy your ticket here)  who was the wife of Marcus Licinius Crassus.
Marcus himself served under the none other than Julius Ceaser, as he was the Marcus Crassus. As with most of the impressive ancient structures on this road, this one is a must visit.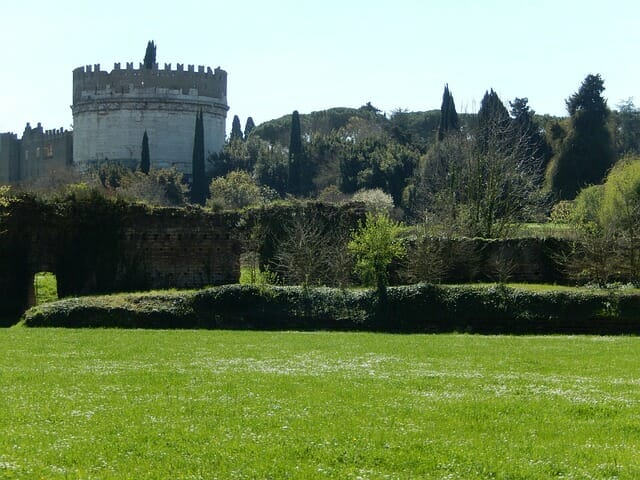 How to visit the Via Appia Rome – our top tour tips
1.    Take a walk on the Appian Way with an expert
Disembark on 3-hour guided tour outside the walls of Rome. Into the ancient tunnels of its catacombs which provides you with a unique perspective on the history of ancient Rome which would be an experience of a lifetime.
Highlights:
    Explore ancient catacombs.
    Enjoy viewing the exterior of the Mausoleum of Cecilia Metella.
    Admire the ancient Roman aqueducts.
    See some of the earliest examples of Christian art
Description
This 3-hour Guided tour will take you through the ancient channels of catacombs, beyond the city walls of Rome giving you an enchanting experience of ancient Rome.
You will travel along the rustic Appian way and walk under the arches of the antiquity. Indulge yourself in an environment which can't be found in the hustle and bustle of city life.
2.    Rome: Via Appia Antica 3-Hour Electric Bike Tour
Get ready for a relaxed 3-hour electric bike tour and discover the exquisite beauty of the Appian way regional park. Get fascinated at the monuments of imperial City such as the Colosseum and Circus Maximus.
Highlights
    Ride along the Appia Antica, one of Ancient Rome's most crucial roads.
    Take a round of the Colosseum on the bike.
    Discover the Roman ruins and aqueducts of the Appian Way Regional Park.
Description
Escape the massive crowds of central Rome on a 3 hour-ebike tour of the ancient Appia. Start off from the Colosseum making your way to the Via Appia Antica Regina Viarum which happens to be one of the earliest roads of Roman Republic.
Leverage the bike's pedal assisted motor ride alongside the Terme di Caracalla and enjoy the Ancient Rome's largest public baths.
Or if you want to join a more sporting visit and to see Rome as a whole, you can book your bike tour here.
3.    Self-Guided Tour on the Via Appia Rome
Explore the great Appian way Rome by taking a self-guided tour with the help of brochure. This brochure includes a plethora of information. It will guide to different historic monuments, famous sites in the are and will provide a complete site map to visit big landmarks as well as small ones.
You can collect this brochure from the Appia Antica visitor center or you can download the entire information from their website as well. There are PDF files that include details on more than 80 different attractions near Appian Way Rome.
Conclusion to Via Appia Rome

The Eternal city is pleasant to visit all year around. Rome is the perfect travel destination as it offers a great deal for people to indulge in a historic experience while enjoying the summer sun.
The Appian way Rome offers a long route of time worn scenic beauty which takes you back in time. So, disembark on a spectacular journey to visit antediluvian tombs, churches and monuments that behold significant archaic stories.