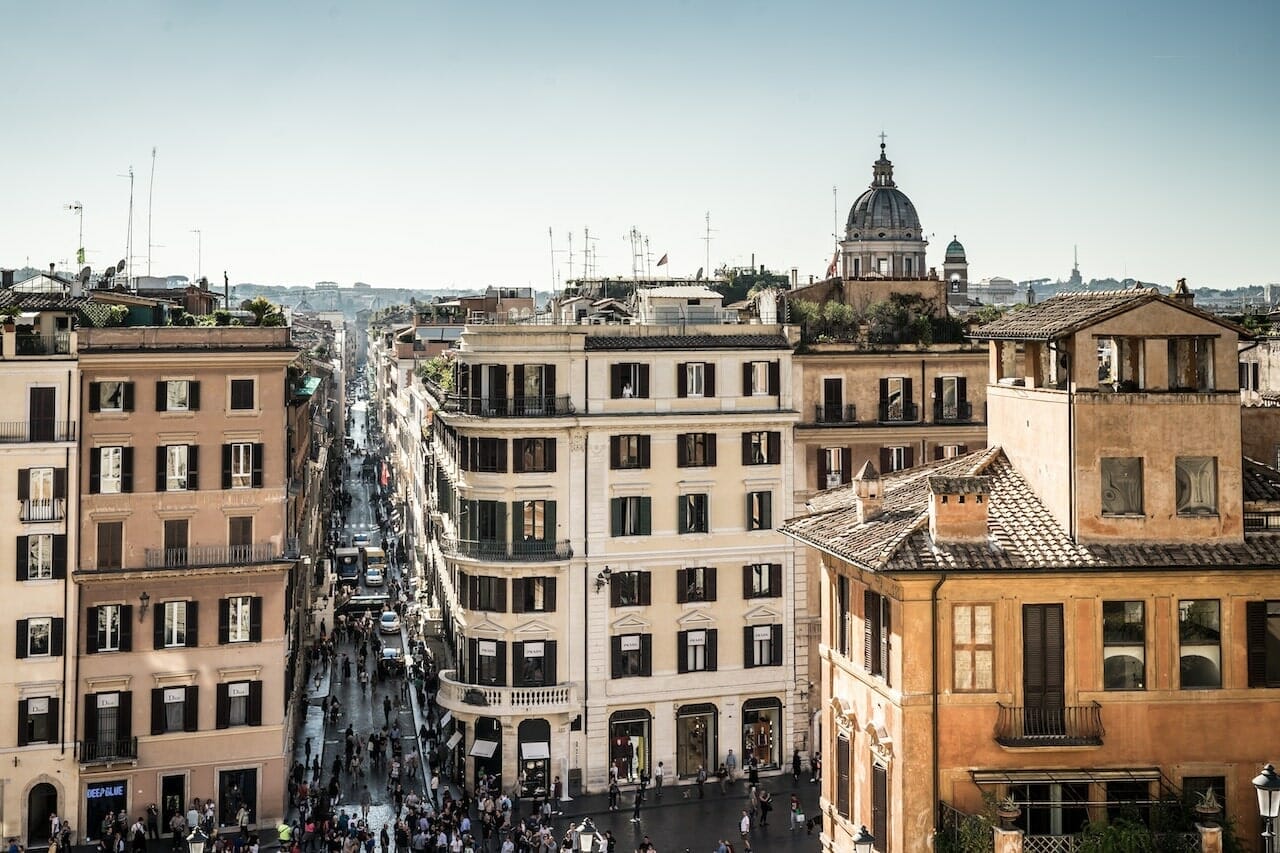 Top 10 best Airbnbs Rome according to your budget
---
To get a grasp on the sprawling capital of Italy, you can view the list provided below of some of the most spacious and rustic best Airbnbs Rome that are listed according to your budget.
These Airbnb are perfect for a family vacation, a weekend getaway or a honeymoon. If you want to feel Rome to the fullest and discover its rich heritage, art, and culture, these local places are the best airbnbs in Rome. Whatever your budget is, this list will have you covered. These accommodations give a local feel with the best views, which will make your vacation delightful.
These Airbnb's add the home feeling to your vacation and make your trip more fernweh. So if you want your Vacanza to be an extravaganza, you should consider airbnbs Rome as they are the best areas where to stay in Rome. Mentioned below are the top ten best airbnbs in Rome according to different budgets.
Best Airbnbs Rome: Best Value For Money – $40 to $80/night
1.   Value room in the heart of the Eternal City
If you want an Airbnb, Roma Centro is the best option so that everything you need is within walking distance from you. If you are travelling on a budget, this is a great room with a lot of privileges. The price starts at $70 per night and can vary according to the season. Therefore, this might be the best Airbnb in Rome for you.
This fully decorated private room in flat, features air conditioning and heating, private bathroom, refrigerator, Wi-Fi, TV, and mini-bar.
2. Scenic suite room with a view of the famous The Colosseum
A panoramic room that has a view of the Colosseum is now available at the best rates. The booking starts at $39/ night, which is an unbelievable price for such a view.
The room is spacious and private at the same time; therefore, it is perfect for couples. You can make your significant other the perfect breakfast as the kitchen is accessible. This is the best area to stay in Rome.
You can walk to see the city's architecture and also enjoy the food at many restaurants at a few minutes walking distance.
3. Captivating Terrace in Trastevere, one of the best Airbnbs Rome
Looking for an Airbnb, Rome Trastevere has much more to offer than views. This apartment is designed very elegantly and is perfect for a couple.  If you want an Airbnb, Rome Trastevere is a great option because you will be at a walking distance from most of the clubs, vintage shops, bars, and pizzerias. The apartment has 1 bedroom, 1 bathroom and can host 2 guests with a fully equipped kitchen.
This makes finding activities very simple.  Even though Airbnb Rome Trastevere located in the city, you can still feel ancient Rome around this neighbourhood. You can rent this place with prices starting from $83/ night.
Reservation link: Roman house with balcony
Get up to $45 discount if you create an account on Airbnb
Address: 00153 Roma RM, Italy, 2 minutes walking distance from Piazza Santa Maria in Trastevere
Note: The exact information about the location is provided after a booking is confirmed.
Location on Maps: Roman house
4.  Elegant Apartment in the heart of Rome
If you wish to stay at a well-designed Airbnb, Roma Centro is the best option. This apartment is spacious with two bedrooms making it a great place for families to stay. It makes their customers feel like a home away from home.
It is situated so that it is close to historical attractions, shopping spots, and good dining places. You can reserve this place from prices starting at $66/ night.
Best Airbnbs Rome Comfort Accommodation – $90- $200/night
5. A Romanian Apartment with wonderful Terrace
This chic apartment with one of the most amazing terrace might be the best Airbnb in Rome. It is amazing for a family to get together and view the city during sunsets and dawns. The apartment is more than 400 years, and you'll still find the original wood ceiling in the living room.
It is a one-bedroom but is so roomy that it can accommodate 5 people, making it a great place for families and couples as well. The booking starts at $199/night. 
6. Spacious Italy styled Apartment In Vatican City State
This spacious Apartment is best suited for families that are planning a vacation. It is a 3 bedroom apartment that can accommodate around 11 guests. With a hot tub, LED TVs, a beautiful balcony that has a view from the 6ht floor, this place might be the best area to stay in Rome. This place is priced at $98 per night.
Reservation Link: New Opening Luxury
Get up to $45 discount if you create an account on Airbnb
Address: Lungotevere Castello, 50, 00193 Roma RM, Italy
The apartment is located just 800 meters from San Pietro.
Note: Exact information about the location is provided after a booking is confirmed.
Location on maps: Castel Sant'Angelo
7. Stunning Place near the Spanish Steps
This apartment brings together the perfect romantic atmosphere as you enjoy your candlelight dinners. It is located on the 4th floor, and the view is rather magnificent. You can book it for around $90.
1 bedroom apartment with bathroom and can accommodate 4 guests, don't forget that it has the stunning terrace.
Best Airbnbs Rome: Spacious and Luxurious Interior- $270-$650/night
8. Via Dei Falegnami, a great Airbnb in Rome
This is one of the most beautiful and luxurious places to stay. If you are looking for a 3 bedroom Airbnb, Roma Centro is surely to make the vacation memorable. The Colosseum and Pantheon are within walking distance. Booking starts from $611/night.
This beautiful and luxurious place is the best area to stay in Rome. It has a beautiful view of Piazza Navona and other attractions. The apartment is commodious and has 3 bedrooms; therefore, it can accommodate around 10 guests, with 2 bathrooms, making it great for families. Prices start at $275/night.
10. Picturesque and elegant three-bedroom Apartment
Stay in this beautiful apartment with an amazing terrace for family hangouts. The glass used in the apartment makes it more sunny and spacious. This is a three-bedroom apartment and is best for big families. You can book this amazing apartment, starting from $442/night.
The magical view of the Roman Forum from the terrace, it'll surely make your trip memorable.
Conclusion to the top  10 best Airbnbs Rome

If you are planning your trip, you must consider these spacious and cost-effective airbnbs that might be the best area to stay in Rome. If you are looking for airbnbs, Rome Trastevere is a great option because of the blend of city life with ancient Rome.
Similarly, if you are looking for Airbnb, Roma Centro or the heart of Rome is also an amazing option as you will always find something here such as concerts, shows, etc.
You can also read on our resources to plan your trip ahead so that you can enjoy the privilege of booking your tickets before your trip, which will save you time and hassle of waiting in long queues.
We also have travel tips, things to do, weather in Rome and much more on the website that might be a lifesaver for you.