How to get the most out of a $100 a day budget in Rome ?
Visit Rome on a Budget : If we waited until we had a massive travel budget, most of us wouldn't travel at all. But with a bit of forward planning, it's easy to do Rome in style on a modest budget.
If you're planning to visit Rome on a budget, then our handy guide will show you how to get the most out of $100 a day, which works out at about €85.
Throw in a few free things to do in Rome and you'll make your money go even further.
Get your free guide to Rome optimized for mobile use
Free things to do in Rome
Many of Rome's quintessential experiences won't cost you a thing.
The best free things to do in Rome include throwing a coin in the Trevi Fountain, people-watching from the Spanish Steps and admiring the decor inside the 2000 year old Pantheon.
Also requiring zero outlay are the gardens of Villa Borghese, the ancient cobbles of the Appian Way (get there on the #118 bus) and of course the interior of St Peter's Basilica.
Save money on the major Rome attractions
Ah, you cry! But that list of freebies leaves out the A-listers: the Sistine Chapel, Colosseum and Roman Forum.
Think outside the box: see the Colosseum from the outside – you won't pay a thing but you'll still get a thrill from its architecture and a sense of its huge scale.
Similarly, you can enjoy the colonnaded walkways of the Vatican and snap a picture of the Swiss Guard without spending a euro cent.
Is that enough? If you're only visiting an attraction to tick it off someone else's must-see list, then save your cash for something you'll enjoy more. If that's retail therapy, make sure you time your visit for the sales.
Summer sales run from 1st July until mid-August. Alternatively, you'll also find saldi, as they're known in Italy, from January to early February.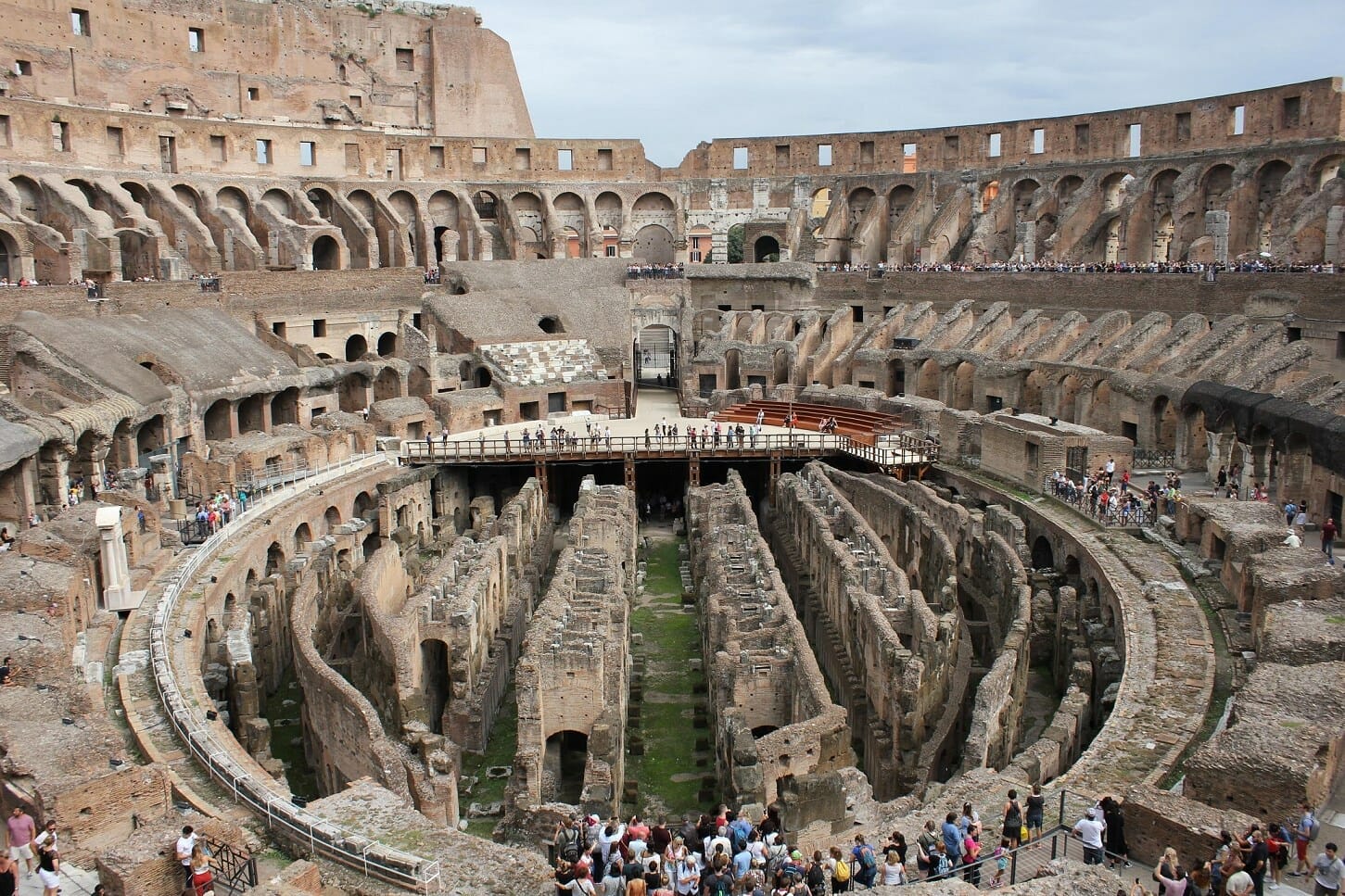 Visit Rome on a budget : Transportation
Public transport is easy to use and gets you across Central Rome without breaking the bank.
A single use Metrebus ticket costs €1,50, valid for subway, buses and trams. Consider a day pass with unlimited rides; this will set you back €7 for 24 hours, €12,50 for 48 hours and €18,00 for 72 hours. A good combined pass is the 3-days pass – from €29 –  which also include a one-way airport transfer from Ciampino to Rome center. Ask for the Roma Pass.
If you really need to get somewhere in a hurry, you might consider taking a taxi. But check first if the metro goes near to where you're heading as you'll zip between stations avoiding the congested streets above. A three mile taxi ride could set you back €10, so use them as a last resort.
Of course, if you're keen to stick to free things to do in Rome, walk. You'll see more if you wander on foot.
Book ahead to save money on Rome tours
If you're a first time visitor, consider a Hop On, Hop Off bus Rome tour, which really helps you cover the ground while sticking to that daily budget for your trip to Rome. A day's ticket will cost about €25, but multiple days work out considerably cheaper when you look at the per day cost.
You can buy a 72 hour ticket, for instance, at just under €32 – making the daily cost a little over €10. Staying on the bus works out cheapest of all. A lap on the Roma Christiana bus costs just €12.
Work out what you plan to see and choose the pass that's best for you. You can also secure a 5 to 10% discount for many sightseeing tours simply by purchasing your ticket online in advance. That gives you the added bonus of knowing what you're spending before you leave home and keeping your visit Rome on a budget dream intact.
Tips for managing your Rome food budget
You should allow about €15 for a pizza or pasta meal, but you'll pay extra for the convenience of eating near to tourist areas.
Instead, seek out traditional trattorias in Rome neighborhoods such as Trastevere. Up the budget for something extra-special. A meal in Trastevere's renowned Da Enzo (website here) will set you back about €25, which still leaves a generous €60 for any activities you wish to do.
Check out your hotel breakfast. A hearty meal before you set out for the day might just mean you can skip lunch and have a much cheaper cake or gelato instead.
Another good tip is to eat your main meal at lunchtime as the daily specials are often cheaper but portions are surprisingly large.
Money saving tips for eating out in Rome

If you want to visit Rome on a budget and a daily budget of $100 is too steep, don't despair! You can save money in all sorts of ways.
Drinks quickly eat into your daily budget, especially in summer when it's hot. But there's no need to make expensive pit stops in cafés. Pack a refillable water bottle and use the fountains that you'll find all over the city instead. Cost: a big fat zero!
Eating street food can save you a packet and can be a memorable Rome experience. Try suppli': these deep fried, fast food treats of rice cooked in tomato sauce and stuffed with cheese cost very little but taste amazing! Follow it up with a couple of scoops of gelato and you'll be full up, having spent less than $6.
When it comes to saving money at a restaurant, think carefully about what you order – fish tends to be expensive. Take care to factor in the service charge and watch what you drink. For instance, water might come with a cover charge of $2, but a bottle of wine could cost you as little as $6, which is much better value.
Look carefully to see if service has been included in your bill already. If the words servizio (service charge) or coperto (cover charge) appear, you've already been charged.
Unlike places like the USA where 20-25% isn't uncommon, there's actually no need to tip at all in Rome. If you must, don't over tip. Most locals don't tip more than a euro or two.
How to visit Rome on a budget
If you're keen to visit Rome on a budget, why not let us help? We can help you purchase a Roma Pass or online tickets for Rome's major sights.
Book online before you travel and not only will you grab that discount, you'll be able to skip the line once you're there too. Now won't that make you feel good?