Rome Weather January: What to Wear & Do in Rome?
---
January is often so miserable! You're broke, carrying an extra couple of kilos, and cold. The days are short, the nights are long. It's pretty grim!
What better way to get through this and start your new year off with a bang than to get away from it all! And Rome in January still has a lot to offer.
Read on to find out more to answer your question "Should I visit Rome in January?"
Why Going to Rome in January is a Wonderful Idea
You might have concerns about Rome weather in January, or perhaps you think the place will be dead. Well, anyone who has queued in 30 degree heat for the Vatican museums (get your skip the line ticket now) or wandered the Colosseum under the July sun will tell you otherwise.
The peak season in Rome, whilst vibrant, noisy and fun, can also be often exhausting. If you want to take things at a slower pace, and see parts of Rome that are often missed, then consider January.
But remember, the first week of January up to the weekend after the 6th will be very busy as Romans enjoy the holidays.
By the time you've read this guide, you'll be convinced about a trip to Rome in Jan! Check out our visiting Rome in January tips for the lowdown.
Rome weather January – Important facts
Average temperature in Rome in January
If you've read our other guide about Rome in December and its weather, you'll kind of know what you are in for. January follows pretty much the same pattern as December, however it is slightly colder. In fact, Rome's weather in January is the coldest of the year!
What does that actually mean? Well, whilst in December the temperatures sometimes hit up to 16 degrees, the weather in Rome Italy in January is a bit nippier. Max temperatures will probably be around 13 degrees centigrade, falling to around 3 degrees C. And, it's not unknown to see the odd zero.
Rome weather January – what about rain?
Of course, it rains in Rome in January. Average statistics call out about 7 days of rain in Rome over the month.
However, it's much drier than February and March. So you can expect plenty of dry weather, although the evenings are likely to be cloudy.
You'll also find the days getting slightly longer towards the end of the month.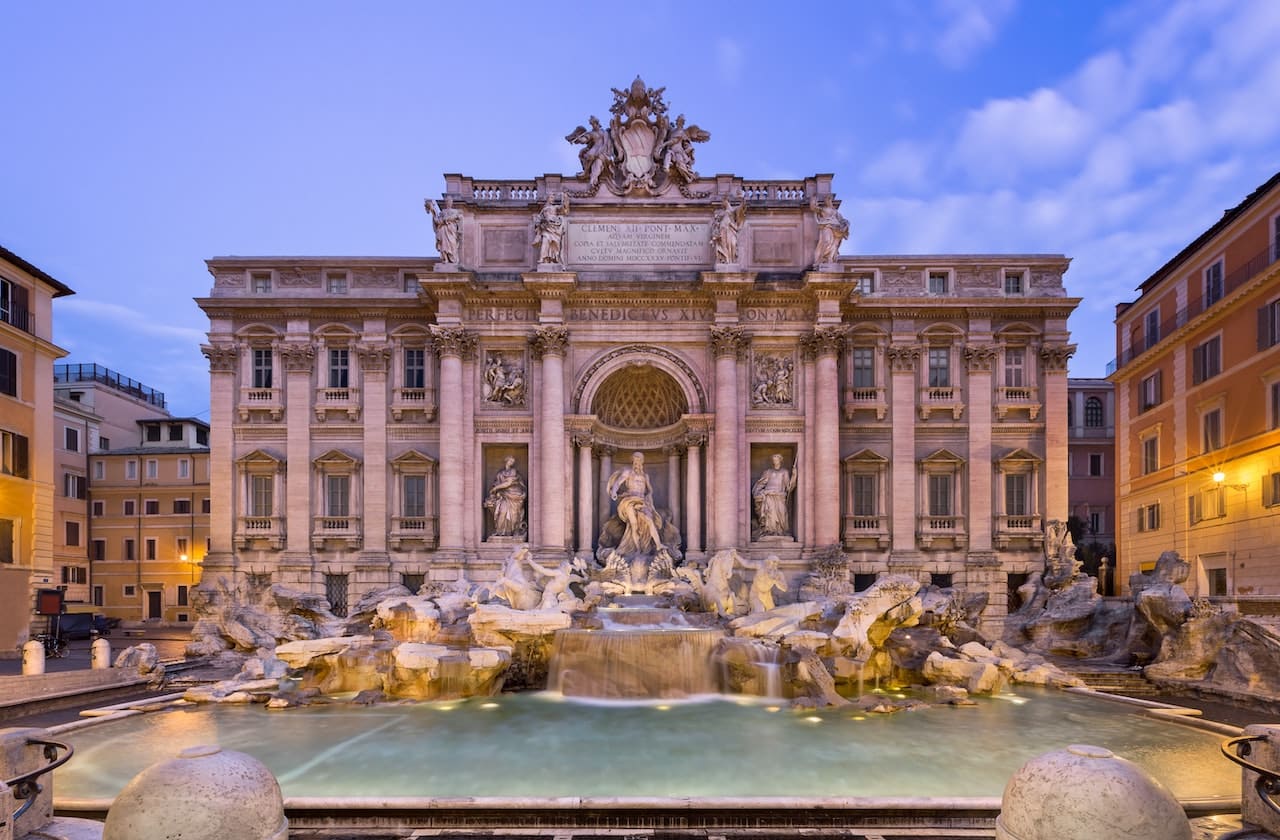 Weather forecast Rome January 2022
Based on previous weather data, you can expect temperatures during the day to be around 10-14 degrees centigrade. Expect these to fall towards freezing overnight.
You'll need to be prepared for rain – so plenty of indoor activities should be planned. But, you should be lucky enough to hit some beautiful clear days, optimal for taking that insta selfie at the Trevi Fountain.
Have a quick look at Free Guide of Rome on your Smartphone
Visiting Rome in January Tips for best experience
Ok, so Rome weather January doesn't put you off? Let's see what else you need to know. From things to do to where to stay, we have all the information you need to make your trip a success.
Packing for Rome in January
You'll need to pack flexibly for your trip. Here's a list of our must haves for facing the weather in Rome Italy in January:
solid walking shoes that don't mind rain
a warm winter coat
hat, scarves and gloves
money belt
a fold up umbrella
layers – lighter jumpers that can be layered with tshirts – the temperature indoors can get stuffy and you need to be able to be comfortable
What Part of Rome is best to stay in 
If you are on a budget, accommodation in Rome can be pretty pricey. During the peak season you may find that you have to stay away from the center to get the best priced Rome accommodation. However, in the month of January (the days around New Year's excluded) you will get great deals in the best areas!
Trastevere is one of our favourite areas. With a great nightlife and a local Roman vibe, it's the place to feel part of the local life. However, if you want a more touristy feel, the areas around the Campo di Fiori and the Roman Forum will be very affordable in January.
In short, January is one of the best months for cheap accommodation in Rome.
Flights to Rome in January – Best deals & Cheap solutions
If you can avoid the three or four days around new years, you will find the best deals for flights to Rome. Book flights over three weeks in advance – use Skyscanner to compare the best routes and times – to get the cheap deals to Rome in January.
Best Things to do in Rome in January
We have an extensive guide here on all of the great things to do in Rome. The good news is that all the usual places to visit in Rome in January are all open. That includes the Colosseum, Roman Forum (tickets online here) and the Vatican City attractions.
But here's a few other things that are unique to January Rome:
Pope's New Year's Day speech -12pm in St Peter's Square, Vatican City
Epiphany – 6th January. Celebrating this Catholic Festival, there will be a parade to St Peter's Square
La Befana – 6th January. This is an interesting celebration about a woman who didn't bother to come along with the 3 Wise Men to see the baby Jesus. In Rome, it's a pretty big deal for kids, who get a load of presents. The woman is depicted as a witch. So don't be confused if the displays in the markets and shops around the 6th January look a bit more like Haloween than Christmas to you!
Speaking of markets, the Christmas Markets are still open until the 6th January
Feast of Sant'Antonio Abate. Celebrated on 17th January, you can expect processions, parades and other activities around this saint day
Winter sales usually start around Epiphany on the 6th January
What to do in Rome at night in January
Due to the low temperatures, you might not be up for many outdoor activities. Here's a list of things to do at night in Rome in January
Trastevere District at night. Lively restaurants and bars contribute to a great vibe
Visit the Opera! Book a night concert here
Get some night shots – wrap up warm and head to the Colosseum or Trevi Fountain, both of which look AMAZING at night
Book a long and leisurely dinner at a cosy restaurant. Sample the foods to eat in Rome in January, such as artichoke. Enjoy red wine. Hot Chocolate. Hearty Stews.
After the busy Christmas Period, the Vatican events calendar begins the New Year with the Pope's New Year's address from St Peter's Square at 12pm on 1st Jan.
If you miss it don't worry – here are some Vatican events in January:
Papal Mass on January 6th (Epiphany)
January 17th Feast of Sant'Antonio Abate – a parade and day dedicated to the blessing of animals. Here you will see Vatican officials in full dress, blessing pets and farm animals!
Must-see events in Rome January 2022 – Concerts in Rome January 2022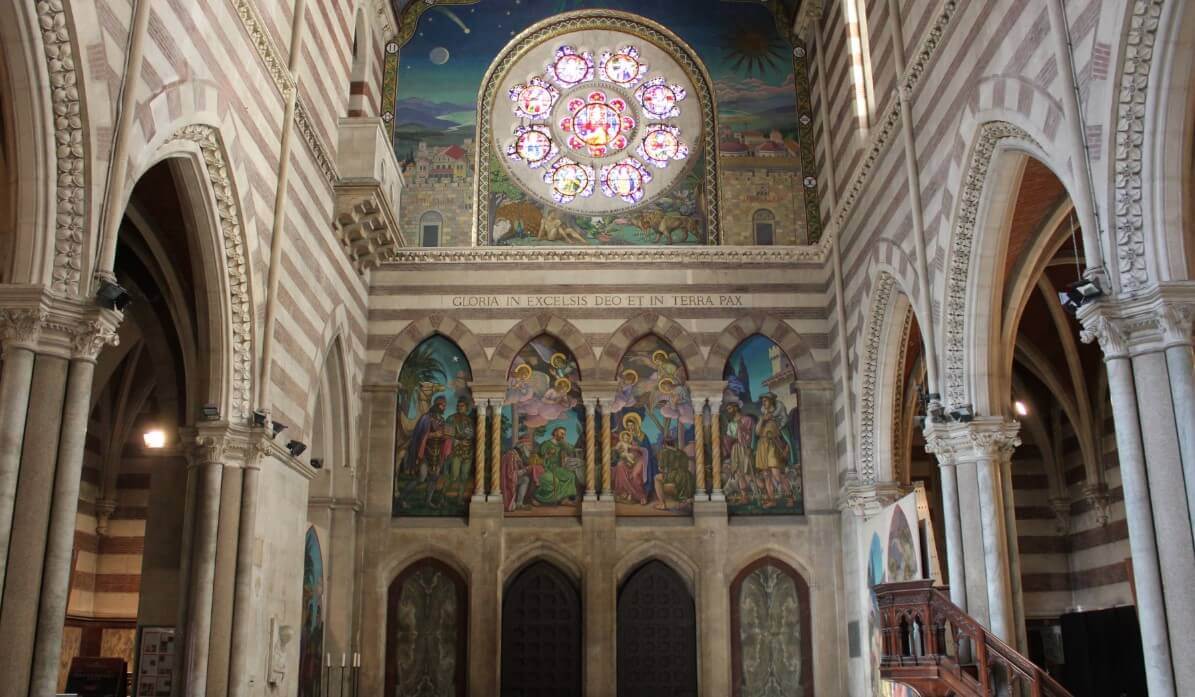 This whole Corona thing is a real drag, with many cool events in 2022 being cancelled. For now, we are not entirely sure what January 2022 will bring, but we do anticipate continued restrictions.
For now, here is a good selection of concerts and operas still planned for January 2022
Jan 1st
La Grande Opéra A Piazza Navona. 16:30 at Sant`Agnese In Agone Kirche
New Year's Concert 20:00 St Paul Within The Walls
Three Tenors New Year's Concert 21:00 Oratorio Del Caravita
Jan 2nd, 5th, 12th and 19th
Virtuosi Dell'Opera di Roma: La Traviata 20:30 St Paul Within The Walls
Jan 8th, 15th and 22nd
The Three Tenors. 20:30 St Paul Within The Walls
Planning to visit Rome with Kids?
There are places to visit in Rome in January with kids too!
Explora Children's Museum – this vast museum has plenty to do to keep the little ones entertained
Pizza Making Classes – what better place in which to learn to make authentic pizza as a family! In fact, there are pizza classes, biscotti classes, and gelato classes. The list is endless.
Visit the Time Elevator – an amazing 5d experience of the history of Rome, available in many languages.
Soccer Games in Rome January 2022!
A local football game is another great thing to do in Rome with kids. Unfortunately, with Corona ruling the day, the visitor capacity is strictly reduced. For Series A games with AS Roma and SS Lazio will be like gold dust. You might have better luck with the B league.
Check out ViaGoGo for tickets.
Top restaurants when visiting Rome in January
We could spend days and days writing about the restaurants in Rome in January!
Here's a list of our favourites:
Acquaroof Terraza Molinari Via del Vantaggio, 14, 00186 Rome
Don't let the winter weather spoil the chance for a rooftop drink and dine! Expect spectacular cocktails and a delicious seafood inspired menu. Also check the top rooftop bars in Rome here.
Flair on Piazza Barberini, 23, 00187 Roma
Located inside the spectacular Sina Bernini Bristol hotel offers fabulous views, decor and food. This is one for a special treat in Rome. It's one of the most romantic restaurants in Rome! Book your table online here
L'archeologia Via Appia Antica, 139 00179 Roma
This amazing cosy restaurant is a must for January. With a fireplace and homely decor, it's wine cellar is to die for and you'll welcome the warm embrace on a cold January night.
Comfy & Safe Hotels to stay in Rome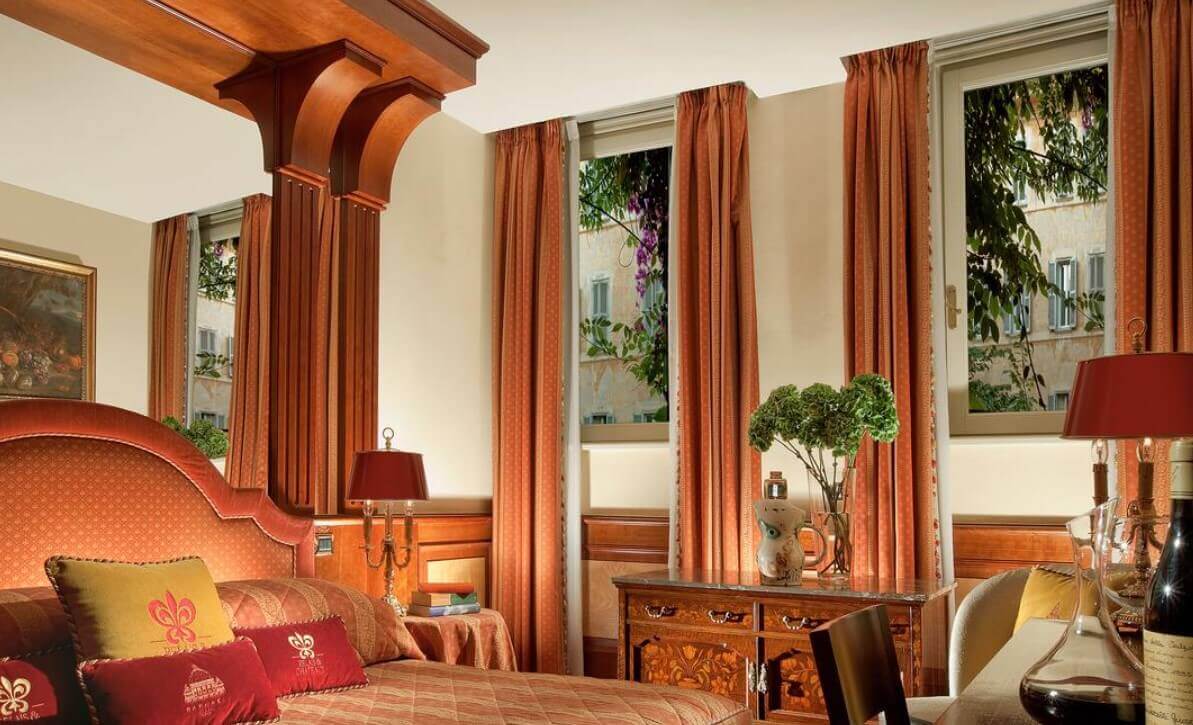 For a touch of Luxury, try the Hotel Raphael in Piazza Navona. Sumptuous suites, excellent restaurant and prime location make this a great choice for January, as you will be right in the heart of the action.
Or, why not try the Dom Hotel Rome. This lounge bar has a cosy fireplace often spruced up with a candelabra.
Spectacular Day Trips from Rome
Naples, and Pompei – the amazing sites of Pompei lie just 150 miles from Rome. There are numerous Rome day trips available, or you could organise it yourself by train
Florence – the gorgeous cathedral and stunning boutiques of Florence are easily accessible from Rome
What's the weather like in Rome in January?
Usually cold, with temperatures falling in the evenings to near zero.
What is the weather like in Rome in late January?
Daily temperatures will be around 10 - 14 degrees in January, but you will notice the days getting slightly longer.
What are the best things to do in Rome in January?
All the usual attractions of Rome are available in January! From the Colosseum to the Vatican City, you won't be limited in things to do because of the season.
What time is sunset in Rome in January?
Sunset is around 5pm, getting close to 5.30pm towards the end of the month.
What to do in Rome at night in January?
Due to the colder weather, it's better to stay indoors. Plan opera or concerts in Rome visits, or take a long and leisurely dinner in a cosy restaurant.
Where to stay in Rome in January?
In January, particular after the 6th January holidays, you will find great deals on city centre hotels near the Colosseum.
What are the best places to visit in Rome in January?
Visit all the usual hotspots! The Vatican City and Colosseum are great places to visit in Rome, especially as the crowds will be gone!
How to dress in Rome in January?
Don't forget to wrap up warm. Hats, gloves and scarves are the order of the day in Rome in January.
How busy is Rome in January?
The first week of January is as busy as it is in May or June. The Romans are on holiday and the crowds are thick. As the month progresses and the festive season subsides, the only crowds are likely to be the ones at the January sales!
Does it snow in Rome in January?
Rarely, but unlikely that you will see snow during your trip to Rome.
We hope you now know just what to expect from Rome in the month of January. There is so much to do in the Eternal City that we'd love you to send us some of your suggestions and tips afterwards!
Certainly now, there is some uncertainty about what the tourist market will look like in 2022. We'd suggest you book your trip only with providers that are offering no penalties on cancellations. The likes of booking.com and other providers are clearly highlighting their Covid 19 Clauses, make sure you are protected against travel advisories changing.