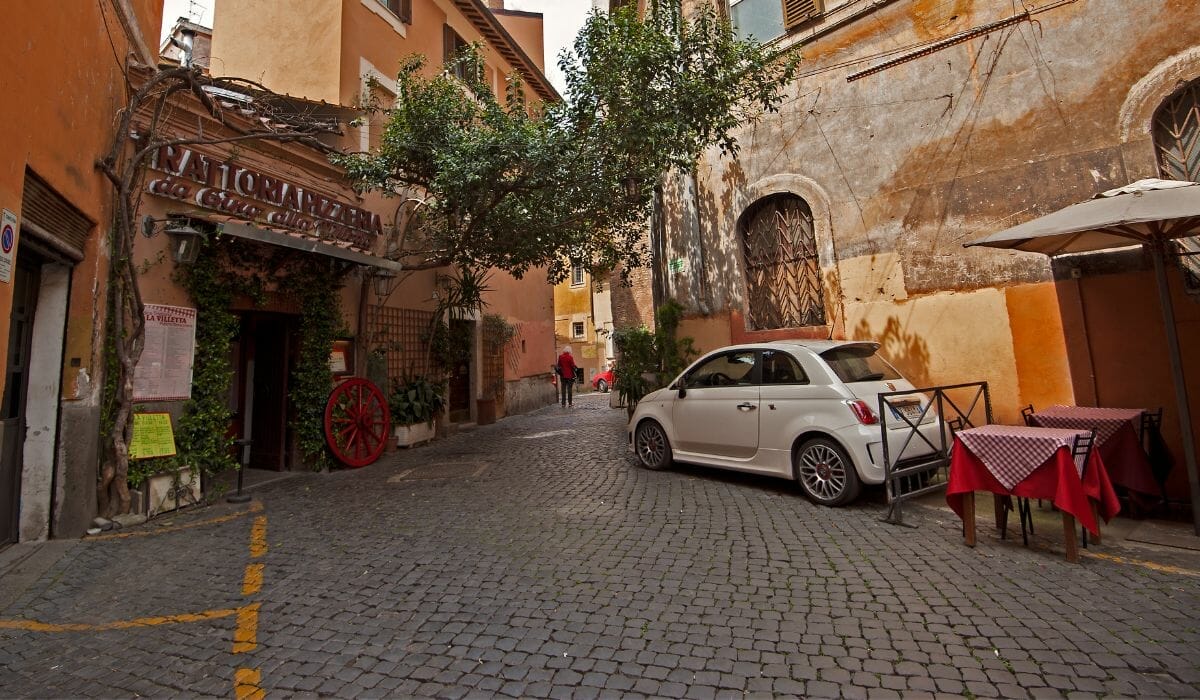 Hotels In Trastevere Rome for Every Budget & Close to Attractions
---
Looking for hotels in Trastevere Rome? Then you have come to the right place. This area is known for its buzzing nightlife, delicious food, and picturesque streets.
But did you also know it's a great and central place to stay in Rome? Let's take a quick look at the area of Trastevere before giving you the lowdown on the best hotels around.
What To Expect From Hotels in Trastevere Rome?
A stay in Trastevere gives you exposure to a part of Rome that is right near the main attractions – it is located just across the river.
It's a vibrant part of town that sees restaurants and bohemian cafes spilling out onto cobbled streets, washing hanging across alleys, and a cool atmosphere made up of students and artists.
In this area, you will find largely traditional hotels in older buildings and air bnbs in old three or four-storey buildings. Expect smaller bedrooms, beautiful Juliette balconies, and cute little patio courtyards. Blissful.
Spilling out into the area around Santa Maria Square, Trastevere is a maze of little atmospheric streets. You will find Trastevere on the west side of the Tiber River.
Well connected to the old center of Rome by bus and tram, as well as underground. Trastevere is located in the 13th district or Rione of Rome, and some of the top hotels in Trastevere Rome are located within easy walking distance of the main attractions.
Explore Rome Today: Get A FREE Mobile Guide to the Eternal City
Where To Stay In Trastevere Near Attractions
Other Options & Alternatives for Travelers
Don't worry if you don't fancy a hotel when staying in the area. Pick an Airbnb Trastevere Rome instead.
This will give you a chance to spread out, relax in the evenings and do a spot of cooking. It is a great way to really feel the local Trastevere vibe!
Check out this modern studio apartment if traveling as a couple, or book a flat for friends with 3 rooms like this one.
Do any Trastevere hotels in Rome offer free breakfast?
Yes - simply look online for deals including breakfast. Booking.com for example allows you to filter for breakfast. Note, mainly an Italian style breakfast is served - pastries, coffee and juice - in most hotels.
What top hotels in Trastevere are known for their enhanced cleaning?
Many hotels in Trastevere are taking extra cleaning measures since Covid. Sites such as Booking.com advertise this with a banner across the hotel picture.
Is Trastevere safe enough to stay with a family?
Trastevere is as safe as any place in Rome- at nights it can get a little rowdy, so if you have young kids you may prefer to be back indoors by around 9pm.
Now you are sorted for where to stay in Trastevere Rome, it is time to plan the rest of your trip. Consider a travel card, for example, to help minimize costs, or perhaps look at a city pass to manage your budget and fit in as many attractions as possible.