Trees In Rome: Pine, Orange, Tall & Other Types of Trees
---
You could be forgiven for thinking that there are no trees in Rome.
If you imagine the eternal city, you'll probably conjure up images of the Colosseum and the Roman Forum, bustling streets and roadside cafes.
We're pretty sure that you won't be thinking much about trees! But you'd be wrong to think that Rome is all old columns and marble.
Learn about the Umbrella Trees Italy and other types of trees in Rome in this guide!
Worldwide Famous Italian Umbrella Tree
The pines of Rome – also known as the Italian Umbrella tree – are extremely striking and instantly recognisable.
With long tall trunks spreading up to a flat wide canopy, the umbrella pine trees in Rome Italy are officially known as Pinus Pinea.
Although they are found all over the Mediterranean, it was Mussolini who brought them to Rome and planted them in long lines along the avenues.
You can see these tall trees in Rome on the Via Appia as well as on the Via Dei Fiori Imperali – they make for a striking picture.
Wondering What Kind Of Trees Are In Rome?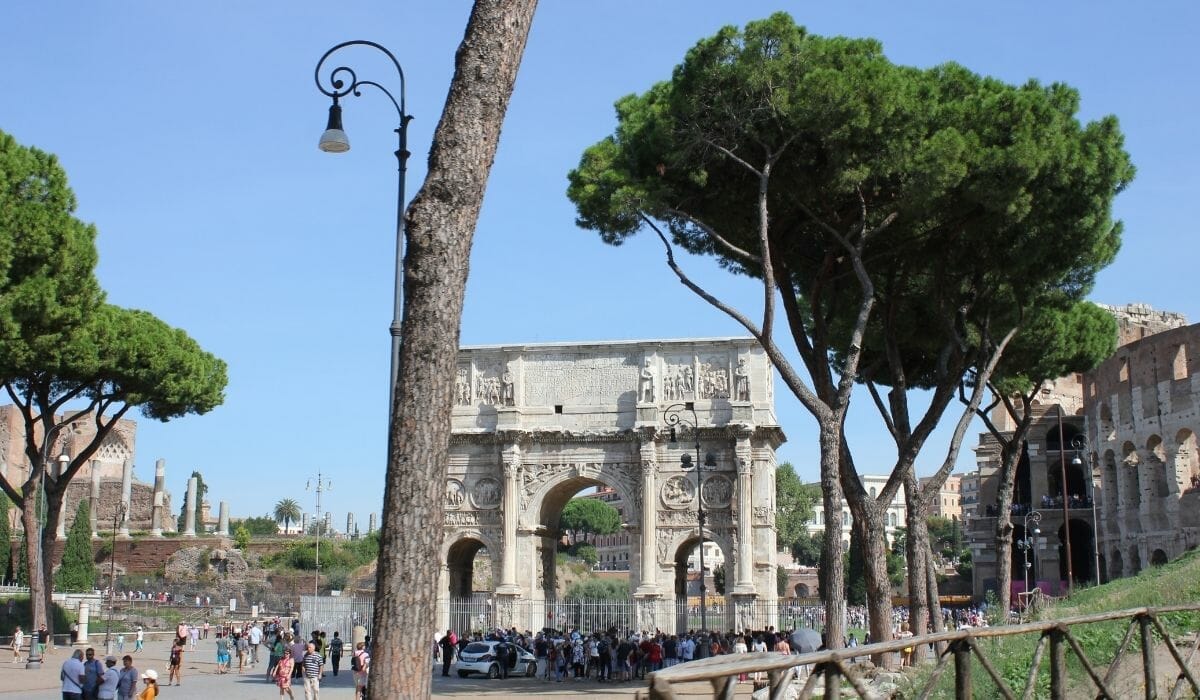 There are however many other species of trees in Rome that you will notice during your trip. Palm trees, Cypresses and Orange trees can also be found – and photographed – as you make your way around the city.
If you are looking for a spot of nature amongst days of museums and hot sun you may be delighted to find shade under one of these gorgeous trees.
Head to the Villa Borghese and walk under the cool canopies of the pine trees in Rome – and other species – whilst the rest of Rome bakes in the summer heat!
Are There Pine Trees In Rome?
There are indeed pine trees in Rome, but they don't look like your typical pine. Far from looking like a Christmas tree, the famous Umbrella Pine Trees in Rome can grow up to 80 feet in height, and you will notice them instantly.
They've been in the Mediterranean region for thousands of years, and are something that frequent travelers to Italy, Spain, France and other southern European countries will know and love.
Are There Palm Trees In Rome
Who doesn't love a palm tree? They conjure up images of beaches, cocktails, and just give an all round holiday vibe!
Palm trees are not actually native to Rome, and were brought there over time. Legend has it that Julius Caesar simply loved dates, and encouraged the spread of this gorgeous tree, but it is more likely they arrived in abundance in the 18th century.
Later, Mussolini propagated the species as a symbol of Italy's dominance in its north African colonies. Head to the Piazza Cavour in Rome to get a great view of some tall palms.
Get Today Our Free Guide of Rome on Your Mobile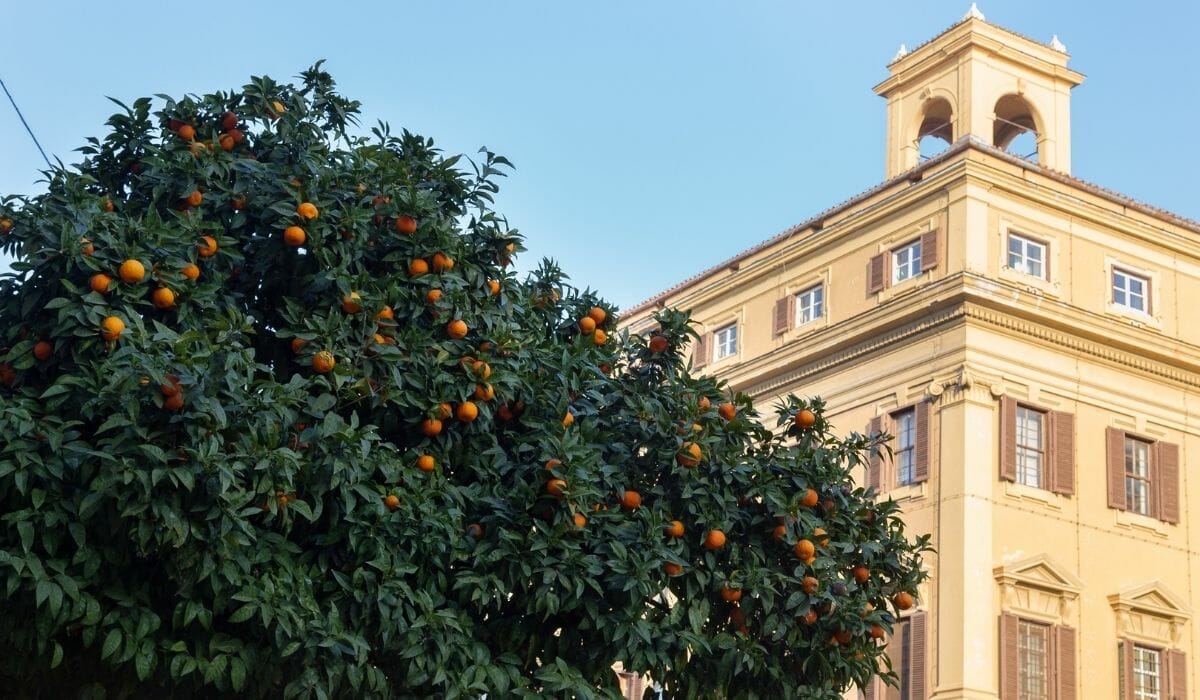 You can see a lovely collection of orange trees in a garden dedicated especially for them!
The Parco Savello – known in Italian as the Giardino degli aranci, which translates as the Garden of Oranges- hosts a wide collection.
A bitter orange grows on these trees, and the park is a popular place at which locals can gather, chat and rest.
It's no secret that the Romans loved olives. They spread trees across the Roman Empire, and enjoyed olives as starters to their meals.
If you are really interested in seeing an ancient olive tree then you are in the right place – nearby to Rome is the largest olive tree in Europe.
It is also over 2000 years old! You can take a tour such as this one to see it and also sample some local olive oil, learning a little history as you go.
The aforementioned olive tree is perhaps the oldest tree in the wider area of Rome. Tree ring dating analysis has confirmed its age to be at least 2000 years old, although many historians believe it to be much older.
Cypress Trees In Rome Italy
The tall, finger-like cypress trees of Rome are also a recognizable sight.
In ancient Rome, their strong smelling branches were used to drape statues, but also in funerals, as they hid any unpleasant smells.
Believed to have originated in Iran, it spread to Europe. In Rome, the most famous place to see a Cypress Tree is actually not in tree form – but in the wooden doors of St Peter's Basilica.
Are there Willow Trees In Rome Italy?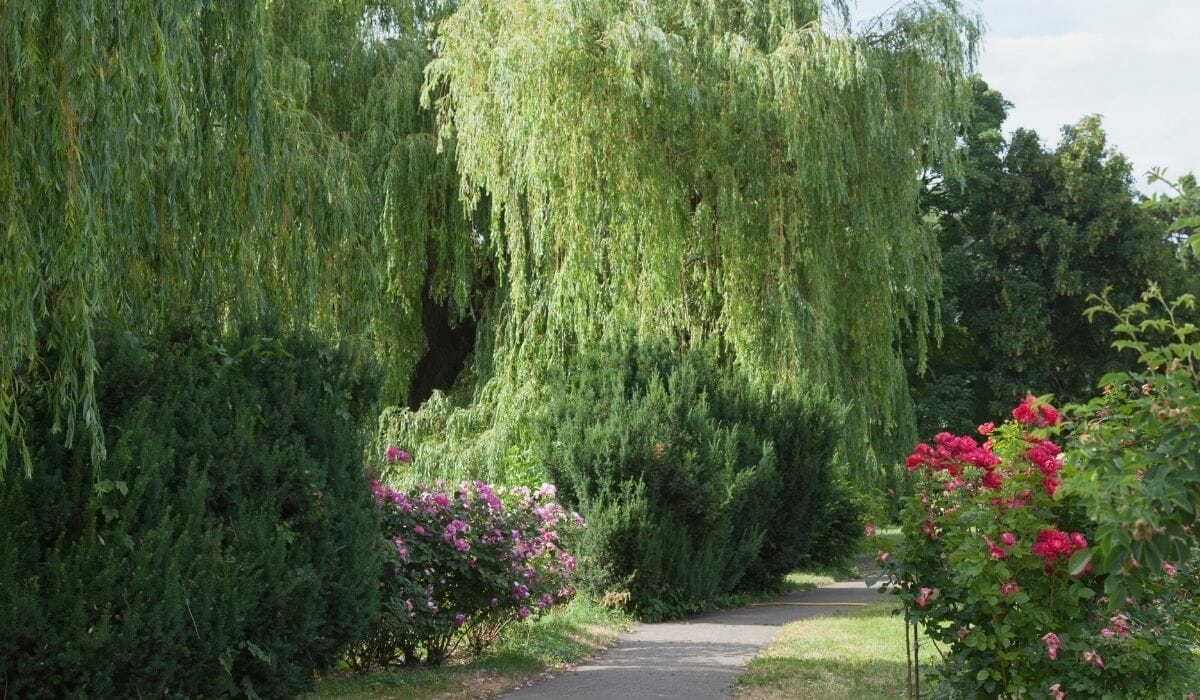 What kind of Willow trees grow in Rome Italy? The leaves of willow trees were chewed on by the ancient Romans as a pain relief.
You can spot them around the ancient aqueducts of Rome. The Aqueduct Park is found along the Via Appia, rolling over 240 hectares. Here too you can find many of the pine trees in Rome!
Whilst many of the common trees in Rome provide great shade in the summer, you can also expect to see some gorgeous Christmas Trees in Rome in the winter months.
The Piazza Venezia Christmas Tree is one of the most loved amongst locals and tourists alike. The tree usually stands around 22metres high and is adorned with beautiful lights.
During the Christmas festivities, you can also find trees in St Peter's Square and at the Colosseum.
Did You Know These Italian Stone Pine Tree Facts?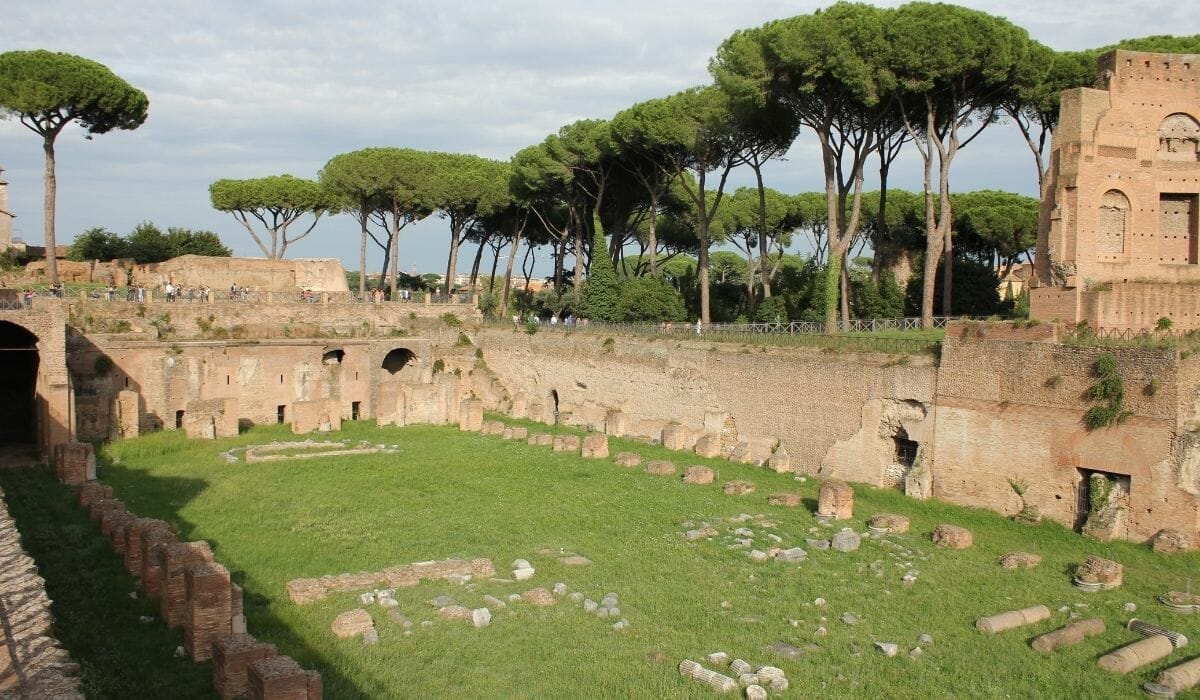 The Umbrella Tree is also known as the Stone Pine tree.
The stone pine tree grows well even in poor soil, so it's a great option for those who wish to recreate a mediterranean garden in their home.
They give off a nice fragrance and are likely to grow at least 40 feet tall. At maturity, the distinctive canopy also spreads to around 20 to 40 feet!
Facts About the Palm Tree Symbol In The Roman Empire

The Roman Empire used the palm tree branch as a symbol of victory – and was often awarded to winners of games.
But it was also used as a unit of measurement before eventually being incorporated into the Christian festivities of Palm Sunday.
Most Beautiful Images of Trees in Rome
Now you know about the most common trees in Rome. Get a vision for what to expect by checking out these gorgeous trees in Rome images!
Other Well-Known Plants Native To Rome
The Box plant is the source of some debate as to its origins, but it is clear that the earliest specimens found were from ancient Rome.
Archeologists have found remnants of box leaves deep in ancient Roman wells. Roses and mulberry were also very popular to keep in the gardens and courtyards and are believed to be native to Rome.
Where You Can See The Most Beautiful Trees In Rome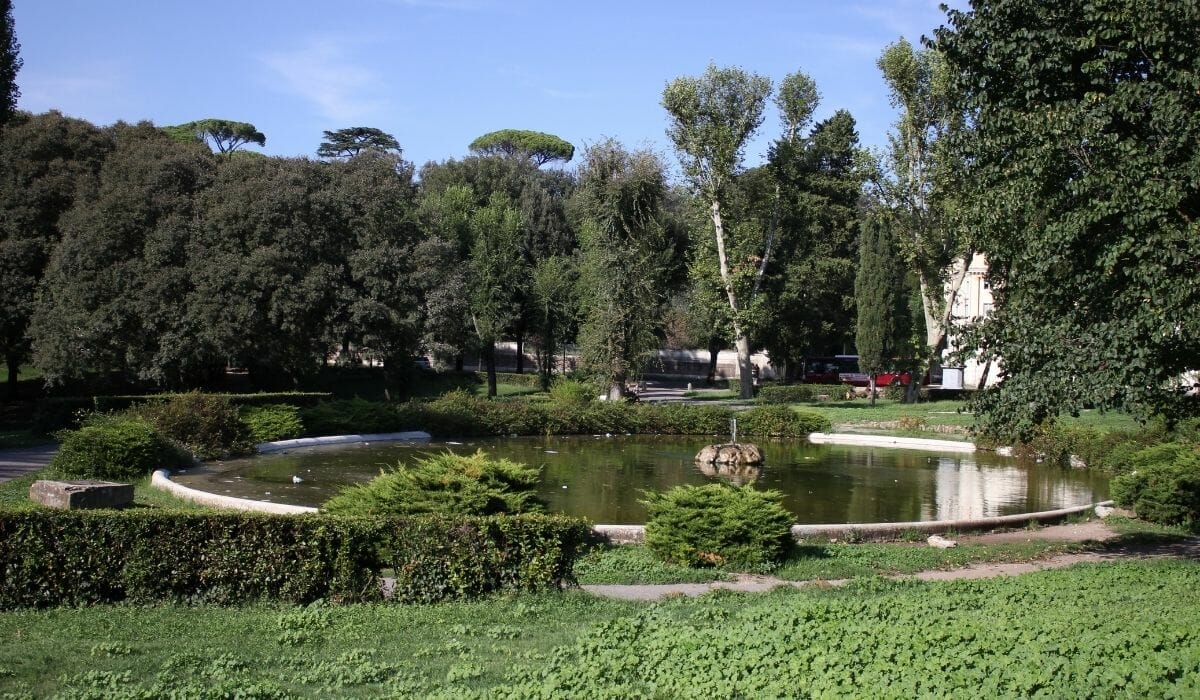 Certainly one of the best places to wander around the beautiful trees of Rome is the Borghese Gardens (by the way – check out our full guide to the Borghese Galleries here, because there are some specifics on tickets you need to know).
The gardens are a lovely place to cool off on a hot Roman summer's day. The Roman Forum contains trees that look like they are sitting on top of the ruins – and make for a spectacular photo opportunity!
And don't forget of course Rome's Botanical Gardens – especially in the spring for the cherry blossoms!
3 Hotels With Amazing Views for Tree Lovers
The Kolbe Hotel Rome overlooks the Palatine Hill and boasts stunning views over the area. It's a little haven in Rome with rooms starting around €180 a night.
If you fancy a splurge however, the Villa Agrippina Gran Melia is the place to come for city and botanical views stretching as far as the eye can see. Rooms start from €500 a night !
Finally, a boutique feel awaits you at the Tree Charme Bed and Breakfast. Judging by its name, you can expect to find tranquil tree lined views from the windows. Get a room from around €150 a night.
Frequently Asked Questions
How old are the pine trees in Rome?
The umbrella trees live usually for 50 to 150 years. So, some of those that were planted under Mussolini's directive are starting to die. That's a bit of a nightmare for the municipality who need to ensure the surrounding area is safe.
What type of trees are in Rome?
In Rome you will find the famous umbrella stone pine trees, as well as olive trees, palms and cypress.
Is Italian stone pine poisonous to cats?
Yes - there are oils contained in the trees that can be poisonous to both cats and dogs if ingested.
Are there palm trees in Italy?
Yes! All over! Check them out in some of the squares when in Rome.
You're a tree guru now and will be able to impress your travel companions with multiple facts about Rome's trees!
Head on over now to our guide of top things to do in Rome in order to plan the rest of your trip!