Museums in Rome: The Top 10 Museums and Galleries
---
Rome can be overwhelming. If you are there on a short city break, then you'll be hard pressed to fit everything in. You can for example spend your whole Saturday in the Vatican, which leaves little room for anything else.  But there are some "must-sees" and "must-dos" that can help you hit off the best of Rome, even on a weekend break.
We are here help you navigate some of the museums in Rome, including art museums in Rome so you don't miss out.  We'd suggest picking a few off this list and coupling with some of the attractions over on our Churches In Rome guide. Check out the descriptions below to decide if it is sculptures, art, coins or frescos you want to see, and get planning today!

Top 10 Museums in Rome

Pick a couple of these beauties to get your museum fix! You will see, it is not just all about Roman sculptures – from modern art to Egyptian mummies, there is something for everyone in Rome's excellent collection of museums.
1.     Capitoline Museum in Rome
This museum is a must see if you want to tick off some art museums in Rome. Located on top of the Capitolini Hill, the museum is actually a group of museums looking out over the Piazza del Campidoglio, which was designed by Michelangelo.
The Capitoline Museum boasts an amazing collection of statues, jewels, art and historical artefacts. Four huge main buildings (Palazzos) house the collections, and you can access them by underground passageways.
  Where – Piazza del Campiglio, 1
  How – Metro to Colosseum, 10 minute walk. Hop On Hop Off Busses stop directly at the Capitoline Museum
  When – 9.00 am – 19:30pm
  How much – Included in Roma Pass. Otherwise,

€11.50

for full fare, concessions available at

€9.50

  Book your tickets online here
  Part of the free museums in Rome on Sunday scheme – first Sunday of the month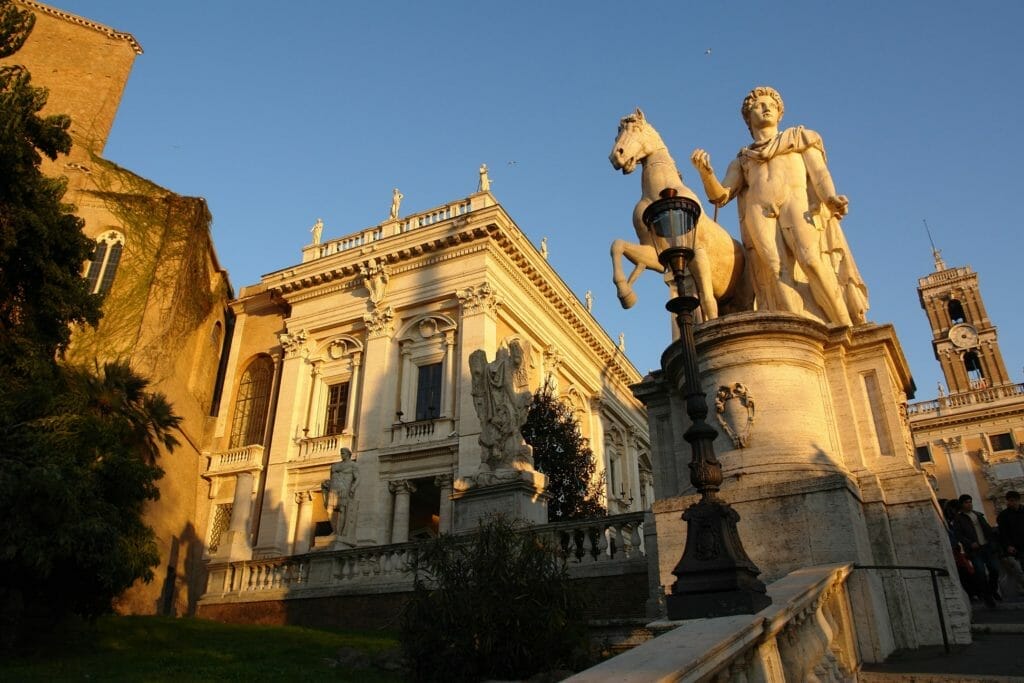 Free guide of Rome on your mobile
2.             Borghese Gallery, among the most beautiful Museums in Rome
Located in the stunning Villa Borghese gardens, the Borghese Galleries are well worth a visit. The villa itself, in which one of the best art museums in Rome is housed, is one of the best museums in Rome.
It boasts an amazing collection of art and sculptures spread across the villas 20 rooms. There are beautiful frescos on the ceilings, and Bernini's work features prominently.
Once you have taken in the delights of the Borghese Museum, take a stroll through the Villa Borghese, which is an attraction in itself!
  Where – Piazzale Scipione Borghese 5, Piazzale Scipione Borghese 5
  How –  Metro line A, Spagna
  When
| Monday | Tuesday – Sunday | Late night opens |
| --- | --- | --- |
| Closed | 9am – 7pm | 7pm – 9pm Thursdays |
3.             Leonardo Da Vinci Museum Rome
The Leonardo da Vinci Museum is a smaller museum and worth a visit if you are a Leonardo fan. Whilst not one of the traditional art museums in Rome, this museum can be checked off the list within a couple of hours.
Therefore, it is a good option if you are short on time but still want an art fix. With interactive exhibits showcasing da Vinci's life, art and invention, it is a breath of fresh air when compared to a traditional museum
  Where – Via Conciliazione 19, Roma
  How –  Metro B to "Ottaviano"
  When – 9.00 am – 19:30pm
  How much – 2€ discount with Roma Pass. Otherwise,

€12

adults,

€10

concession
  Book your tickets here
  Part of the free museums in Rome on Sunday scheme – first Sunday of the month
4.             Jewish Museum Rome
This fascinating museum takes you through early Jewish life in Rome through to modern times. With an over 2000 year history in the Italian capital, the museum showcases the interesting blend of east and west developed over the centuries. With religious artefacts, art and reconstructions of Jewish life and culture, this museum will keep those with an interest in Jewish history entertained for hours.
Where – Via Catalana, 00186
How –  Bus lines 23, 63 and 280 stop at Lungotevere
When – Generally 10am to 5pm however with many exceptions. Check them out here
How much – 3€ discount with Roma Pass. Otherwise,

€11

adults,

€15

concession
Book your tickets here
or join the Jewish Quarter Walking Tour including Jewish Museum & Synagogue
5.             Vatican Museums in Rome
This guide would of course not be complete without a little section on the Vatican Museums! The Vatican museums feature prominently on any Rome museums map. We've a really detailed guide on the Vatican Museums so we recommend you take a look at all the great attractions included in the tickets.
Couple your visit with free entry to St Peters Basilica, visit the Sistine Chapel and spend literally hours looking at the magnificent art, sculptures and maps in the world famous museum.
  Where – Vatican City
  How –  Line A Ottaviano-S
  When – 9am to 6pm Monday to Saturday
  How much –

17€

at the entrance, prebook for

€17+4€ online

. Concessions

€8

. Kids under 6 go

free

.
  Book your tickets here. We recommend strongly to book online in advance to avoid queues!
  Closed Sundays, however Part of the free museums in Rome on Sunday scheme – last Sunday of the month
  Not part of the Roma Pass, however check out the Omnia Card here
6.             Museum of Contemporary Art of Rome (MACRO)
One for those who love modern art. You might forget about this sort of thing when getting lost in the antiquities of Rome. But the MACRO is well worth a visit for a change of scene.
The main part of the museum is located in Salario, although there is an additional section in the Testaccio district. You can probably complete the museums three floors in about 3 hours – check out street art and contemporary photographs as well as paintings.
  Where – Via Nizza 138 Corner of Via Cagliari
  How –  Line B to Pyramide
  When – 10.30am –  19:30pm Tuesday to Sunday
  How much –

7.5€

at the entrance
  Book your tickets here
or join the VIP modern architecture tour to visit MAXXI & MACRO Museums Rome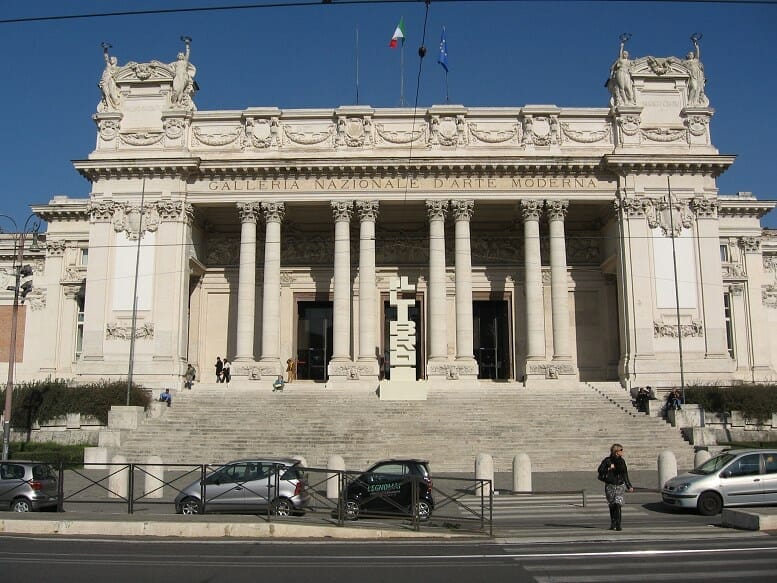 7.             National Etruscan Museum in Rome
This museum celebrates the culture and history of the Etruscan civilisation. Housed in a former papal villa, the Etruscan museum takes you to the life and times of this pre-Roman civilization.
It is here that you can check out the famous 6th century Sarcophagus of the Spouses. Inscriptions can be found going back as far as 700BC. This is certainly an interesting museum to explore in a few hours as many are unaware of the pre-Roman history of Italy.
  Where – Piazzale di Villa Giulia 9, Rome, Italy
  How –  Subway to Flaminio
  When – 09.00am –  20:00pm Tuesday to Sunday
  How much –

10€

at the entrance. Included in the Roma PASS
  Book your skip the line tickets here
  Free entry  first Sunday  of month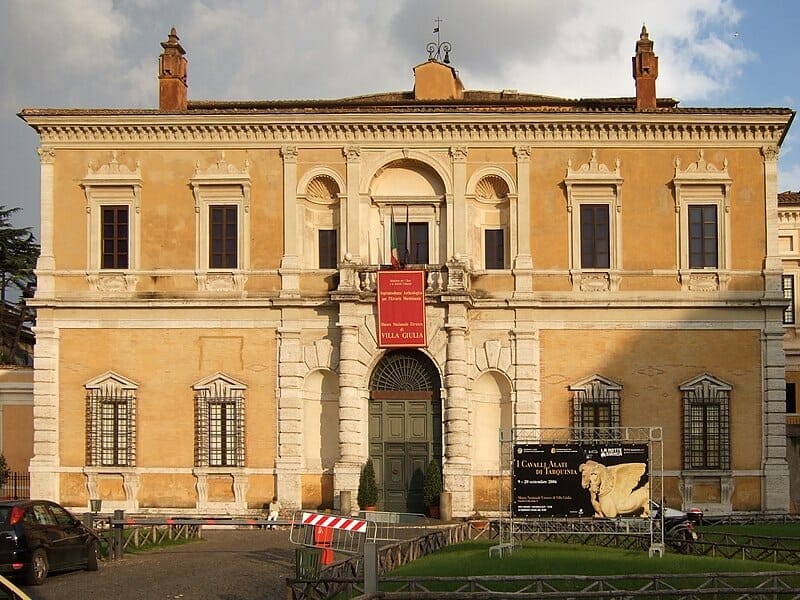 8.             Palazzo Venezia Museum Rome
Housed in a former palace, the Museum boasts an interesting collection of all sorts of artefacts, paintings, jewels, and other precious pieces. Aside from the collections, visitors can expect to enjoy the interior of the palace itself.
Famously known as the place from which Mussolini gave his "Italian Empire" speech in the 1930s, the palace boasts fine collections of pottery and tapestry as well as beautiful gardens
  Where – Via Guido Reni 4A, 00196 .
  How –  Flaminio – Piazza del Popolo 20 minute walk
  When – 08.30am –  7.30pm Tuesday to Sunday
  How much –

10€

at the entrance . Included in the Roma PASS
  Free entry  first Sunday of month from October to March
9.             MAXXI, National Museum of 21st Century Arts
This modern art museum is a good alternative to the MACRO, and offers a great selection of Modern Art. The building itself, designed by Zaha Hadid, is worth looking at.
Inside, apart from the standard and rotating exhibitions, visitors can enjoy interactive workshops and performances. Definitely worth checking out for a couple of hours.
  Where – Via del Plebiscito.
  How –  Subway to Colesso, 10 min walk
  When – 11am – 7pm  (open late on Saturday)
  How much –

12€

.  Included in the Roma Pass
  Book your tickets here
  Free entry  first Sunday  of month
10.          The 4 National Roman Museums in Rome
Spread across 4 buildings, the National Roman Museums are a real treat. For 18€, get entry to all 4, valid for 3 days. Check ticket price here. The buildings are open 9am to 19:45pm
National Museum of Rome Palazzo Massimo, Palazzo Altemps, Baths of Diocletian and Crypta Balbi all make up this museum
In the Palazzo Massimo, check out an interesting collection here of mainly archaeological artefacts. There is also a mummy and some cool mosaics. Coin enthusiasts will also love checking out the coin section, which is one of the biggest in the country
Over to the Palazzo Altemps for some sculptures, including a selection of Eastern sculptures. The Baths of Diocletian are an interesting find, hosted in a beautiful building with hundreds of inscriptions. Finally, the Crypta Balbi boasts coins, frescoes and other items of ancient Roman heritage.
Palazzo Altemps:  Piazza Sant'Apollinare
Bus:  70, 81, 87,116T, 186, 492, 628
Palazzo Massimo:  Largo di Villa Peretti
Terme di Diocleziano:   Via Enrico de Nicola
Crypta Balbi:  Via delle Botteghe Oscure
Bus: n.70, n.81, n.87, n.116, n.116T, n.186, n.492, n.628
Roma Pass to visit Museums in Rome for Free?
The Roma Pass offers dozens of benefits, which we have detailed here. Many of the museums in this guide offer free or discounted entry to those with the Roma Pass. We've highlighted them in the sections below.
A word of caution – make sure the pass is worth it before you purchase it. For example, many of Rome's museums offer free entry to children, under 18s, students, teachers, the list of exemptions can be endless. Do you research first to ensure you are getting the best deal before you buy. And try to make use of the first Sunday in the month if possible – many of Rome's museums are free to enter on this day!
Check Roma Pass prices here.
Some more Museums in Rome that are worth visiting
If this guide doesn't cover the big hitting museums never fear – here is a list below of many other museums in Rome that you might want to check out!
We've included links to each website below. Check them out for the latest ticket prices, opening times and collection information.
National Museum of Ancient Art Rome
Tickets start from €5.50
Opening hours 8.30am to 18:00pm
Includes access to Palazzo Barberini (closed Mondays) and the Corsini Gallery (Closed Tuesdays)
Website – here
Hendrik Christian Andersen Museum Rome
Free entry
Opening Hours Tues-Sun 09.30-19.30pm.
Website here
Barracco Museum Rome, Italy
Free entry
Tue–Sun: 10 am – 16:00pm (last admission: 15:30 pm)
Website – here
Medici Museum Rome
Tues – Sun, 9:30 am-17:30 pm
12€ (6€ with Roma Pass)
Website – here
Rome Natural History Museum
7€ (concessions available)
Open 9:00am to 19:00pm
Website – here
MAAM Museum Rome
MAAM Museum is only open on Saturdays, from 10:30am
€2 entry  fee
Website – here
WAX Museum Rome
Open daily 09:00am to 21:00pm
Full fare 9€
€4 with the Rome City Pass
Ticket online here
Website – here
Rome Museum Colosseum
Opens 08:30am, but closing times vary through the year. Check them out here
€22 for full fare
Colosseum + Roman Forum & Palatine Hill skip the line tickets online here
Website – here
Gladiator Museum Rome
Caravaggio Museum Rome
9am to 18:00pm
Open until 21:00pm Saturday and Sunday
€12 entry
Website – here
Barberini Museum Rome
Regular tickets are €14
10:00am to 19:00pm
Open to 21:00pm every first Thursday of the month
Book your ticket here
Website – here
Museum of Roman Legionary
Free Entry
Monday to Friday Monday to Friday, from 09.30 to 13.30pm
Website – here
When are Museums free in Rome?
Museums in Rome are free of charge every first Sundays of the month.
Which Museums are free in Rome?
Museo di Scultura Antica Giovanni Barracco
Museo delle Mura Villa di Massenzio
Museo della Repubblica Romana e della Memoria Garibaldina
Museo Napoleonico
Museo Carlo Bilotti
Museo Pietro Canonica
Museo di Casal de' Pazzi Casa
Museo Mario Praz
H.C. Andersen Museum
Are Museums open on Sunday?
Most of the Museums in Rome are open on Sundays. Closing day is usually on Monday. But the Vatican Museums are closed every Sunday except the last of the month.
Conclusion on the best Museums in Rome

We hope this guide gives you enough information to help you plan your trip to some of the best museums in Rome. If you need more help with your plans, why not check out our hotel guide, or perhaps plan where you want to eat in Rome. Let us know what you decided to do and what your favourite museum was!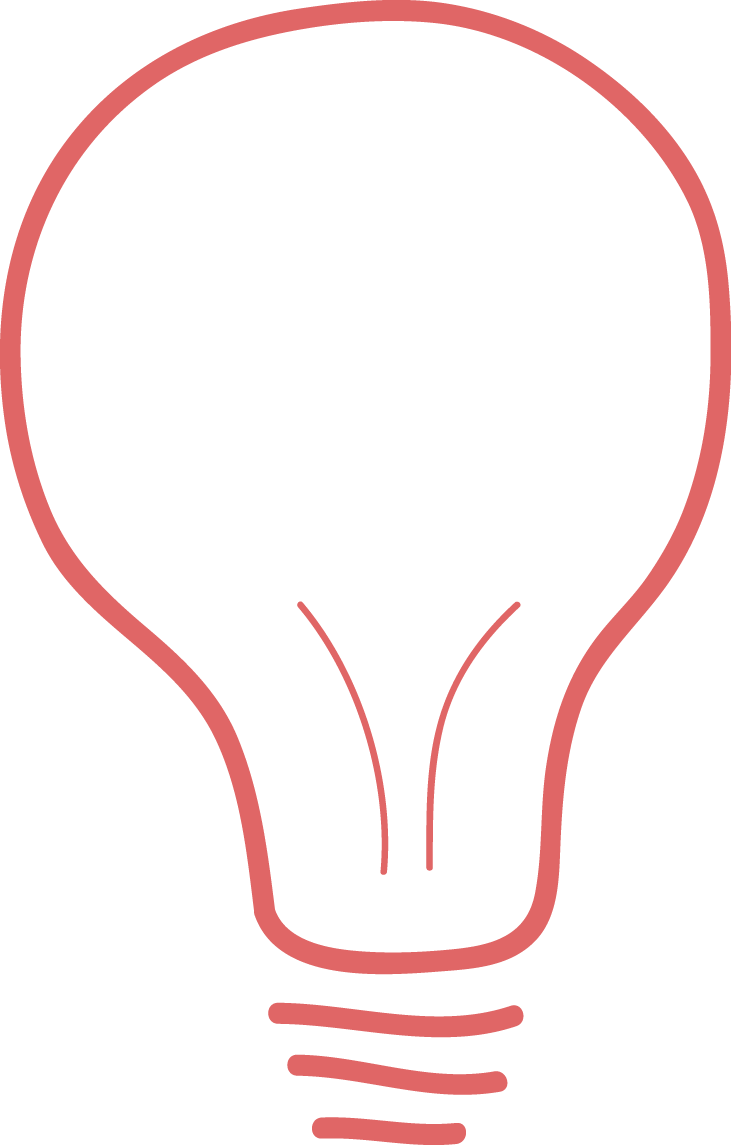 Another tip – if you plan to see loads of museums, it probably is best to explore one of the Roman city passes. The ROMA PASS or Omnia Card are probably your best bet.