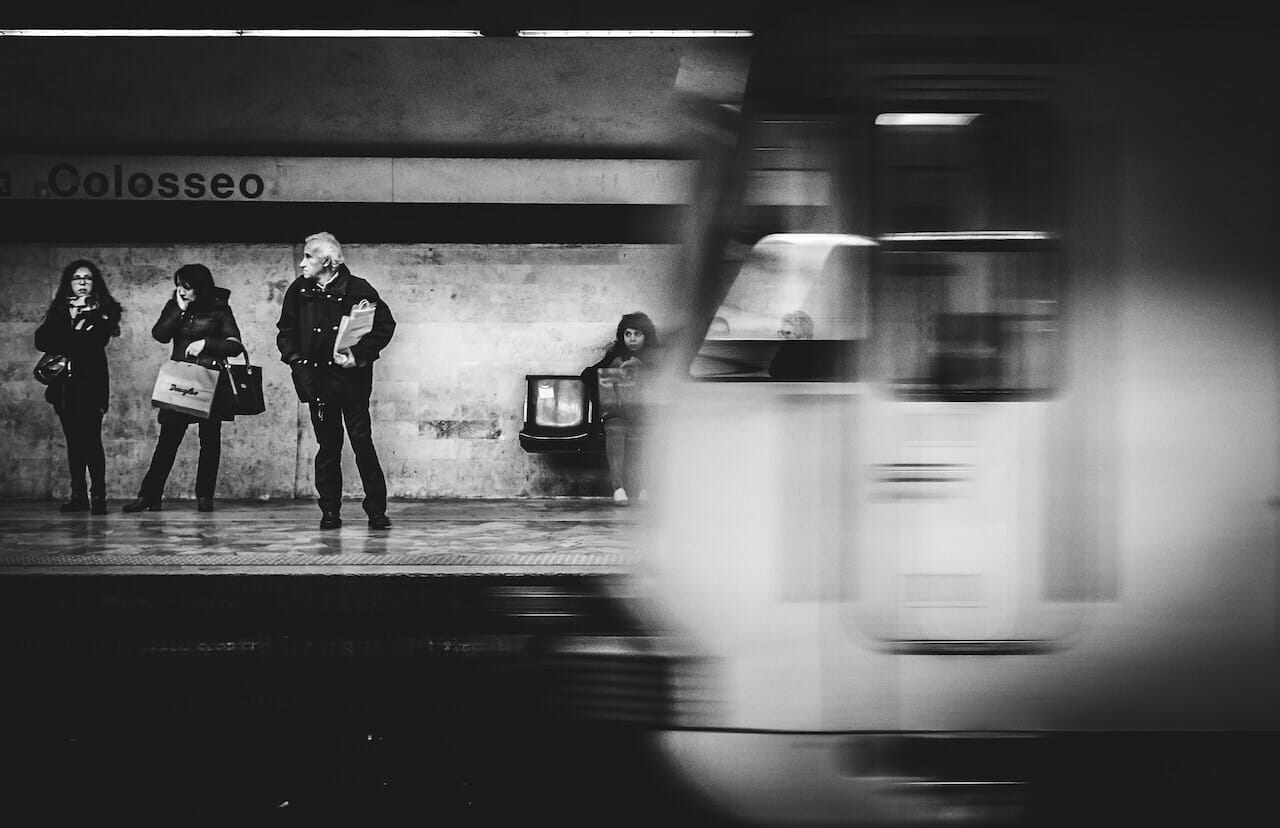 Rome City Map: Attractions and Public Transports map
---
This page takes you through the each Rome City Map, the attractions and the map of the public transports. Rome is the capital city of Italy. As a World Heritage Site, it is one of the most visited cities in Europe with about 12 million visitors per year.
Free Rome city guide on your mobile

When you plan to visit the ancient city of Rome, it's not a bad idea to have a clear overview of the entire city. A Rome city map should lead the way. We'll touch on the three entities of 'Rome Map Tourist' as a guide for intending travelers.
The city is a beautiful historic place with great landmarks and narrow streets surrounded by magnificent edifices. The road network includes railway stations and bus routes. Rome's city view allows you to see Rome in its glory flanked by interesting locations, hotels, temples, museums lovely sights.
You'll get to find in Rome;
Museums: Capitoline Museums, Vatican Museum, Villa Borghese
Monuments: Roman Forum, Colosseum, Capitoline Hill, Pantheon
Attractions: Castel Sant'Angelo, Trevi Fountain, Ponte Sant'Angelo
Religious buildings: St. Peter's Basilica, Vatican City,
Squares: Piazza Navona, St. Peter's Square, Piazza di Spagna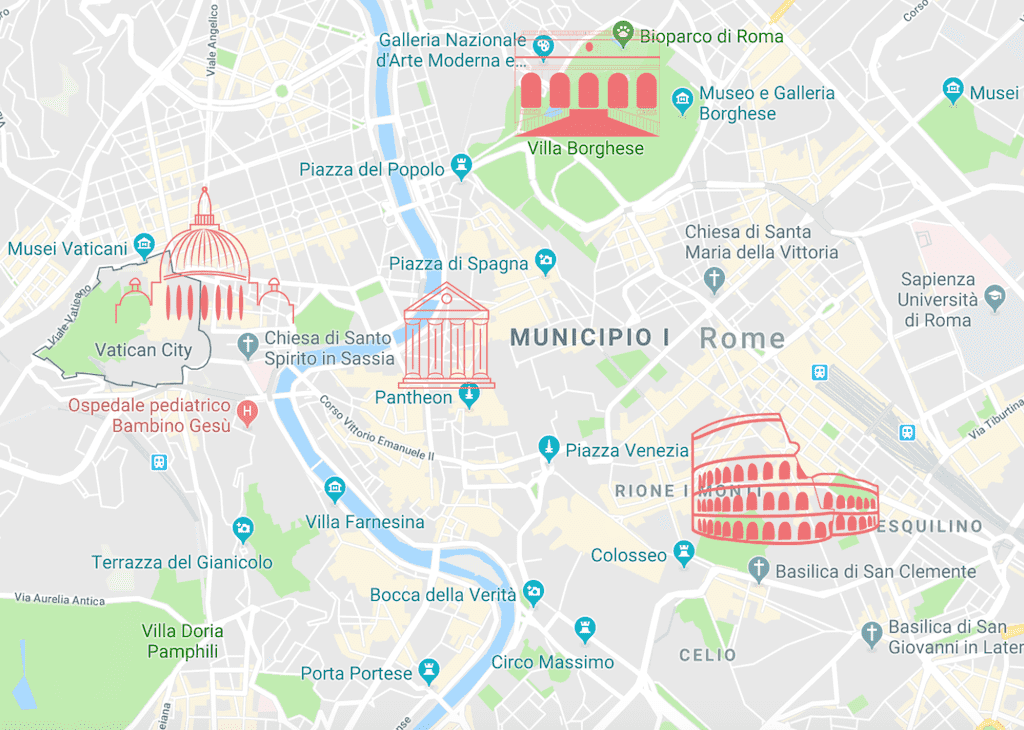 Vatican City is the smallest but an independent state. It is enclosed in an area that is less than half a square kilometer.
Inside are the Vatican Palace and St. Peter's Basilica, Gardens, and St. Peter's Square. The Pope, the Roman Catholic Church's supreme head governs this city. There is a lot for tourists in this little area.
Inside the basilica of St. Peter is the masterpiece of Michelangelo, Pieta, together with Bernini's statuary and altars.
The Sistine Chapel, whose beautify is capped in Michelangelo's most famous work, is the undisputed highlight of the Vatican museums.
The Raphael Rooms, the Vatican Library, the Borgia Apartments, and several museums, including the Picture Gallery, the Etruscan Museum, the Museum of Secular Art, and others are locations within the Vatican City that will constantly get visitors' attention.
Travellers and tourists can be sure to have their hands full with lots of interesting information about the papal's abode when they come visiting.
Rome City Map – Neighbourhoods
If you want to escape the trap of just concentrating on only the major attractions such as the Colosseum, Piazza Navona, just have a glimpse of one of the Eternal City's trendy neighborhoods in our 'Rome Map Tourist' tour.
Monti is a lovely neighborhood of winding cobbled streets with warmly-hued façades and picturesque designs, just a short walk away from the Colosseum.
Check out Mercato Monti, the regular weekend antique market in the area, for unique clothes and jewelry, or grab a beer or snack by the fountain in the beautiful Piazza Della Madonna Dei Monti, where the children go to hang out.
Known as the student district of Rome, San Lorenzo is located near La Sapienza University, north of Termini Train Station. Although perhaps not as fashionable as some other parts of the city, San Lorenzo still offers many interesting vintage clothing stores, boutiques, and galleries of contemporary art.
Visitors view this place as the best location for the younger generation to relax and ease off the tension a little bit.
Other interesting neighbors are:
Testaccio
Ostiense
Trastevere
Pigneto
Map of Rome Attractions – things to see
On map of Rome attractions, it's difficult to know where to start or go first in a town so full of ancient signs and Christian faith. Of course, your preferences will control your decisions, but some places are almost obligatory standing as icons of Italy and Europe as a whole, like the Colosseum and the Pantheon.
Others are the Roman Forum and the Trevi Fountain. Anytime you think of Map of Rome attractions, these places should rightly fit in.
If you are lost to know which visits to plan, we have listed the best things to do in Rome that will help you picking up the one that will suit the best for you.
Map of Rome – Piazzas and Fountains
What visit would be complete without seeing the wonderful Trevi Fountain and tossing in a coin as people do affirm their return to the city? This huge fountain consumes the piazza completely and is a real hub for city visitors.
Also, the fountain is stuck on a side of the' Palazzo Poli' and has Neptune as its central figure. The theme is the contrast between the calm and stormy seas, portrayed by different figures around the dominant Neptune.
The area is beautiful to visit at any time of the day, but it is real beauty at night when illuminated.
One of the city's most popular tourist attractions, this 17th-century masterpiece was immortalized in movies as it is features constantly in most epic movies. The fountain was designed by Nicolò Salvi between 1732 and 1751 for Pope Clement XII.
Other top piazzas in Rome
There's a piazza nearly every corner in the beautiful city of Rome, each with its unique theme. Here are some of the most popular you'll come across during your tours;
Piazza di Spagna
Piazza di Santa Maria in Trastevere
Piazza del Campidoglio
Piazza Della Rotonda
Piazza San Pietro
Piazza del Popolo
Piazza Della Madonna Dei Monti
Piazza Mattei
Planning to use public transport to get around Rome? Then you should probably get to know how to use the metro system in Rome with this map of Rome metro.
Due to the size of the Eternal City, the subway is certainly not the most extensive system, but if your destination is close to a metro stop, then the 'underground Rome' is one of the fastest ways to travel.
Metros come about every five minutes during the day. The wait for the next can be up to ten minutes on nights and weekends.
There are three subway lines (A, B and C) in Rome. The two main lines are A and B, which at Termini station cross at only one point. Find each and how they connect in the map of Rome metro right here.
Rome Sightseeing Hop on and off bus map
Explore Rome with the hop-on, hop-off bus tours in all its glory. We will take you to all the must-see sights of the city, including the Colosseum and Maximus Circus.
The popular sightseeing tour of Rome provides insight into the rich history and contemporary culture of the city. You can hop on and hop off at your convenience throughout the tour to discover Rome's famous landmarks and attractions.
Rome City Map – 3-days itinerary
For many travelers, planning a vacation be another thing altogether. With only 3 days in Rome, you can tour the ancient ruins and the Colosseum to the very interesting places you've heard of and would love to visit. There are endless things to see, do and eat with our well-tailored 3 days in Rome visit.
So, all you need to know about your Rome itinerary is broken down for you here. As we strive to be the best we can for our readers, for this section we think nothing more than Rome Map tourist to make sure we render the best service and hope you've been served right?
Full Rome City Map – Rome Attractions, Hotels & Addresses