April in Rome Weather & Travel Tips for Perfect Experience
---
Spring in Rome! Oh it is magical! The winter is long behind you and there is a stretch to the days. It's warm enough to sit out in the evening, and you can expect a buzz returning to the city after winter.
On the flip side, lots of other people know this! Rome in April starts to heat up – in terms of both temperature and slightly more crowds than the winter months!
The city hosts a range of events in April – even more if there is a late Easter. If you aren't planning to go to Easter Sunday Mass, stay clear of the big holidays and try to travel when the European kids are still at school.
Is Rome a good place to visit in April?
April is one of our favourite times to visit Rome. Rome's weather in April is great – it's not too hot, so standing in a queue isn't as fatiguing. Speaking of queues, yes, it is getting busier.
There are numerous great festivals and events in Rome in April that bring crowds. But, don't despair. It is still less crowded than the peak summer months.
Average Weather in Rome Italy in April over the years
Rome weather in April is pretty decent. April 2019 for example started off with highs of 16 degrees celsius and daytime lows of 8, with partially clear skies.
It rained only 2 days in the first 2 weeks of April 2019. Towards the month the temperature even hit 27 degrees one day, but averaged out at about 21 degrees celsius.
April 2020 had highs of 16 degrees celsius in the first week and again the temperature in Rome in April hovered around 20 degrees towards the end of the month.There were also a couple of April showers, even thunderstorms.
Try out our Free guide of Rome on your mobile
Weather forecast for Rome Italy in April 2023
If the previous Rome weather in April is anything to go by, you can expect some pleasant temperatures and sun. With starting temperatures at 16 degrees celsius, you will be able to spend ample time outside touring the outdoor sights without getting cold too!
The Rome weather in early April will be pleasant enough, with temperatures of around 16 degrees. But towards the end of April the weather in Rome really starts to heat up. You might even get a chance for some light sunbathing as the thermometer heads up over 20 degrees celsius!
What to pack & wear for Rome in April
Because you can never be certain with the weather in April, you'll need to pack intelligently. You could see temperatures in the low teens right up to almost 30 degrees!
So, bring t-shirts and light jumpers that you can layer up with a warmer layer or coat. Make sure you have a raincoat and non-slip walking shoes. The shoes are important. A good pair of hiking boots is recommended, especially if you are heading to outdoor ruins.
But you might also want to throw in a pair of shorts and flip flops too so you can make the best of any beautiful weather that may appear.
Fun Things to do in Rome in April
April is jam packed with fun things to do! Check out some of the best here!
If you get a late Easter that falls within April, you can expect a bunch of religious related events. There is Mass on Palm Sunday in St Peter's Square and a Way of the Cross procession. St Peter's Square is a focal point during this time, and you can also expect Easter Sunday Mass to take place here.
Celebrated on the 21st April you can expect to see gladiator reenactments and other events at both the Colosseum and in the Circus Maximus.
This is usually at the end of March but is sometimes later. Either way you will still benefit from the beautiful displays of flowers along the Spanish Steps.
Concerts and shows in Rome in April
Rome generally has a great selection of concerts and shows in April. There is usually a range of music and shows weekly in April.
These include:
The Three Tenors
Vivaldi meets Bach
Opera Arias
Best places to visit in Rome in April
Rome's many great historical and cultural attractions are open all year round! But it is true that the spring months make the outdoor attractions just that little more pleasant. Our website gives you an extensive guide to all the best things to see and do in April.
Here are some of the top highlights here:
Flights to Rome in April 2023 – Plan in advance
We expect everything to be back up and running in limited fashion following the Covid 19 restrictions by the Spring. But, you could still see a strong competition on flight prices until routes are operating again fully.
Normally we would say book early (up to 12 weeks) for the best prices. But in the current environment perhaps it is worth setting up a price alert on a site like Skyscanner.com to note any fluctuations.
Best day trips from Rome in April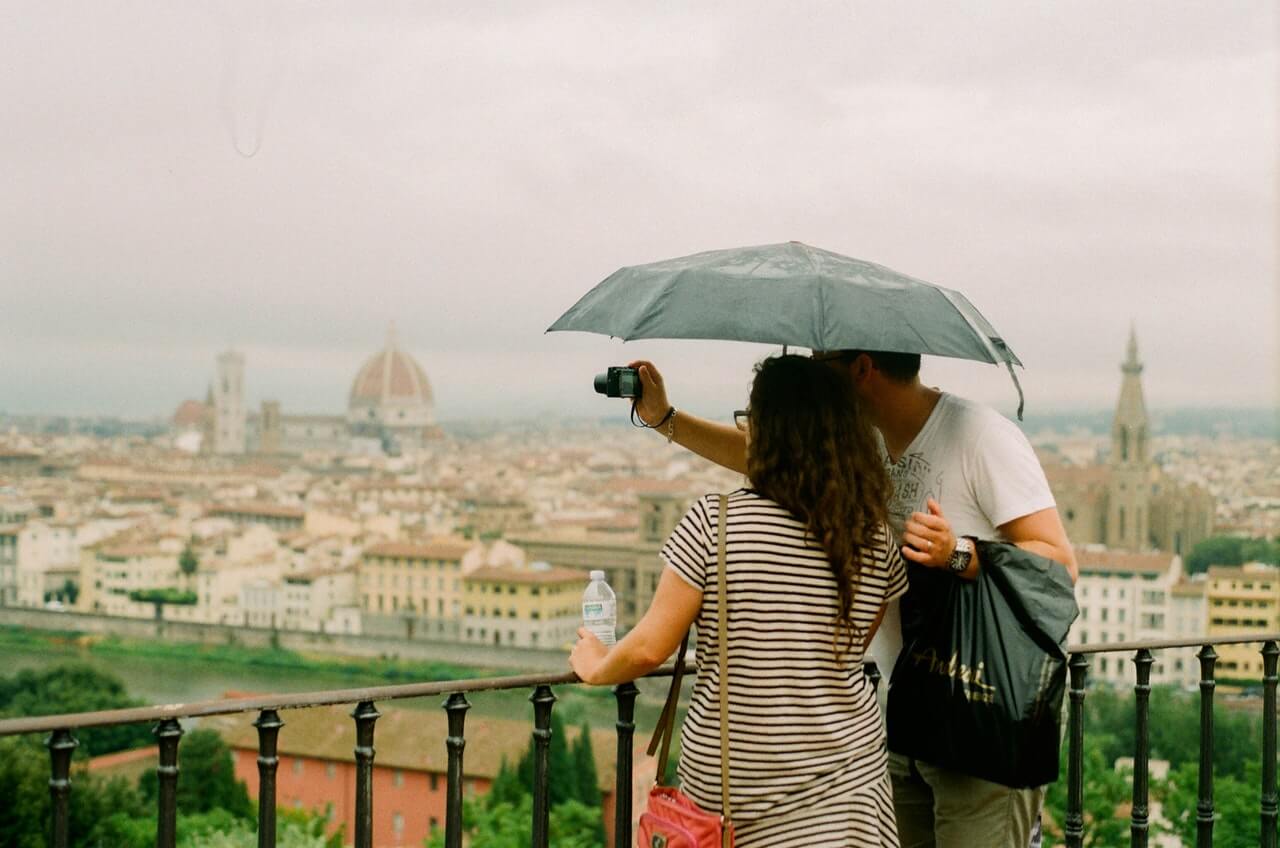 Technically yes, this is a day trip – the Vatican City is an independent country and should definitely be visited when in Rome.
Easily accessible train, the beautiful city of Florence is famous for its cathedral and walkable city centre. Check out our guide on Rome to Florence by Train.
Also a great idea for a train trip, Naples is loud, dynamic and boasts a really cool laid back style.
A trip to Pompeii (or its lesser known brother Herculaneum) is worth it. Spring is the perfect time to head here. There's a lot of walking around that is better done before summer.
Fun ideas if visiting Rome with kids in April
April is perfect for a visit to Rome with kids.
I would much prefer to take mine when there are less crowds and better temperatures.
See a gladiator show
Throw a coin in the Trevi fountain at the Spanish steps
Go to a pizza making class
Gelato, Gelato, Gelato
Enjoy a picnic in the gardens at the Villa Borghese
Food you need to try in Rome in Spring
Anyone who goes to Rome and isn't interested in the food is dead inside! But there is so much more than the usual Pizza, Pasta and Gelato. Rome's local delicacies are more than that!
Artichokes appear on many of our seasonal food lists in Rome, but they play a special part in spring in Vignarola. It's a type of vegetable stew that we are sure will become even more popular as vegan friendly cuisine is all the rage
Asparagus comes into season too in late March and early April. Like in Germany, the "season" means you will see many meals peppered with asparagus, even pizza. It's a pricey accompaniment to any meal, as the stems are all hand picked, but it is delicious.
Easter Cakes. In Britain, they have hot crossed buns. In Italy, it's the Colomba – a bit like a spring version of panettone. Best enjoyed with a coffee.
Best places to stay in Rome in Spring
With lots of lively squares and cafes starting to wake up in April, pick either an area that is buzzing or quiet, depending on your needs. Trastevere is an area for those who want to take advantage of slightly longer evenings and the first touches of warmer temperatures.
The Villa Agrippina by Melia is one of those places most of us can only dream to stay. April prices start at about €400 per night but wow is it worth it. With views over to the Vatican from the stunning roof terrace and a pool, you might want to save up and splurge here.
A nice decent hotel however will often be enough – you'll be out pounding the pavements of Rome for most of the day anyway. Try the Hotel Grand Gianicolo (also with a pool) for just €110.
At the budget end, the Hotel Carmel is a 2* facility but offers everything you need, including breakfast in a charming courtyard garden.
If the sound of a terrace buzzing with noise well into the evening isn't going to help you get some shut eye don't worry. You have loads of options that are central yet quiet. Prati is one, slight off the main drag. Or, choose a hotel around the Spanish Steps. It's an upscale shopping area, so it is relatively quiet in the evenings.
Try the Hotel Giolli Nazionale for some beautiful decor at a great price. Rooms in April start at about €100 with breakfast add on for just 5 euros!
Frequently Asked Questions – Rome in Spring

How to dress in Rome in April?
Make sure you have respectable clothes for visiting churches and the Vatican too - for women this means shoulders covered for example. And we recommend good walking shoes, even if it heats up. Flip flops are a nightmare in the rain, as well as on cobble stones.
Is Rome warm in April?
Generally speaking, Rome is warmish in April but not hot. There can still be a chill in the air in the evenings and early mornings, especially in the early days of the month. Expect 16 degrees centigrade as an average, anything more as a bonus. Although it is not uncommon to see mid 20s too!
What clothes to pack for Rome in April?
T Shirts - but also jumpers. Trousers - but maybe also shorts. April is a mixed bag. You could be really lucky with clear blue skies and 25 degrees celsius. Or get a grey drizzly 16 degrees. Come prepared and make sure you have good walking shoes and raincoat just in case.
Is Rome busy in April?
Whist not the mad for all that we see in August, April is still a popular month to visit. Easter, Rome's birthday and the European spring breaks all mean that there are a fair few visitors kicking around. If you can avoid these high points, then you will have more of the city to yourself.
Should I visit Rome or Paris in April?
Emmmmm can you ask a different question please?! If we had to pick, we'd probably go for Rome in April just for the potential chance of better temperatures. Paris in April can be pretty chilly.
Are there mosquitoes in Rome in April?
Not generally, unless you are in a damp environment or near a river. As a precaution, don't switch on lights in the evening with the windows open, and bring some insect repellant such as DEET / insect repellent.
What is the weather like in Rome in April?
You'll need to take a mix of clothes - it will still get cool in the evenings. During the day temperatures are about 16 degrees centigrade but can creep up into the mid 20s!
What time does it get dark in Rome in April?
Official sunset average is 7.52pm! That is a huge improvement from around 4pm in the height of winter!
Although we think there is never a bad time to visit Rome points of interest, April would be one of our favourites. There's enough of a buzz to feel part of something special (and with it a few queues). But you are far from witnessing the crowds of the height of the summer.
Come prepared for some changeable weather and some good food and you won't go wrong. If you need to plan the rest of your trip, check out our extensive guides around Rome.