Visiting Rome in February: Visiting Tips, Events & best Things to do
---
We LOVE Rome. All the time. But, those of us who know Rome well know that the off-season is a GREAT time to visit. If you have ever queued round the block for the Colosseum in the height of summer, you know EXACTLY what we mean! The off season means you can take Rome at a different pace.
Read on for all our tips and tricks on doing Rome in February. We'll help you decide just what you can do, see and wear! Whether you visit Rome in late February or for Valentine's day, we've got it all covered.
Wondering What the Weather in Rome Italy in February is like?
The weather is probably at its worst in February – but even then it is not that bad! We'll talk about that next.
However, the best thing about being in Rome in February is for sure the lack of crowds. The Colosseum we already mentioned, but also if you are heading to the Vatican City you'll also benefit. And, with lower crowd levels come cheaper hotels too! Check where to stay in Rome here.
Oh, and one of our favourite things to do in Rome in February is to get photos. Those popular sites – such as the Trevi Fountain – can be photographed in February without randomers in the shot!
Rome in February can be anything you want it to be! You just need to make it happen.
What is the Weather like in Rome in February
February is still winter in Rome, and the weather can be changeable. Expect up to a week of rainy days – that means 25% at least chance of getting rained on!
Temperatures aren't high either – hovering at around 9 degrees. But don't let that spoil your trip. Simply bring an umbrella and a coat, and get out there.
You'll find Rome's indoor attractions are more than enough to fill a rainy day anyway.
Take a peek at Free guide of Rome on your mobile
Weather forecast for Rome Italy in February 2023
Expect a few days of rain. The Rome weather in February rainfall is likely to be heavy too. So, it won't be a light drizzle on your parade. What a great excuse to nip into a restaurant, museum or bar for some "shelter".
In the evenings, you won't be able to sit out in the squares so much, but a nice walk is well worth it.
Night time average temperatures in Rome in February can be as low as 3 degrees though, so bring a hat and scarf. During the day, you will be lucky if you get a few days at 14 degrees.
Either way you will still be able to enjoy yourself, just make sure you come prepared!
Handy Tips for Visiting Rome in February
Find out what you need to pack in your suitcase for your trip to Rome. It is possible to pack light, as long as you know what you need.
What to wear in Rome in February
Walking shoes with a good grip. Ancient streets can be slippy!
A raincoat that can be rolled up when indoors
Layers – it's horrible being too hot or too cold
What to pack for Rome in February
Umbrella!
A good book in case you need to duck into a cafe for an hour
Scarf and gloves, hat, in case it is really cold
A money belt, to keep your money safe when travelling to Rome in February
Best Things to do & Best places to visit in Rome in February
All of Rome's amazing attractions are available to visit in February. Check them out without the crowds!
Here is a list of our favourite below:
The Vatican City – the whole shebang including

Vatican Museums – wonderful art, sculptures, maps and more
Sistine Chapel – jaw dropping frescoes
St Peter's Square – a place for the masses to see the Pope
St Peter's Basilica – a gorgeous cathedral
We have tonnes of information available on how to plan your trip to the Vatican – check it out here.
Colosseum – minus the crowds
Roman Forum and all its ancient attractions – an amazing historical gem
Trevi Fountain – you need to take a few coins here and make a wish
Spanish Steps – iconic instagrammable location
Piazza Navona – gorgeous square for people watching
Shopping – need we say more?
Walking tours – our favourite are the food tours! But there are historical ones too. Check our guide one the best Rome tours guide here
Cheap flights to Rome & Excellent low-cost Deals in February
Cheap flights abound in February – apart from around Valentines Day of course. Get the best deals minimum three weeks before the date you fly. Sites such as Skyscanner allow you to set price alerts that will email you when the prices are at their lowest.
Of course, with hotels at lower capacity you can also get great prices for your room as well. And, it doesn't hurt to ring the hotel and see what else you can score – maybe even an upgrade?!
Planning your holiday to Rome in February with Kids
If your kids are into football, they might already know that tickets to Series A matches are coveted. If you can get a ticket to one of the football matches in Rome in February then we want pictures and a trip report!! RB Salzburg are playing AS Rome (Champion's League) on the 23th February 2023. Kick off is at 21:00.
If football is not their thing, there are loads of other attractions and things to do. Here is a list of our favorite things to do with the kids in Rome.
Throw coins in the Trevi Fountain
Have a gelato, or, if the weather is cold, a hot chocolate
Visit the kids museum – the Explora
Take a pizza making class
Go to a Gladiator class – the kids can dress up and learn how to fight like a Gladiator
Visit Delicious food places in Rome
Another great thing about visiting Rome in February is you'll pretty much always get a table.
Of course, Valentine's Day is an exception here. Unless you want to spend Valentine's night in Burger King, you'll need to reserve a table in January for a decent restaurant.
Make sure you try out some of the seasonal foods when you are there. In particular, we really recommend trying some fried artichoke.
Now, it is February afterall, so you'll maybe be wanting something romantic. Here's our pick of some of the best Rooftop Restaurants in Rome that you can check out when visiting in February.
For a view right over the Colosseum, Aroma lets you enjoy the ambiance without freezing. The enclosed terrace is spectacular. The Michelin Star ensures you will dine on an amazing feast of seafood and pasta.
Usually, if something calls itself posh, it's probably not. Posh Terrace is an exception here. This fabulous Roman restaurant enables you to enjoy winter in Rome. Located in the spectacular Palazzo Naiadi, you can feast on nibbles and snacks. There's also a posh dress code, so add a black outfit to your packing list!
Located within the Sofitel – which frequently gets called out for having some of the best views in Rome. Settimio offers a covered terrace and amazing food all year round. Smart casual dress is required here
Check out expected events in Rome in February 2023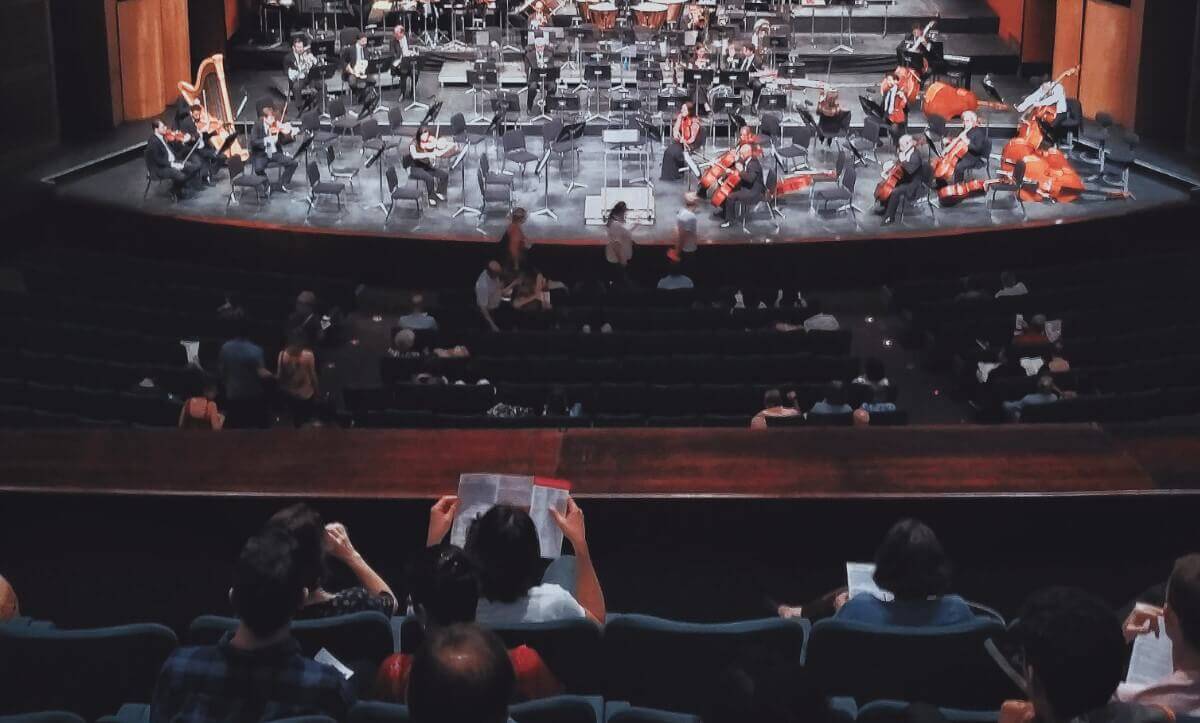 As we write this, we are unsure as to what February will look like in terms of events in Rome. If the Coronavirus restrictions remain necessary, we can count for sure on a number of events in February being cancelled.
Things are changing quite fast, so the best advice we can give you is to keep checking online. The good thing is that most providers are providing full refunds or rebookings, so you can book with confidence.
To keep you up to date, here are the best online resources for a range of events that happen in Rome in February:
Concerts in Rome February
Check out the list here. Concerts in the planning include Mario Biondi and Tinx Tin. There is a wide range of events listed, and they would be a great way to spend a cold winter's evening indoors.
Opera in Rome in February
A list of weekly and monthly running operas – including the Three Tenors – here. For now, they all appear to be running on schedule, although with capacity restrictions / Get tickets to the Palazzo Santa Chiara Concert online here.
Conferences in Rome in February
There is a long list of conferences in February – if you are in to soil, finance, plants and other factoids.
Plan a wonderful day trip you won't forget
From Rome, you can also reach some of Italy's best sights
Naples, get there by high speed train in just over an hour and take in the amazing old town and nightlife
Pompeii – a real must do experience if in Italy
Herculaneum – the little brother of Pompeii, less famous but better preserved
Florence – 1.5 hours from Rome by train.. Gorgeous walkable town centre, shops and restaurants. Check out our detailed information on this day trip here.
Vatican City – Ok we're cheating a bit here, but technically it is not part of Rome, and is recognised as a different country. Check out the full guide to the Vatican City here
Frequently asked Questions
What should I wear in Rome in February?
You will need to pack waterproof clothing - a good raincoat, and an umbrella. Good walking shoes with a decent grip are a must for when the streets get slippy in the rain. And, as February can be cold we also recommend a hat, scarf and gloves. Layered clothing is best so that you won't be boiling hot when you do get indoors.
Is it cold in Rome in February?
February in Rome is pretty cold. Expect daily temperatures to be around 9 degrees, but they could drop to 3 degrees. Make sure you have a warm coat, lots of layers, and plenty of money for a few cups of coffee!
Does it snow in Rome in February?
Snow in Rome is really rare. The last time it snowed was 2012, but that was in February, so maybe you will be lucky. Or unlucky, if you don't like snow.
Is Rome busy in February?
Rome is much less busy in February than the traditional holiday months. Visit in February and you'll be guaranteed to not need to queue for long.
Does it rain in Rome in February?
For sure. February is the rainiest month. Rain falls usually for a week total in the month. But don't let that spoil your fun - there are plenty of indoor attractions in Rome to enjoy in the wet weather.
Is Rome expensive in February?
You will find some pretty good hotel deals in Rome in February, compared to the rest of the year. Prices are generally up to 25% cheaper - Valentines Day exempted.
What shoes to wear in Rome in February?
Wear good walking shoes - the marble can get slippy! You certainly will not be needing your flip flops!
What clothes should I take to Rome in February?
Take plenty of layers, scarf, hat and gloves. In addition, make sure you have a raincoat. And make sure you have something smart if you plan to go out somewhere nice for dinner. But don't worry even if you forget something. You're in the best place to pick up a new outfit in the stores!
A laid back atmosphere, when you can see Rome alive with local life. February offers a welcome change from the queues and heat of August. The January crowds too are gone, and if you come early in the month, you can catch the end of the winter sales.
One tip though – if you are treating someone special to a Valentine's break in Rome, make sure to book early. This includes restaurants and hotels, as well as things like concerts or opera.