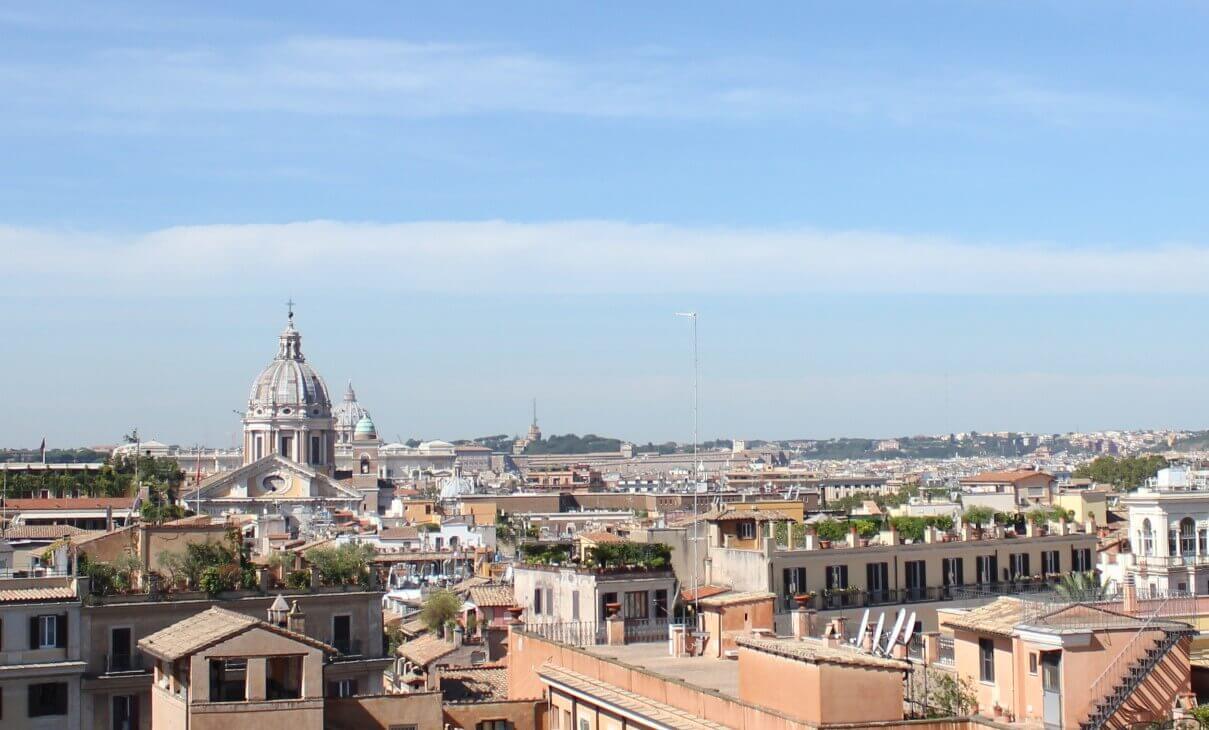 Rome Weather in May: Perfect Things to Do in Spring
---
It is really starting to heat up in Rome as we move through the spring towards the summer. May is a lovely time to visit, just on the cusp of becoming too hot.
The city is well and truly alive, gelato is an acceptable treat, and the buzz will get you fired up for exploring. Read on to find out all you need to enjoy Rome in May.
What is Rome weather in May like?
There is a big jump in the temperature in Rome in May. Rome weather in May begins to be more summer than springlike. But it is still tolerable. If you are not a heat lover, this is probably the last month you can visit without being uncomfortable.
You'll get the best of both worlds here. Warm enough to enjoy all of Rome's parks, gardens and outdoor cafes, without the searing heat. And the flowers! The smell fills the city.
Is Rome worth visiting in May?
We absolutely think so – yes! In May, the weather in Rome in May is pleasant. The streets are alive with tourists and locals alike. Early May is less crowded – the real tourist season begins a couple of weeks in.
So, if you can, plan to go earlier rather than later. It will definitely be busier than previous months, but still manageable with good planning.
Test Our Free guide of Rome on your mobile
Average weather in May in Rome Italy
May is the month in which spring gives way to summer. So it is no surprise that the Roman weather changes as you get through the month. Let's find out just what that means.
Weather in Rome in early May
As May begins, the early spring weather is still prominent. The day temperatures may get into the low twenties (Celcius) but the evenings are still chilly. It is also still likely to rain the odd time.
Weather in Rome in mid May
By the middle of the month, you know the season is on the turn, and the mid-twenties (Celcius) start to appear.
Weather in Rome at end May
Now, Summer is so close you can nearly smell it. The temperature will reach the high twenties, and even in the evenings, it is likely to be in the high teens. You are very likely to get gorgeous clear blue skies.
Rome weather in May 2023, and beyond
If the previous years are anything to go by, May this year will be lovely. In 2018, there were highs of 30 degree celsius! It rained 7 days total in the month, only one of which occurred in the 2nd half of the month.
So, if you want to take a chance on good weather, the second half will likely be better as you head towards summer.
What to wear for Weather in Rome in May 
You're not out of the spring woods yet. Since the evenings can still be chilly and there is still a risk of rain, pack a mix. Bring something you can layer up with at night time, a scarf/shawl for ladies for example.
Pack a small, portable umbrella. Wear good walking shoes – in case the ground gets wet. Oh, and do yourself a favour and bring a money belt too. It's starting to get busy in the city.
Top things to do in Rome Italy in May
Rome is teeming with attractions, and all of them are available in May. We have an extensive guide to them all on this site. From the Vatican City and St Peter's Basilica, to the Roman Forum or the Colosseum, the list just goes on and on.
So, what other things can you do in Rome in May that aren't on the usual list? Here are a few additional attractions and things to do.
Flowers in Rome! May is the month in which to simply enjoy the beautiful blooms that crowd the city ! Visit the Roseto Rose Garden – it only opens for the May roses – and inhale the scents. Also, entry is FREE! Once you are done with that, head to the Spanish Steps, which are usually draped in azaleas! It's the perfect photo opportunity in Rome in May.
The beautiful weather combined with amazing food! What's not to love. Grab a slice of pizza or visit a local market to pick up the best local delicacies.
Once you've got your grub, head to one of these cool picnic spots in Rome:
Villa Borghese Gardens – (they're so good, you must visit it)
Monte Gianicolo – a must for awe inspiring views
Giardino degli Aranci – beautiful rooftop views and sights of the Jewish Ghetto
Cafe culture is always a thing in Rome. But instead of during the winter months, where you stand up at the bar and down an espresso with the locals, in May you can take your time.
Grab a seat outside in a piazza or simply at the side of the road and enjoy Rome going by.
Free things to do in Rome in May
Maxed out your budget just getting there or splurged too much on dinner last night? Never mind.
There are plenty of free things to do in Rome in May to keep you entertained:
Free Buildings of interest in Rome
Strangely, 2 of Rome's most loved buildings are completely free to enter! St Peter's Basilica and The Pantheon both cost absolutely nothing to visit. Result!
Take a stroll in the beautiful Villa Borghese gardens
Museo Storico della Liberazione – a free history of Nazi influence during WWII
Campo de' Fiori – wander around this cool local market and soak up the vibe.
Annual events in May in Rome
With the summer approaching, the spring events are in full swing.
Primo Maggio – the first of May sees a rock concert held in Piazza di San Giovanni
Open House Roma – over 2 days, Rome opens an amazing 200 cultural sites to the public
Rome Outdoor Festival – a cultural festival celebrating art and music.
Seasonal Springtime Food in Rome in May
Asparagus on the menu in May is now likely to be the fresh stuff and not from the frozen store. You'll catch it in a wide range of dishes in May – even on Pizza!
Tomatoes are getting really sweet. Perfect to enjoy with a mozzarella cheese!
Fava beans seem to appear on the menu in the more traditional Roman restaurants too – perhaps as they featured on traditionally on 1st May recipes.
3 Top Tips for Enjoying Rome Weather in May
Plan your itinerary.

Don't get fooled into thinking that spring means less people. May gets busy, especially with those not bound to school holidays. Plan your tickets, routes and timings so you can make the most of the trip.

Sort your budget.

You don't want to get all the way to Rome only to have to miss out on some of the world's most famous attractions. Tips for planning your budget include paying for a city pass. It's a bit of an initial outlay, but if you maximise its use you can save a lot AND know exactly what your expenses are. Check out some of our detailed guides to Rome city passes here.

Take time to just be there.

The top two tips are very planning orientated. That's necessary sometimes. But make sure you take the time to just breathe. Sit in a square and watch the people. Wander in awe around St Peter's Basilica. Catch a sunset (check out where to do that here). Throw a coin in the Trevi Fountain and spill gelato down your shirt. You're on vacation!
Best Hotels to book when visiting Rome in May
There are hotels in Rome to suit every budget and taste. But with May being the month of flowers, and the weather heating up, make sure you have a balcony or a decent terrace if you can. There is nothing more splendid than waking up in Rome on a gorgeous day to a fabulous breakfast outdoors.
Here are a few of our favourites.
Concept Terrace Hotel – Best for Minimalist Design
If you aren't bothered in traditional Italian accommodation and prefer sleek lines instead then the Concept Terrace Hotel may be for you. With balcony rooms at around €200 per night and a cool balcony, you'll be sorted. Breakfast is also rated as "fabulous" – what's not to like?
Eitch Borromini Palazzo – Best for jaw dropping outdoor space
This hotel is located in a restored 17th-century building, designed by Borromini. The terrace looks right over the Piazza Navona and the decor is simply stunning. Expect to pay €500 per night for the cheapest suites with basic views.
The Radical Hotel Roma – Best for looking after your wallet
This clean modern hotel is located in the Via Veneto area. A standard room with a small balcony and decent breakfast is around €120 per night.
If you fancy a little more personal space – a kitchen perhaps, or a nice living room – then why not pick an AirBnb. This is perhaps the best option too for those visiting for more than a few nights.
Coming back to a hotel room night after night can get a little dull. So why not get your own flat? Then, you'll have NO EXCUSE not to get some food in the local market and try cooking on your own too! Check out this fine example right in the heart of Rome. Check out this gorgeous flat for just €100 a night.
Frequently Asked Questions about Weather Rome in May

Here are the top questions we get about visiting Rome in May. We've gathered them all in one place to make it easy for you when you are doing your planning.
How crowded is Rome in May?
Most months are crowded in Rome! It is really only quiet in November, January, and February. From March time, Rome begins to get busy, and it never really stops until October! But, having said that, May is slightly less busy than July and August. On top of that, the weather isn't blisteringly hot, making queuing a lot less tedious.
What is the average temperature in Rome in May?
Throughout the month, the temperature varies. It starts off in the late teens and early twenties (Celcius) and by the end of the month can hit as high as 30 degrees celsius. The average in May, therefore, works out at about 24degrees celsius.
How to dress in Rome in May?
Keep your jumper and your coat - it does still get chilly in the evenings. But during the day, you'll likely get t-shirt weather. We'd stay away from flip-flops - walking over ruins in them is a right pain!
Is Rome humid in May?
Generally no, Rome weather in May isn't particularly humid. July and August are more likely to bring humidity at noticeable level.
Does it rain in Rome in May?
It can do. Some years back, it rained a lot. Generally, it rains only around 7 days in the month of May. The majority of this rainfall occurs in the beginning of the month. So, if you can, plan to come just that little bit later!
If we had to pick a great all-rounder month, May is probably it. Yes, there are queues, but the weather is pleasant enough to handle the outside ones. The longer evenings extend your exploring time.
You can sit out at a streetside cafe and enjoy the atmosphere at dusk. Wander in the parks smelling the scent of the spring flowers. Yes, May is a pretty decent time to visit. If you need to pick up even more hints and tips, check out some more of our resources.