Weather in Rome in October – 2022 Travel guide
---
Fancy a trip to Rome? So do we! The city is a fantasy land for anyone interested in history, culture, food, wine, shopping… you name it, Rome has it! In this guide we will help you decide WHEN to visit Rome, focussing on one of our favourite months for Rome sightseeing – October!
Why is Rome worth visiting in October 
October is an excellent time to visit Rome. Weather in Rome in October is perfect. We are convinced that visiting Rome in October will give you the best of both worlds.
Here's why we, in our humble opinion, prefer this Autumn month for visiting the Italian capital:
The heat in the summer time can make sightseeing somewhat exhausting. With little shade, you tire easier and need to rest more often.
The queues at some of the top attractions can be looooooong. But in the summer, they seem to wind on forever. In October, they're still there, but noticeably shorter.
We also prefer Rome in October to Rome in the winter. In the cooler months you may be able to sit outside but you'll really not get to enjoy the cafe culture as much.
In short – October offers the best of both worlds! The temperatures are still pleasant enough for you to dine out late into the evening or enjoy a cafe on a terrace. But things like walking round historical sights and wandering the streets are so much nicer when the July and August heat subsides a little. 
Take a Quick look at Free guide of Rome on your mobile
Weather in Rome in October 2022
October weather in Rome is simply glorious. Here's why:
The temperatures still reach the early twenties at the beginning of the month. This is a good time for those who still might want to do a bit of sunbathing.
 As you head towards November, expect temperatures to head towards 16 degrees. Great for those who want to walk around but not get burnt!
You can still expect up to 8 hours of sunshine per day. Perfect for exploring!
Check out the historical October Rome weather data. In 2017, 2018 and 2019 the weather has been perfect in Rome with little rain and only a few thunderstorms or cloudy days.
What to pack in your suitcase – How to handle weather in Rome in October
Suncream. Yes, it can still get warm, and even if the temperatures are lower you need to protect your skin
An umbrella and light rain jacket- October is not without its rain showers. Be prepared so you don't miss out on any sights due to rain
A shawl, jumper, light coat. In the evenings you will still want to enjoy the cafe culture, but bring something warm as temperatures can dip to about 13 degrees.
What to wear in Rome in October
For the first 2 weeks of the month it is likely to still be shorts and tshirt weather. Just bring a shawl or jumper with you for the evenings
Heading to the middle of the month, long trousers/skirts are probably a better idea, and a light jumper
Those wearing lighter clothing need to be aware that you need to cover up if visiting the Vatican, so be prepared for that
Comfortable shoes – no need for winter boots. You can bring flip flops too and see how the weather is. If there is a chance of showers, don't wear them!
Layer! It can be cool in the morning, 22 degrees by lunch and 12 degrees at dinner. If you don't plan to go back home to change then practise layering to make sure you are a comfortable temperature at all times!
Traditional high season in Rome extends from mid-June to the end of August. It's during this time that many international travellers visit Rome. And as it's the school holidays across the globe, many families make their way here too.
October is generally known to fall into what is known as the "shoulder season". This is a stretch of time before and after peak season – usually including April, May, September, and October.
It's during this time that crowds are generally lighter and hotels are less expensive.
Book attractions ahead in October
Don't be fooled however. Visiting Rome in October is still incredibly desirable. So you do need to book ahead and plan your trip properly. This will ensure you get the best deals, and also don't get disappointed if a tour or hotel is sold out on arrival. Make sure you've checked our article on the best things to do in Rome that are worth booking ahead.
Get Prepared to visit Rome in October
The Colosseum, Vatican and Galleria Borghese and the Roman  Forum all feature above in our article about booking ahead. Whilst the crowds in Rome in October aren't as dense as in the summer, the city still is busy. Avoid disappointment and time-wasting by booking ahead. Even better, skip the line tickets will help you bunk right to the front at popular sites such as the Vatican and the Colosseum. 
Things to do in Rome in October – weather dependant
Rome's pleasant October weather means that all of the major sights are still accessible. Here's some examples of what to do in Rome, depending on the weather
Wander the Vatican museums on a rainy or cloudy day and forget about the weather outside.
If the weather continues to be bad, keep going with the museums in Rome. The Capitoline, Borghese Gallery, National Museum… the list goes on
Visit the Colosseum on a sunny day and not get exhausted by the heat.
October is still busy enough that you can enjoy all of the top attractions without shutdowns or reduced hours.
October free things to do and see
Sunrise in October is later than in the summer months. That means, you don't have to get up super early to capture its beauty (before the clocks change, it is generally between 7am and 7.30am)
This is our favourite free thing to do in Rome. The weather will usually be good enough to sit around in one of the city squares and people watch!
Take a look at our top 10 best piazzas in Rome.
On a sunny day, a free stroll around the Villa Borghese gardens is an absolute must.
Take Metro Line A to Spagna
Open all hours (although poorly lit after dark so visit during the day)
Tickets – not necessary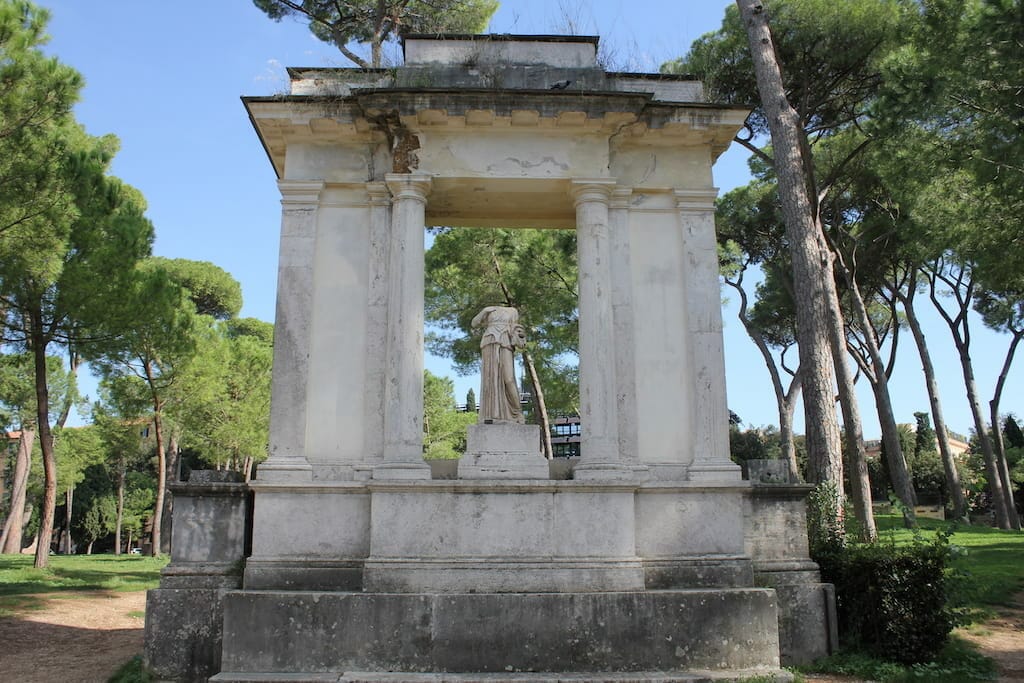 Throw some coins into the Trevi fountain for good luck!
10 minute walk from the Spanish Steps. Closest metro is Barberini
Open all hours
Tickets – not necessary but bring some loose change
Visit the Vatican for free!
Last Sunday in October
9.30am to 12.30pm for absolutely free!
Tickets – not necessary, but be prepared to queue
Metro Line A Ottaviano-S. Pietro.
This is an initiative that opens museums, galleries and other places of interest on the first Sunday of every month, including October.
Some of the participating attractions are listed below
Take line B to Colosseum
Open daily from 8.30am, closes at different times according to the year. It will close at 6.30pm in October
No tickets necessary
Be prepared for queues
Take Metro Line A to Spagna
Open 9am to 7pm
No ticket is necessary, although due to limited capacity you must reserve online for 2€
Modern National Art Gallery
Take Metro line  A to Flaminio
Open 8.30am to 7.30pm
TIckets not necessary
Discovering Rome in October by night
Rome in October is still pleasant. It does get dark at about 6.30pm, but the squares and restaurants, bars and cafes will still be pretty lively. Soak up the atmosphere amongst locals in the Latin Quarter or Trastevere.
There are also many Rome by Night tours on offer, either as walking tours or hop on hop buses.
If you want, there are also sights such as the Colosseum that offer nighttime openings. It's a unique way to get a different take on this popular attraction.
Tours and Walks in Rome in October
A walking tour in Rome in October is a great way to explore the city. The temperatures are so much more pleasant than during the summer months. You will definitely have much more stamina and interest than if you were traipsing around in 30 degree heat! There are many types of tours available including
To help you select the tour you are interested in, check our best Rome tours guide.
Rome Film Festival – Annually, usually the second week of the month. You might get to spot some  celebrities
Festival of Francis of Assisi – On the 4th October every year, locals parade to the San Giovanni Basilica to lay a wreath in honour of the Saint
Roma Europa – A popular performing arts festival that stretches through the autumn into winter
What to do in Rome in October with kids
Many families visit Rome during the Halloween holidays. It's a really great time to visit with kids! Halloween isn't massively celebrated in Italy still, but more and more museums, animal parks and theme parks are embracing the idea!
October is the perfect time to check out the sights with all the family – less heat and shorter queues mean the little ones will be more comfortable, and you will be less stressed!
Check out the Explora Kids museum near Flaminio Metro Station, let them explore the Borghese Gardens and St Peter's Square. Of course, little kids will also be in love with Rome's culinary delights – pizza and gelato coming top of many kids lists of things to eat in Rome!
Hotels in Rome in October
Hotels in Rome begin to get a little cheaper, but as it is still quite a nice time to visit you can expect to pay a lot for a really good hotel.
5* hotel for 2 adults start at €180 up to a whopping €850 for the likes of the fabulous Rocco Forte Hotel De Russie
Mid range hotels can be found for around €80
Budget options include hostels and apartments, starting at around €40  per night
We have selected the best places where to stay in Rome according to your budget and wishes. Check it out to see night prices.
Rome Weather in October – Food season
A number of delicacies  must be tried in the Autumn season in October
White truffles. Expensive – a dish with this raw treat can cost up to €40, but so delicious!
Persimmons
Apples, pears and other harvest products in the markets of Rome
Pumpkins!
What is the temperature in October 2022 in Rome?
During the day you can get temperatures of around 22 degrees!
How much does it rain in Rome in October?
Usually you can expect rain to fall between 8 and 12 days in Rome. However, this doesn't mean constant rain and will likely be a quick shower. Occasionally, thunderstorms can occur.
What time does the sun rise and set in Rome in October?
Sunrise between 7am and 7.30am before the clocks change at the end of the month, when sunrise will fall at around 6am. Sunset is around 6.30pm
What to wear in rome in october?
Wear light clothing but bring jumpers and jackets in preparation for the cooler evenings that should be expected as the month draws closer to November.
Is October a good time to visit Rome?
We love Rome in October and highly recommend it! The crowds are still there, but less dense, queues are shorter and heat is bearable.
Is Rome crowded in October?
Yes, Rome is still very busy in October, especially during the school holidays. However the summer tourists have gone and the heat is less, so overall it is much more pleasant.
What should I pack for Rome in October?
Raincoat, shawl, jumpers are a must. But still bring your sunscreen!
How hot is Rome in October?
You can expect a temperature at a high of around 22 degrees celsius. Towards the end of the month you will likely see average temperatures of around 16 degrees.
We love Rome in October. If you don't care about swimming and getting a proper tan, we recommend you stay away from July and August and visit Rome in the shoulder season instead. Rome in October certainly gets my vote!